Sanctioned and managed by the FIA, Formula One racing is the top international automobile racing for single-seater racing cars. This F1 World Championship season holds a series of racing events across the globe which are referred to as the Grand Prix. Once these set of racing events reach their finishing lines and the top drivers are chosen, popping a bottle of effervescent alcohol on the podium is a tradition to celebrate their glorious victory.
However, the officials of Formula 1 have recently changed their official toast partner and have appointed Ferrari Trento, an Italian sparkling wine producer, the contract for the upcoming three seasons.
Matteo Lunelli, CEO and President of Ferrari Trento delightfully said "This new venture would allow the business to bring the Italian Art of Living to the celebrations of Formula 1 Racing"
The Iconic Ferrari Trento and its origin:
In 1902, an Italian man Giulio Ferrari dreamt of opening a winery that could produce the best sparkling wines to give strong competition to the French champagne.
This was the time when the legendary Ferrari Trento came into existence and today it is one of the leading wineries of the world that produces a range of award-winning traditional-method sparkling wines.
Ferrari-Trento F1 Podium Jeroboam- Limited Edition: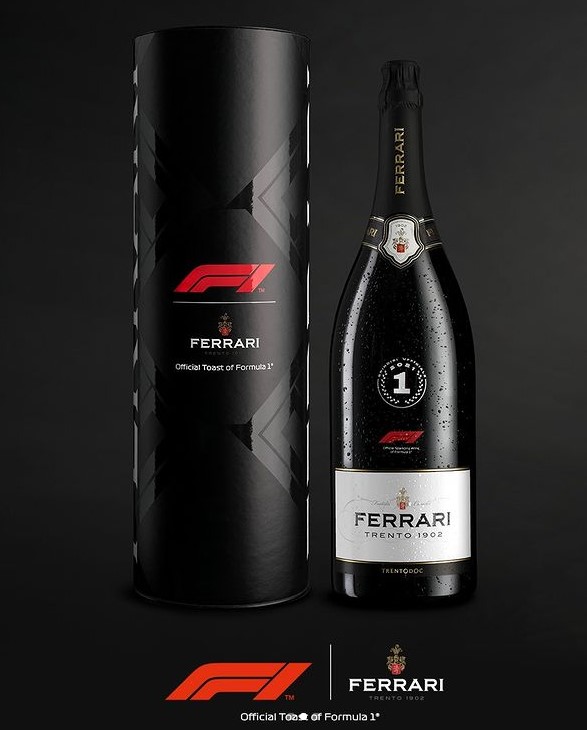 To celebrate its position as the official podium fizz of formula1 racing, Ferrari_trento has launched a limited-edition Blanc de Blanc Trentodoc Cuvee with a unique look featuring the iconic Grand Prix.
This limited-edition wine has been carefully made with a collection of 100% premium hand-picked Chardonnay grapes that are cultivated in the slopes of the mountains of Trentino. The Blanc de Blanc sparkling wine has matured for a period of 38 months over the lees with selected strains of yeasts.
The F1 limited edition has a brilliant and attractive straw yellow-coloured appearance and showcases an extremely fine but persistent perlage. This beautiful wine has intense aromas of ripe fruits incorporated with slight hints of crusty bread and hazelnuts. Its freshness gives a feeling of elegance and satisfaction to your palate with an aftertaste of citrusy nuances and mineral sensations.
The sparkling wine has been proofed to 12.5% ABV and will be officially launched at the Gran Premio d'Italia 2021 at Monza on the 12th of September. This 0.75ml bottle of sparkling wine will cost you around $330 and will be available on the official website and other online stores soon.
---
A range of Award-winning Sparkling wines:
The Ferrari-Trento winery offers a range of beautiful Italian sparkling wines. Here are some of their best-sellers:
Ferrari Brut: A Trentodoc with the aromatic notes of golden apples.
Ferrari Rose: A rose wine made with elegant pinot noir and a refined bouquet of berry fruits.
Ferrari Demi-Sec: A perfect Trentodoc with a semi-sweet taste.
Ferrari Maximum Blanc de Blancs: The first wine produced by Giulio Ferrari, has a beautiful fresh and fruity taste.
Ferrari Maximum Rose: A pink velvety Trentodoc combined with the fragrances of berries.
Ferrari Perle: A vintage Trentodoc combined with the flavors of reinette apples and citrus fruits.
Ferrari Perle Nero Riserva: The first and only Blanc de Noirs of the company.