Lambic a type of Belgian beer, a unique, interesting, mysterious, incredible and some say complicated type of beer. There is something that makes this beer stand out. Some note that it is the funky, wild, sour and unconditional complex flavor of the beer, while others attribute it to the brewing (traditional) process from which it is born. Despite of all, it can all be agreed that the it is a unique and intriguing beer.
What is Lambic?
Lambic is a part of the Belgian beer family, a traditional Belgian style of sour ale. It is brewed in the Pajottenland region of Belgium, southwest of Brussels. Although this beer is now being brewed outside Belgium. Lambic beer is an all encompassing term for the style of beer produced with spontaneous fermentation and use of coolship which makes it stand out from other types of beer .
How it is made?
Lambic type of beer leaves it to nature to determine the fermentation. It is brewed from grist containing 60-70% base malt such as barely malt and 30-40 % unmalted wheat which is mashed vigorously for a long period of time with addition of aged hops (a year or more depending) and is then boiled. The name spontaneous fermentation comes from process used to ferment; wort is left in open vaults where, wild yeast and bacteria are allowed to take up residence, no artificial yeast is added, wild yeast converts to sugar slowly turning into alcohol and flavor components.
Wort is cooled overnight in a shallow flat called coolship (lambic beer is referred to coolship beer at times). It is worthy to note the Lambic beer is the only commercially produced beer that uses the coolship system.
The brewing of this beer has a limited window that is between October and May. It is brewed during the summer because there are many undesirable bacteria which could come into the wort and influence it. Due to climate change, the window for brewing is reduced.
After the fermentation process Lambic is conveyed into barrels, most preferably wine or sherry barrels and left to mature for up to 3 years or more.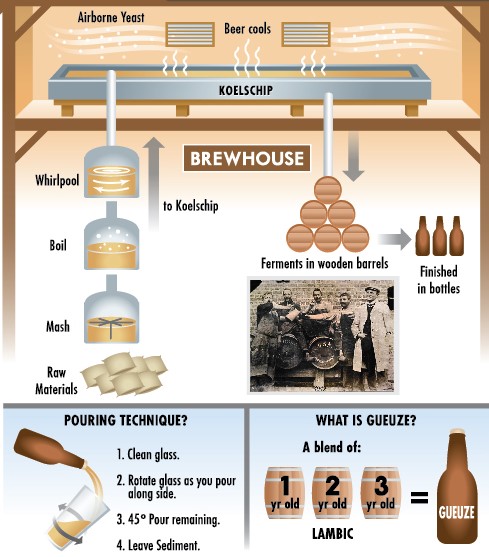 "Coolship weren't invented to make Lambic but they have survived because of Lambic beer. "

By Jason Perkins (The brew master at Allagash breweries)
Lambic should be differentiated from saison, although they both have the same cloudy appearance and sour, saison is fermented with a cultivation of yeast (selected strain of yeast ) which differs from the fermentation style of Lambic.
Types
When the beer is re fermented with fruits it is know as fruit Lambic which is among the popular type of Lambic; apple , lemon, framboise , cassis etc. The Gueuze ; mixture of a young and old Iambic . It is bottle fermented for a year and comes with an amazing complexity. ,Kriek ; Lambic re fermented in the presence is sour cherries.
Composition
It usually comes with an ABV of 2-8%, most times a mixture of fruit or another beer, sugar may be added into the beer after maturing during blending. It is said to come with a cloudy appearance and thick mouth head . The taste varies from batch to batch, said to have a sour taste, dry, complex and vinous state.
"You want a funky,musty,barnyard and cellar dirt flavor and aroma but you also want this bright citrus lemon component. You want some acidity."

By Jeffrey Stuffings
Famous breweries and blenderies
3 Fontenen: It is one of the most accomplished breweries. It specializes in gueuze and Kriek including 3 Fontenen cuvee Amand; a gueuze with lots of gooseberry that has sweet wheat aromas.
Boon: The biggest oude produced Lambic brewery and blend. Oude is a spontaneous fermented and re fermented bottled and unsweetened Lambic beer . They brew most of the wort used by Lambic blenderies . Boon black label gueuze has a fruited aroma that is tropical.
Tilquin: Gueuze Tilquin à l' Ancienne 7.0% alcohol per volume a spontaneous fermentation beer obtained from a blend of 1 ,2, 3 year old lambics. Gueuze Tilquin (draft version) 5.3 % alcohol per volume a spontaneous fermentation beer derived from the blending of low alcohol lambic only sold in kegs .
Lambics can be paired with fruits, salads, and sweets, including a rich chocolate cake ,shellfish and soft cheeses . Its also pairs well with cream sauces ,spicy foods including Indian cuisine.