What if I say that you have to pay just a little more and you can enjoy a beer with more taste, flavor, variety, and more alcohol? That sounds like a good deal…..right? Desperate beer lovers know what I am talking about. Yes, craft beer! Craft beer is more diverse in tastes and flavors than normal beer. And if you haven't tried craft beer yet so do give it a try. In India, craft beer has been able to change the tastes of people as an increasing sale of craft beer has been noticed and it is still increasing. New craft beer brands are flourishing in India at a good rate. Craft beer production is at an all-time high in North America too. North America has an endless number of brands and styles of craft beer. According to a graph of 2019 by Statista, 52% of people of age group 35-44 years consume craft beer, and 49% of people of the age group 21-34 years consume this beverage weekly in the USA. Now, think if the flavors of Indian cuisine and American Craft Brewing become interrelated! This is possible because there are many Asian-Indians who are manufacturing craft beer in North America. They are doing this by mixing the American Brewing techniques with the Indian flavors of spices and fruits. Let's take a look at some of the Asian-Indian craft beer breweries in North America:-
1. Windmills Breweries
"Success is not the key to happiness. Happiness is the key to success. If you love what you are doing, you will be successful", well said by Albert Schweitzer. 
This definitely applies to Ajay Nagarajan, CEO of Windmills Brewery and Restaurant, who turned his hobby into his profession. He enrolled in one of the oldest brewing schools in America, The Siebel Institute of Technology in Chicago to learn about brewing. In 2011, he got his brewing certificate. He wanted to introduce brewpub culture in India so he teamed up with Kamal Sagar from Total Environment and decided to open a brewpub in Bangalore. Kamal Sagar's distinctive styles and nature-inspired constructions have given a new direction to real estate development. Kamal's stereotype-breaking designs and Ajay's brewing skills together summed up and the third brewpub in India, Windmills Brewery was opened in 2012. Indian food with American style craft beer, the idea is so appealing how it couldn't get a good number of customers? But this was not enough for Ajay Nagarajan. He wanted to take his innovation to America and he did so. The Colony, the parent company of Windmill agreed to integrate the Windmills and he opened an American branch of this Indian-originated brewpub. Today, they serve craft beers from their brewery, which were liked by people in India, and some craft beers infused with Indian ingredients along with famous Indian dishes.
The medium-bitter and clean Pilsner gives a light mouth feel with a crisp hop finish and is best tasted with any cuisine. The pale yellow beer with white head Blonde, pairs well with Beef Boti to light salads. Beer which will surely taste phenomenal with Indian food is Saison. The Hazy IPA, West Coast IPA and the San Diego style Imperial IPA are some of the best choices. The menu contains variety of Indian dishes from Potato Tikki Chaat to Kerala Beef Fry. "At The Colony we wanted to ensure there was something for everybody. To that end, our menu is 50% authentic Indian and 50% Texan. You can get a tandoori chicken or a burger, a rib-eye or a fish moilee. Along with our on-site brewery and specially curated music selection, there's something for everybody here," he says.
2. Merit Brewing
Founded by Tej Sandhu and his friends Aaron Spinney and Jesse Vallins, this brewery is in Hamilton, Ontario, Canada. Aaron and Tej met in Hamilton and shared a good bond over their love for craft beers and food. Jesse is a food-specialist and masters in pairing delicious food with amazing beers. The name Merit is adopted from Tej's grandparents' furniture store in Nanamino. They facilitated the hundreds of immigrants coming to Canada and helped them to settle there. Their work inspires their grandson and his team to build a business which pleases the community and also help it.
The beer and food they serve here have a traditional touch and the aromas and flavors hits so magically that one cannot forget. The ingredients vary from spices to fruits to teas. Initially, they pulled up with 14 taps and 10 out of these were from their own brewery. Smooth, light, bitter, malty, every kind of beer is available.
The Young Rival with beer's bitterness and IPA's hoppiness is just a treat. The latest Sour Ale was a new delight in their menu. The traditionally fused sausages and chutneys are perfect with their beers.
3. Other Desi Beer Company
Ravi Patel, the owner and brewer have always been interested in brewing from a very young age. He first had Williamantic Brewing Company's Certified Gold clean crisp blonde ale which made him discover his passion for craft beer making.
"The owner, David Wollner, recommended the beer, telling me about how this was the first beer they brewed there. I later came to learn a lot from David about brewing, and his passion for craft beers grew on me."

said Patel.
The support from his parents and his love for brewing resulted in the opening of the Other Desi Beer Co. in 2018 in Connecticut and they brewed for the first time in 2019.
The first beer they brewed was Hoppy Hathi. When I was young, people would always ask what kind of Indian I was and I'd always have to say, "I'm the other 'Indian' you're thinking of, from India. From that came the "Other Desi", he said. Most of the beers introduced by him are inspired by his own life and each beer has a theme or flavor which reflected this. The High Chai Stout is one of them. The Jalabae DIPA is brewed with famous Indian sweet Jalebi. Dishoom! Is another must try with Cahmere and Sabro Hops. The 3 Ranis is a 4.5 ABV pink guava hibiscus sour.
Patel has an unconditional love for brewing but he is also active in community help. In 2019, he donated 5% of his profits to Kid U Not, a living organ donor fund in Branford. He has donated a lot of his profits to such organizations.
4. Azadi Brewing Company
This brewing co. in based in Chicago but is all about Indian flavors. The beers are inspired by fruits and flavors of India and these pair well with Indian cuisine. Longtime friends Bhavik Modi and Ray Schrand decided to open this brewing company and did so on 14 November 2020 under Pilot Project Brewing. 
"Being born in India and having family there that I visit frequently, I noticed an emerging craft brewing scene in the country and an appreciation for high quality, great-tasting beer."

said Modi, co-founder and CEO of Azadi Brewing Company.
When he returned to the USA, he talked about his idea of blending beer with Indian cuisine with Ray. Ray worked at Cincinnati's Madtree Brewing Co. at that time and he loved Bhavik's idea.  
"With Indian cooking similarly rooted in experimentation and having an endless cabinet of flavors to select from—it seemed like a perfect match." Ray said.

Ray said.
The collection of traditionally fused beers includes Kavi, which Cardamom Golden Ale inspired by poetic landscapes of Kashmir. The Kesar Mango IPA, Gir is a perfect balance of juicy Kesar Mango with Mosaic, Citra and Azacca Hops. Kadak, the Mumbai Cutting Chai Stout features the spice blend of Chai. Shimla, the West Coast Double IPA is a creation for true IPA lovers.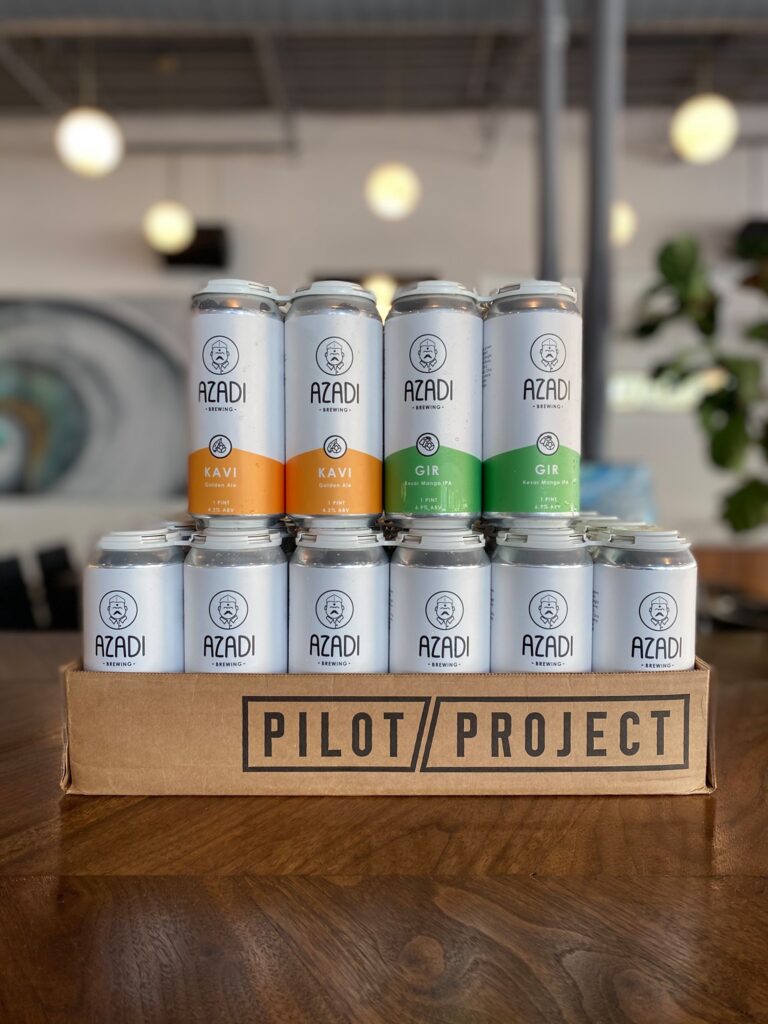 Azadi in Hindi means freedom or liberty. This term was well pronounced among the Indian freedom fighters while fighting for Independence. The two longtime friends gave this term a new meaning in the world of craft beer, breaking the long held conception of craft beer.
5. 1947 Craft Beer
1947 is not only a number, it was a year when unthinkable and unimaginable happened. It was a bold year and that is why the name 1947 is chosen reflecting the unimaginable taste of the bold beers by them. Nirav Vyas laid the foundation of this brewing company. He had no brewing experience but he had a desire for a good chug, so he got himself into the world of brewing with partners Suhel Jagtiani, Nipa Parekh and Vivek Baliga. Headquartered in Long Island, Queens, New York, this brewery gives a perfect beer with a little kick. The flavorful beer with smooth finish is something a craft beer consumer would look for. They have partnered with some famous chefs and are serving delicious food paired well with their beers.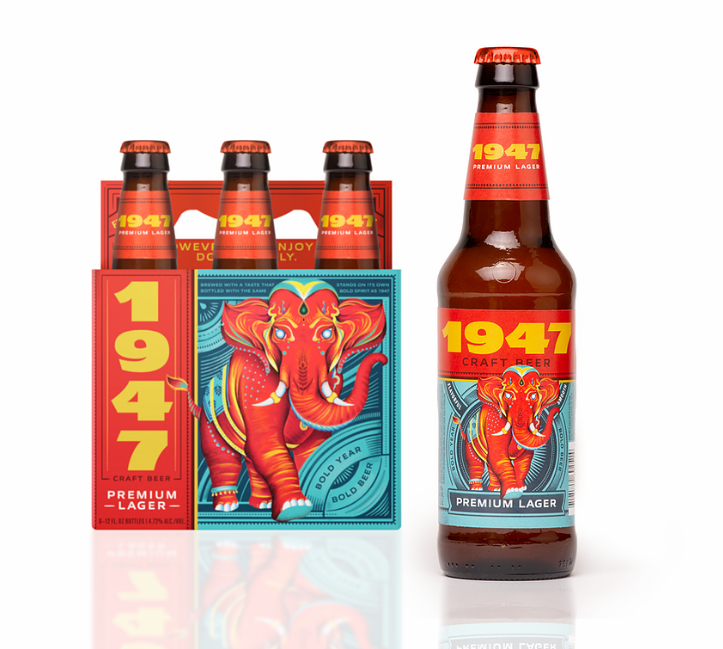 Their menu is full of Indian dishes along with beers with Indian touch. The food varies from Chicken Tikka Adda to Allepy Prawn Curry and Tandoori Prawn. The Lager Beer is an award winning craft beer. The 1947 Premium Lager has already done exceptional in the craft beer world by its spicy flavor. This brewing company has already created an impact on the wider community.
"Over two years, we must have had about 400 people test our brews. Then we took what we were happy with to a South Asian event. We knew we were ready then. We envision this being a global brand. We have had people asking us to take it there. Right now, our key market is North America."

said Vyas.