Kweichow Moutai Co., Ltd. is a world-known baijiu spirit brand; a partial publicly traded and partial state-owned enterprise in China, specializing in the production and sales of the spirit Maotai baijiu, together with the production and sale of beverage, food and packaging material, development of anti-counterfeiting technology, and research and development of relevant information technology products.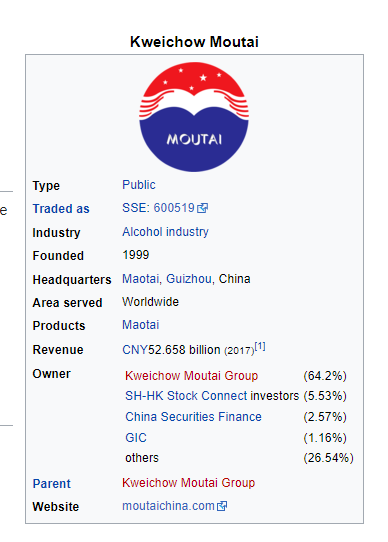 Kweichow Moutai is named after Maotai, a picturesque small town in the south-western Chinese province of Guizhou.
Moutai is hand-crafted and has complex aromas of 155 different flavours found in Moutai. The baijiu spirit can only be called 'Moutai' if it is produced in the Maotai province; a speciality of the location. This is where the company says its baijiu — distilled from fermented sorghum and rice — gets the magic touch.
The spirit is also called the "National Spirit of China" and has a tradition of more than 2000 years.  As of 2021, it is the largest beverage company in the world and China's most valuable non-technology company. The company is now valued at 2.7 trillion yuan, or $421 billion. Globally, its market cap has not only surpassed all other alcohol distillers like Diageo and Constellation Brands but also Coca-Cola, which had long held the crown as the world's largest beverage maker by market cap. 
Awards
Honors of Moutai
National First-Class Enterprise
Well-known Mark of China
Award as National Liquor of China
Moutai has won the Gold Prize for "China Quality Award" every year since the establishment of the award
1915- Gold Award in 1915 American "Panama World's Fair"
1952- Famous Liquor in National Native Produce Exchange
1953- National Famous Liquor of the 1st National Liquor Appraisal
1985- Golden Laurel Leave Prize of International Food and Tourism Contest
1986- Gold Award of the 12th International Food Fair in Paris, France 1986
1986- Hong Kong "Star of Asia" Packaging Award
1987- First Prize of the 3 rd World Advertisement Convention China Import and Export Advertisement in Hong Kong
1989- Gold prize of the 1st Beijing International Fair
1990- 38% Flying Fairy won the Gold prize of Chinese Ministry of Light Industry Award
1991- Moutai series of products won the title of "National Fine-Quality Export Product"
1991- Gold prize of the 2nd Beijing International Fair
1992 Excellent Award of National Consumer Trust Products
1992- Gold Prize of the 4th World Famous Liquor Fair in Tokyo, Japan
1992- Gold Prize of the 1st International Famous Liquor Contest in the US
1992- Supreme Gold Prize of Hong Kong International Food Fair
1992- "Star of the World" International Packaging Supreme Prize for the package of "Emperor Handi Moutai" in Paris, France
1993- 53%, 43% and 38% Flying Fairy won Special Award of Bordeaux Wine and Liquor Fair
1994- "Flying Fairy" and Five-Star" series of Moutai won Gold Prize of the 5th Asia-Pacific International Trade Fair
1994- No.1 in Special Gold Prize of (US) "Famous Liquor Appraisal in Commemoration of the 80th Anniversary of Panama World's Fair"
1996- Excellent Enterprise of National Quality Control (QC) Award
1999- Moutai series of products passed green food certification of Green Food Development Center of Ministry of Agriculture
2000 Moutai Prince won the title of "China National-level New Product"
2000 Moutai Prince won the title of "Famous Brand of China New Liquor Products"
2001- Moutai series of products passed organic food certification of (Nanjing) Organic Food Development Center of the National Environmental Protection Bureau
2001- Certified as "Products With Protected Designation of origin"
2001- Certified by ISO9002 Quality Control System
2001- Certified by ISO14001 Environmental Management System
2001- Kweichow Moutai Co., Ltd. Won the title of "National industrial Quality and Service Credit Model Enterprise"
2002- Mountain series of products won the title of "Consumer Satisfaction Product"
2003- Kweichow Moutai Co., Ltd. won National Quality Management Award
International Award
Product List
53% Moutai Flying Fairy
43% Moutai Flying Fairy
Moutai Prince Chiew
Moutai Shenzhou Jiu
Moutai Shenzhou Tianjiang
Moutai Hanjiang
50-year-old Moutai
30-year-old Moutai
15-year-old Moutai