"For Mr. George Urquhart, or 'the father of single malt whisky' as he's been called, time was an abstract concept. Weeks, months, years, even decades could pass by. Some whiskies would take as long as they took to mature into an exceptional dram."

– Gordon & MacPhail website.
Gordan & MacPhail recently announced the release of 'A Timeless Classic' Scotch whisky: The Gordon & MacPhail Mr. George Legacy 1957. The release is the second edition of the annual Mr. George Legacy Series. The edition is an ultra-aged Scotch whisky from the legendary priceless privileged collection series that pays tribute to its maker, Mr. George Urquhart.
And time can indeed work wonders. The second edition of the Mr. George Legacy Series from Gordon & MacPhail pays tribute to his philosophy; a rich, complex single malt from Glen Grant distillery with a subtle smokiness not found in more modern Speyside whiskies.
The belief that time can produce rare whiskies that are rich in quality and flavor is the philosophy of Mr. George. This philosophy is still the heart of producing every Gordon & MacPhail's whiskies today.
"My grandfather had a particular affinity for the Glen Grant distillery. In some industry quarters, my grandfather was fondly thought of as slightly eccentric due to his relentless focus on maturation, painstakingly selecting the right cask to match each particular spirit. He was intrigued to know how long the whisky might take to reach its peak and would have known he might not be around when that moment came. That is his legacy to our family and to whisky drinkers who love the rich complexity of the ultra-aged single malts he laid down decades ago."

According to Stuart Urquhart, grandson of Mr. George and Gordon & MacPhail's Operations Director
The Mr. George Legacy 1957 from Glen Grant Distillery honors Mr. George's 'long-term approach to maturation'. Thought eccentric by some, Mr. George would always give his whiskies all the time they needed, often longer than many thought sensible or even possible. Mr. George Urquhart was a member of the second generation of the company's owning family and the man who helped bring single malt whisky to the world.
"Celebrating its 125th anniversary in 2020, Gordon & MacPhail has built up an impressive collection of whiskies from over 100 distilleries housed in its liquid library – a testament to the close relationships forged with Scotland's distilleries over many decades."

-Forbes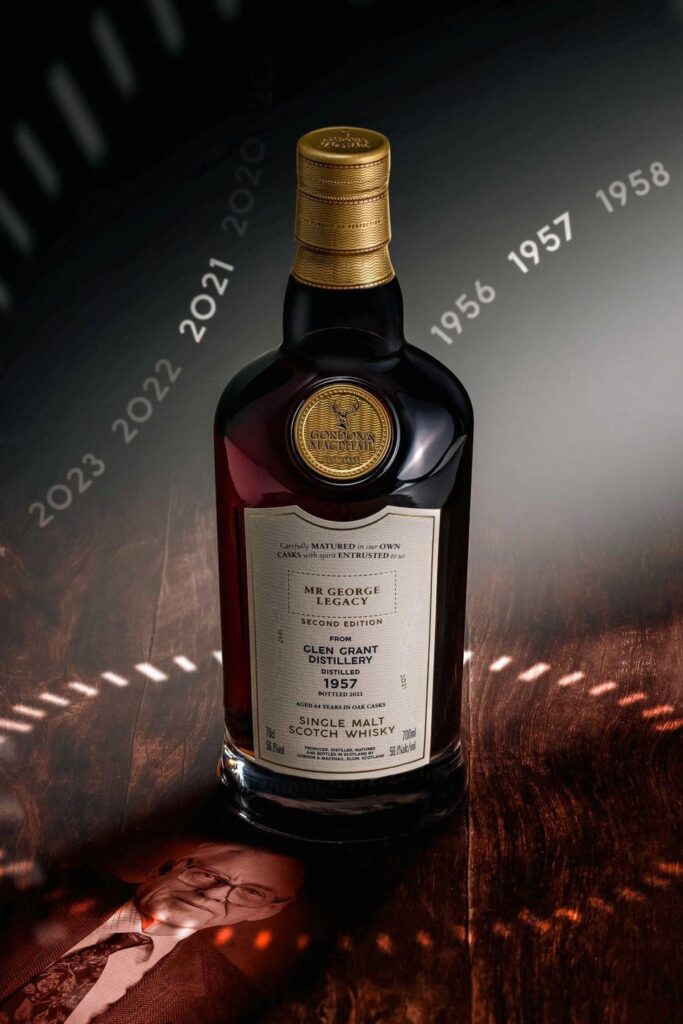 ECCENTRIC and TIME-Refined whisky
The Mr. George Legacy 1957 from Glen Grant Distillery was distilled on Thursday 10th October 1957. The whisky after distillation was maturation in cask no. 3483, a first-fill Sherry butt. The second edition of the Legacy Series was bottled on Tuesday 9th November 2021 at a cask strength of 56.1% ABV.
The official Tasting Notes include:
Color: Rich mahogany 
Nose: Aromas of fruitcake, festive spices, marmalade, and treacle. 
Taste: Notes of morello cherries and garden mint greet the palate, followed by ripe red apple, citrus peel, and subtle aniseed.
 Finish: In an explosion of flavor, with lingering notes of spice, forest fruits, and charred oak.
You can purchase a 700ml bottle of the 64-year-old Scotch whisky for an RRSP of $8,000. Only 298 bottles of this single cask whisky are available from Speyside's Glen Grant Distillery.
Charles Maclean, the renowned whisky expert, added: "This is a gorgeous whisky, rich and multi-layered, still vibrant and vital in spite of its great age. A worthy tribute to the man who first drew the world's attention to the glories of single malt "

– Mr. George Urquhart.