Christmas holidays are fun to enjoy with friends and families. Holiday season to shop for presents for our loved ones, for traveling, making the favorite dessert, or for just relaxing at home and enjoying the season. Our reasons can be anything, but the holiday spirits are worth enjoying!! The Glenlivet brought the Glenlivet Holiday Concierge Service as an answer to your last-minute shopping worries. The Glenlivet distillery under Pernod Ricard has announced the Holiday Concierge Service as an addition to their 'Seize the Season. Seize the Glenlivet..' campaign. The service focuses on helping the customers to enjoy the holiday season with their friends and family without worrying about the long shopping list.
"For a number of years, we have inspired consumers to choose The Glenlivet as a unique and out-of-the-ordinary gift for their friends and family. This year's 'Seize the Season' campaign builds on this, inspiring the creation of new holiday traditions—not just tentpole celebrations like Thanksgiving or holiday parties—by elevating everyday moments with family and friends. In this way, we're asking consumers to seize the entire holiday season!"

By Kelly Suhr, brand director for The Glenlivet at Pernod Ricard USA
Suhr and Glenlivet surveyed to understand the customer's holiday hassles and the pressure of celebrating the "perfect holiday". The results showed holiday hosting at 67% and 41% for gift shopping. The distillery created the Glenlivet Holiday Concierge Service to alleviate some of the key points from the hassles.
"A survey from the Glenlivet found that 58% of Americans are more excited about celebrating the holidays this year than last year. However, 66% said they find the holiday responsibilities overwhelming. Another 45% of Americans find that having three or more holiday responsibilities "overwhelming," and 71% of Americans said they would be interested in at least one service to make their holiday plans "more special and out of the ordinary" with holiday hosting and timely gift shopping among the top hassles of the season."

According to the Spirits Business
The Glenlivet aims to ease festive-season stress for a few lucky winners through the sweepstakes of The Glenlivet Holiday Concierge, which is open for entry and will run through 14th December for consumers over the age of 21 years old.
To create the concierge, the distillery worked with style and design expert Jessica Walsh, founder of &Walsh, a creative agency in NYC as well as Ladies Wine Design, a global non-profit with a mission to diversify the creative industry. The Glenlivet and Walsh will be offering a set of experiences for 24 combined winners that will address the holiday hassles.
"These services will allow consumers to truly 'seize the season' this holiday," said Suhr, who continued to describe how the partnership with Walsh was a natural fit. "Walsh truly embodies the progressive, bold and vibrant spirit of The Glenlivet… She shares a similar vision in her field of work: she's pushing the boundaries of design with her contemporary and unconventional approach, which really resonated with us as The Glenlivet seeks to break new ground in the world of single malt."
Walsh and Glenlivet's Holiday Concierge Service includes
A Holiday Personal Shopping Experience, two grand prize winners will gain access to the shopping experience led by Walsh. Walsh will personally manage a gift list for the winner's loved ones. She would also complete the purchasing and delivery of up to $5,000 worth of personalized presents.
A Holiday Bar Cart, another two lucky winners can win a curated holiday bar cart by Walsh. This can relieve the stress of preparing for "holiday entertainment as the fully dressed bar cart will be stocked with all essential cocktail components, which Walsh personally shares, always includes The Glenlivet. "
 Luxe Entertaining Kit, 20 instant prize winners will win a premium cocktail kit by Walsh to elevate this holiday season with everything you need to reinvent with the Glenlivet 12-year-old.
All prize winners will also receive a $100 gift card.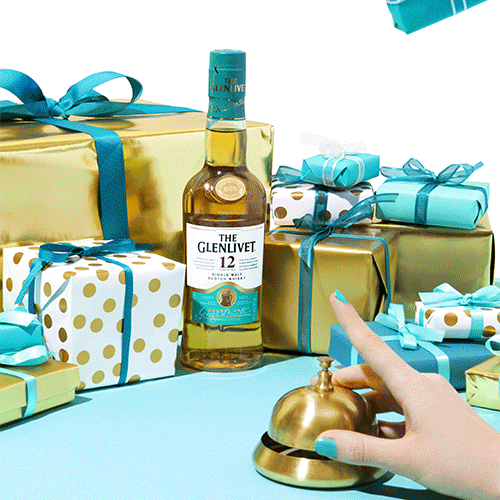 "Good gifts take time and consideration around what a person is going through and what will genuinely add to their life versus just being another material thing that clutters their space. I got excited about this partnership with The Glenlivet because I love finding different items that will genuinely make other people happy. Thankfully, my creative eye comes in handy outside of work, and I'm usually pretty good at finding interesting and personalized gifts for people."
For the holiday shopping gifts, Walsh decided to purchase women, LGBTQIA+, and diversely owned-small businesses. These small shopping communities can offer incredible and diverse gifts. Some of the gifts include Walsh's favorite home and design pieces to beautifully decorate the home, or creatively filling the bookshelf. The unique gifts like a chic coffee maker and a beautiful whisky decanter and cocktail kit, etc. can also help elevate the customer's hosting experience.
Personalized bar carts include spirits for entertaining the guests. Walsh's favorite bottling of Glenlivet 12-year-old will be included along with spirits—like vodka, gin, rum, whisky, or tequila. Also, Cocktails tools to mix a perfect cocktail blend of Glenlivet single malt whiskies will be added.
The Glenlivet 12-year-old single malt Scotch whisky is a refreshingly smooth, fruity, and sophisticated spirit. The whisky uses water from Josie's Well during mashing and fermentation, which creates delicate and complex flavors. The whisky is distilled in copper stills. The single malt is first matured in traditional European oaks and then matured in American oak barrels. This imparts the smooth vanilla flavors. The Scotch whisky has a bright, vibrant gold color. On the nose, there are fruity and summery notes. On the palate, it is well balanced and fruity with strong pineapple notes. The finish is long, creamy, and smooth. A perfect whisky for any occasion!
Go on and participate in the Glenlivet Holiday Concierge Service and have a chance to win an amazing gift experience to make you worry-free this Christmas Season!!!!