2021 is the year of innovation for the Alcohol and Beverage Industry. Spirit brands across the world are coming up with new ideas, innovations, and new blends to spice up their drinks and, make you fall in love with their new liquor. Forty Creek, a Canadian whiskey distillery created a new infusion with their rum and whiskey.
Recently, Forty Creek's Master Blender Bill Ashburn released the new Foxheart Whiskey. This new whiskey is a mix of their Canadian Whisky with a hint of 12-year-old Caribbean rum, delivering what's described as a balancing taste of oak, spice, and fruit.
Foxheart, a product of passion
What is the story behind the creation?
Ashburn is very passionate about blending whiskey and breeding champion hunting dogs. He is so passionate about Canadian whiskey that he arrives at 6 a.m. at the distillery for crafting his whiskey. So, Ashburn wanted to create a Canadian whiskey that is a product of his greatest passion. This is how Foxheart whiskey was born. The whisky is described by the brand as a tribute to Ashburn's decades of leadership at Forty Creek. The name of the whiskey comes from the home of his first championship dog, a wire hair terrier, a breed known for its curiosity, determination, and tenacity.
The terrier's driven attitude inspired Ashburn to infuse Forty Creek's Canadian whisky with the aged Caribbean rum. This whiskey has a greater depth of character and a more rounded, balanced taste from start to finish.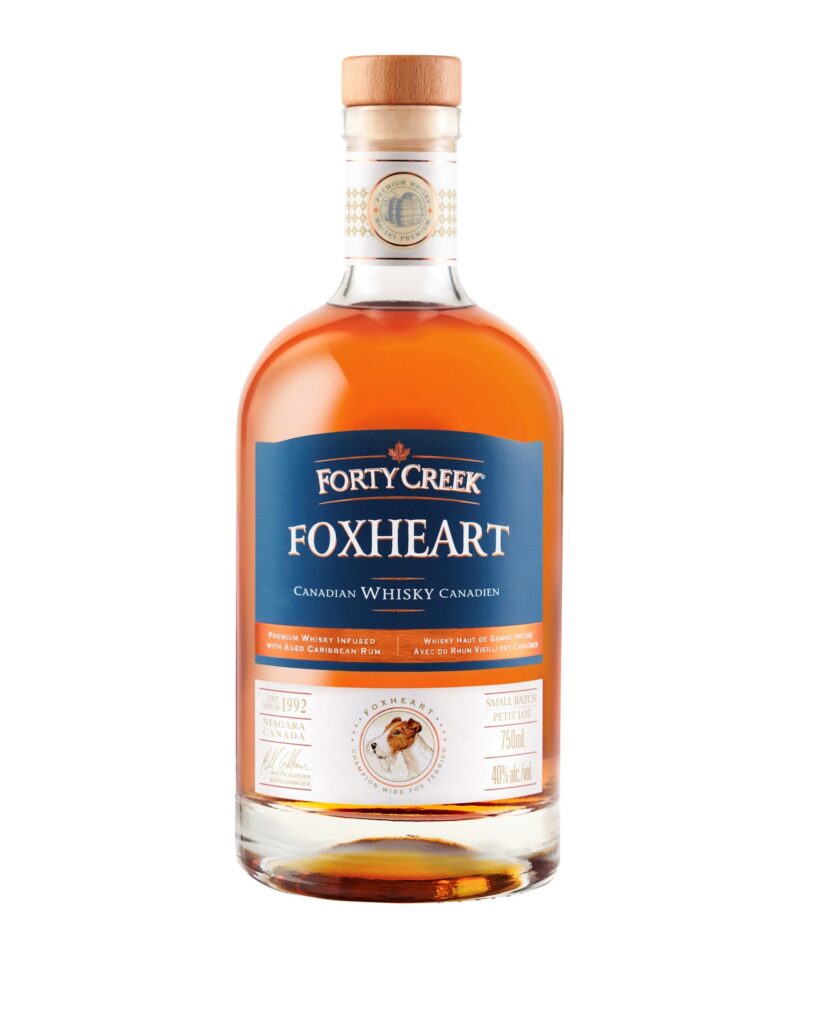 "I've dedicated my life to mastering two passions … blending best in class whisky and breeding best in class dogs. For that reason, Foxheart holds a special place in my heart. When blending Foxheart, I wanted to utilize the unique, premium liquid that's already well-loved by Canadians and infuse it with a hint of aged Caribbean rum, leaning into its spice and flavour to further enhance the whisky."

By Ashburn (According to The Whiskey Wash)
"Ashburn said he's fortunate that Forty Creek — and owners Campari Group — have a lot of faith in his tastebuds and his ability to put together a liquid that consumers will like."

According to Well and Tribune
Bill Ashburn was named Whisky Maker of the Decade by the Canadian Whisky Awards in 2020.
Tasting Notes of Foxheart
Aromas: Vanilla and oak with hints of stewed fruits and Banana.
Flavour: Creamy with sweet tropical fruit, hints of molasses, and lingering peppery spices, then cream Sherry, dark fruits, and barrel tones.
Finish: Multi-layered, lush, and very approachable.
Proof: 40% ABV
Size: 750 ml
Foxheart retails for $44.95 and is currently available in Ontario. It will soon hit shelves in British Columbia, with distribution rolling out across Canada in the coming months.
About the brand
Forty Creek Whiskey Distillery was founded in 1992 by John Hall, and Master Blender, Bill Ashburn, in a region known for its unique geography and climate. Forty Creek is located at 297 South Service Rd. West, Grimsby. It is named after the river running through the centre of Grimsby, Ontario, exactly 40 miles from Niagara Falls. Forty Creek employs both column and pot-distilled methods, aged in a variety of barrels. The brand employs the art of blending different whiskies made from different grains, thus, producing a complex variant with a well-rounded taste experience.
The product range includes- Barrel Select, Copper Pot Reserve, Forty Creek Cream, Spike, Double Barrel Reserve, Confederation Oak Reserve, Three Grain 20th Anniversary Edition, Nanaimo Bar Cream, Oh Canada Maple Liqueur, Harry's Hurricane Spiced Rum, and, The Forager Botanical Whisky.
Indulge yourself in this new spicy, fruity and Canadian whiskey, and, taste the award-winning Master Blender's new creation. You can safely put the ginger ale or soda away, and, drink this blend neat or on the rocks!