As one of the oldest beverages known on earth, the popularity of wine is unconquerable with some 4.3 billion bottles being enjoyed annually by drinkers in the U.S. alone (according to alcohol.org). This is the beverage that you can enjoy with food or without food, and is available in a varied range of prices- i.e., there is a perfect wine for everyone, be it a beginner drinker or a tightly budgeted college kid, or a connoisseur of wines, or a passionate collector of wines from around the globe.
Now, if you don't want to take it from me, I would like to quote Mr. Paulo Coelho as he beautifully wrote this in his novel Brida:-
"Accept what life offers you and try to drink from every cup. All wines should be tasted; some should only be sipped, but with others, drink the whole bottle." You have to agree with me that this is some powerful wine, and lifel-ine (pun intended).
Today our focus will be on Tuscany; a notable region that is referred to by many as a land of some of the most desired wines. It's located in the heart of Italy. Tuscany is home to some of the world's most notable wine regions and to "Super Tuscans"- It is a class of wine, which first emerged in the 1970s. These wines shun the tradition by utilizing non-traditional grape varieties and do not abide by the traditional Tuscan winemaking process. Consequently, this style of wine isn't classified as a DOCG- Denominazione di Origine Controllata e Garantita. But they were considered to be of high quality and commanded high prices. Even many of these wines became cult wines.
If you are a wine enthusiast, then make sure to check-out these 5 awesome Tuscan delights.
Sassicaia
Sassicaia is unquestionably one of the finest and most popular wines in the world. It's a red wine originally produced by Mario Incisa Della Rocchetta in 1968. When Mario Incisa Della Rocchetta married Clarice della Gherardesca in 1930, her dowry included the 7,500-acre Tenuda San Guido estate. Nowadays, the estate is better known by the name of this world-famous wine. The word Sassicaia can be translated as 'a place of many stones' inspired by the rocky terrain on which the vineyards of these wines are planted. Sassicaia mirrors the Graves region of Bordeaux. (Graves also gains its name from its gravel-rich soil.
As my poor self never got the opportunity to try this wine out myself. I'm trusting and quoting the words of the renowned Luxury Lifestyle Magazine, "This wine is a blend of predominantly Cabernet Sauvignon and Cabernet Franc which gives this wine an elegant taste with a refined texture. The wine has a typical red colour and it can be paired with rich meaty dishes, different kinds of pasta and creamy sauces."
Tignanello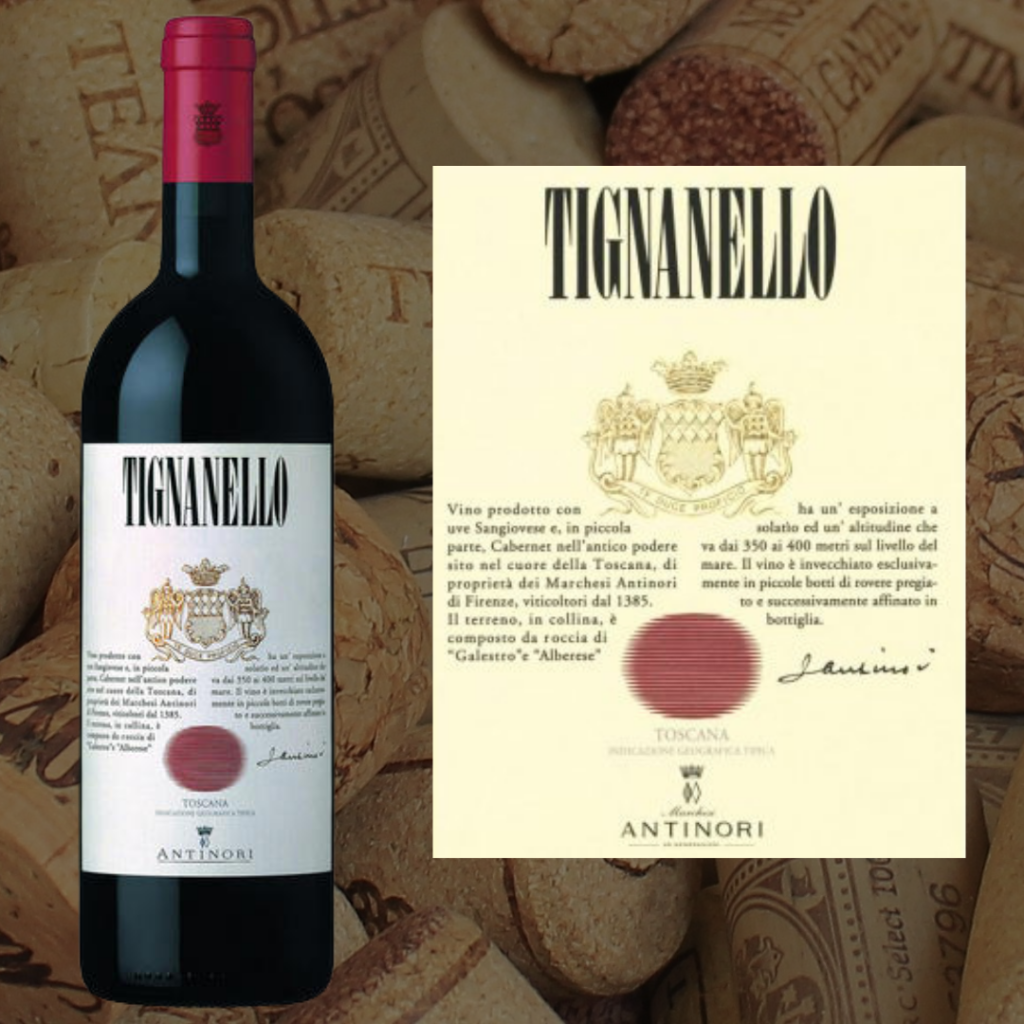 Tignanello is a red wine. It is one of the most desirable wine in Italy and is made by the prestigious Tuscan winery- Marchesi Antinori. According to Marchesi Antinori's official website, Tignanello was the first Sangiovese to be aged in barriques, the first contemporary red wine blended with untraditional varieties (specifically Cabernet) and one of the first red wines in the Chianti Classico region that didn't use white grapes. It is produced with a selection of Sangiovese, Cabernet Sauvignon and Cabernet Franc.
Now, according to the basic wine pairing rules I suspect that this wine often goes well with spicy meats and different kinds of pasta.
Carmignano
Carmignano is one of the lesser-known DOGC made in the famous Tuscany wine region. According to the Wine Enthusiast Magazine, Carmignano produced wines during Roman times, and French grapes were first introduced in the 1500s during the reign of Catherine de' Medici. In 1716, Cosimo III de' Medici, the Grand Duke of Tuscany, listed Carmignano as one of four superior wine-producing areas of Tuscany.
The grape composition of this wine is is Sangiovese (50-100%), Canaiolo Nero (0-20%), Cabernet Sauvignon and/or Cabernet Franc (10-20%), Trebbiano Toscano and/or Canaiolo Bianco and/or Malvasia del Chianti (0-10%). And because of these the wine gets its ruby red colour.
Now, believing in those who wrote about this wine in the Italian Wine Guide- "the taste is dry, ample, balanced and velvety, pairing well with rich Tuscan cuisines.With aging, Carmignano develops a greater finesse."
Uccelliera Rapace Toscana
Uccelliera Rapace Toscana's wine-makers describe it as rich, complex, and powerful, but clean and smooth at the same time, with prominent but fine-grained tannins, and a dynamic, rising finale long-lingering. It is made of a blend of Sangiovese, Merlot and Cabernet Sauvignon. This is a full-body, soft and silky wine with a long finish that completes a balance between fruit, oak, acidity, and tannins. It pairs well with white meats, cheeses, and other savory sauces.
Castello di Ama L'Apparita
Castello di Ama L' Apparitas is a Merlot with great elegance and a prestigious structure. Ama introduced the variety Merlot in the vineyard "Bellavista", located 490 meters on sea level, between 1982-1985. According to the Ur Italian Wines (a virtual wine store), the features of this wine are- red full of deep purple reflections. The perfume is rich in blackberry, spices, black pepper, and wisteria. In the end, you can recognize some balsamic sensations mixed with vanilla. The taste is soft and intense, with faint tannins that otherwise are present and defined. Its freshness is great and the final, strong and persistent, is really elegant.
Overall, this wine is extremely stylish, velvety, mouth-filling and a true symbol of vintage. This wine goes perfectly with red meats especially roasted and rich in spices.
---