Speyside, renowned for housing esteemed single malt distilleries like The Macallan and The Balvenie, boasts breathtaking landscapes that serve as a source of local ingredients for these distilleries. However, in 2015, Alex Christou embarked on a mission to explore the possibility of complementing the region's spirits production with a distillery exclusively dedicated to gin and vodka.
After four years of meticulous planning and craftsmanship, the impressive 5,400 square feet Glenrinnes Distillery emerged as the unequivocal solution. It now proudly stands as the home of Eight Lands, an award-winning brand co-founded by Christou and his stepfather. The distillery operates on a family-run estate where its gin and vodka are meticulously crafted, utilizing pristine water sourced from the estate itself, while drawing inspiration from its organic ethos. The brand's name, Eight Lands, is derived from the captivating vista of eight counties visible on clear days from the summit of Ben Rinnes. Furthermore, the spirits produced by Eight Lands are composed of 100 percent natural ingredients, carefully traced from grain to glass, with the estate's farming activities led by Christou's mother, Kathy.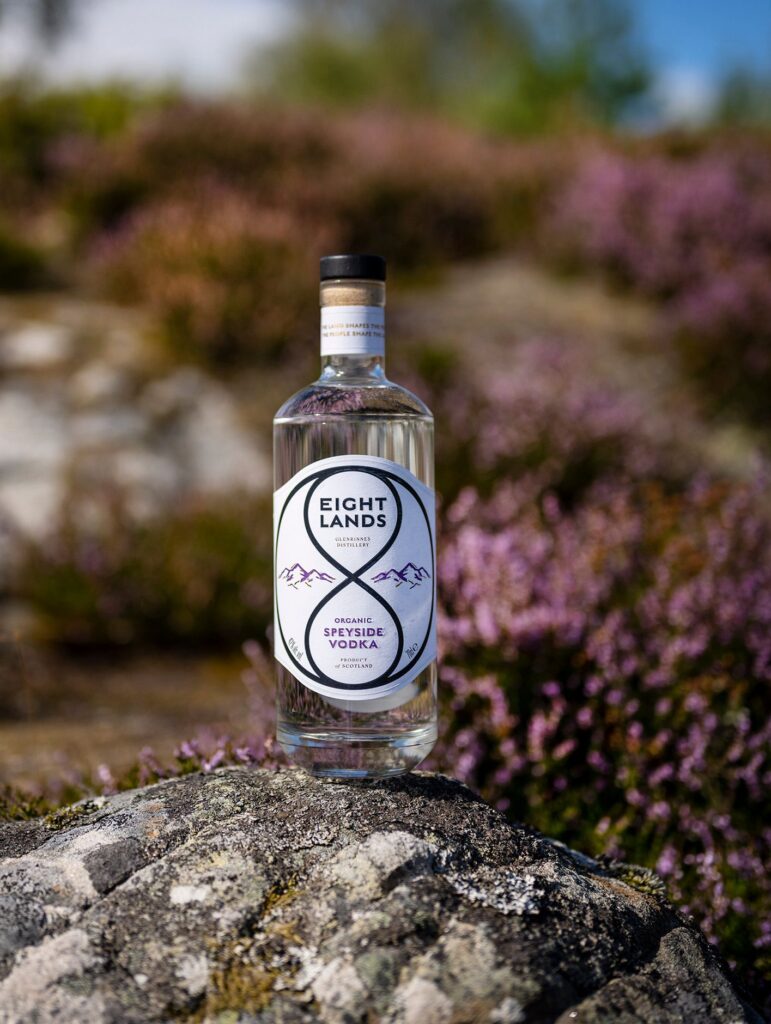 'I genuinely believe that we have created something special with our vodka and gin, which are made from only organic ingredients and Scottish spring water. This commitment to high-quality ingredients and processes directly contributes to the quality of our liquid. In turn, this enables us to offer a superior vodka and gin to our customers.'

Christou says
The organic vodka undergoes a meticulous production process involving two stages of fermentation and a combination of a pot still and two ten-plate columns. This results in an extraordinary drinking experience, where enticing aromas of marzipan and vanilla pods greet the senses. On the palate, the vodka exhibits notes of quality grain that seamlessly transition into butterscotch and coconut, culminating in a smooth finish with a subtle hint of spice.
In contrast, Eight Lands also presents a juniper-infused London Dry-style gin, distilled in a 1,000-litre pot still and one of the distillery's rectifying columns. By utilizing maceration and vapour infusion techniques, a unique flavor profile is achieved, incorporating eleven botanicals, including locally foraged wood sorrel and cowberries. The palate experiences a harmonious balance between the sweetness of juniper, the tartness of red berries, and the vibrant citrus notes. As the gin lingers, hints of black tea and warm spice leave a memorable impression on the palate.
Eight Lands is a multi-award-winning vodka and gin, made with only organic ingredients and Scottish spring water, and distilled and bottled at the family-owned Glenrinnes Distillery in Speyside.