Glenfiddich has recently launched their final special edition gift pack for the Chinese New Year Trilogy: GLENFIDDICH Gran Reserva 21-Year-Old. The third limited-edition gift pack celebrates the 'Year of the Tiger' for Chinese New Year 2022 and completes the Trilogy series.
"Our Whisky is for those who wonder 'Where Next?' This is the Season where we Think Bigger and Look Further. Beyond the fireworks and lanterns above, a bright galaxy of possibility awaits. Across this majestic canvas, our hopes and dreams are drawn. So, reach for the stars, glass in hand, and imagine a future filled with good fortune. A gift to mark new Beginnings…"

According to Glenfiddich Website
The bottle and label design are created by renowned Shenzhen-based illustrator Rlon Wang. Wang's latest design immerses the endless horizons of possibility and opportunity for the year 2022, with a spotlight on Glenfiddich's iconic stag.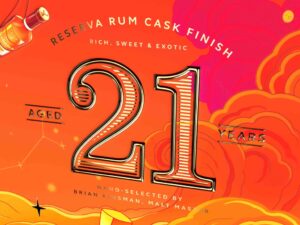 Rlon Wang designed the entire Chinese New Year Trilogy series, with each bottling in the series defining a beautiful story related to Glenfiddich. The first release told the story of Charles Gordon — Glenfiddich Founder William Grant's son-in-law — who brought the Speyside whisky to the world. The second release told the tale of the 'Great Homecoming' and portrayed Glenfiddich's signature stag emblem returning to Scotland. The stag translates to 'Fu Lu' in Mandarin and symbolizes wealth and prosperity.
"I greatly enjoyed working with Glenfiddich for this final design; I was able to use a technique of multi-layered illustrations to put people's brightest hopes and dreams on a canvas. I gave the design an otherworldly feel with the use of traditional symbols in futuristic forms. We see old friends – Glenfiddich's Royal Stag and the traditional dancing Chinese lion – ascending to the stars with a bright galaxy in front of them; auspicious lanterns, lotus flowers, and a soaring phoenix guide them into a vibrant world full of galactic proportions. Zero-gravity allows them to reach new heights, representing a boundless future that awaits."

Illustrator Wang said in a prepaid statement
"With the conclusion of this series of limited-edition CNY packs, artist Rlon Wang speaks to our time by capturing a feeling of optimism for the future. The talented illustrator, a fellow maverick in his field, takes our characters on one final journey to a horizon of possibility and opportunity."

Will Peacock, global luxury director for Glenfiddich, said in a prepared statement
Glenfiddich Gran Reserva 21 Year Old: A Uunique Single Malt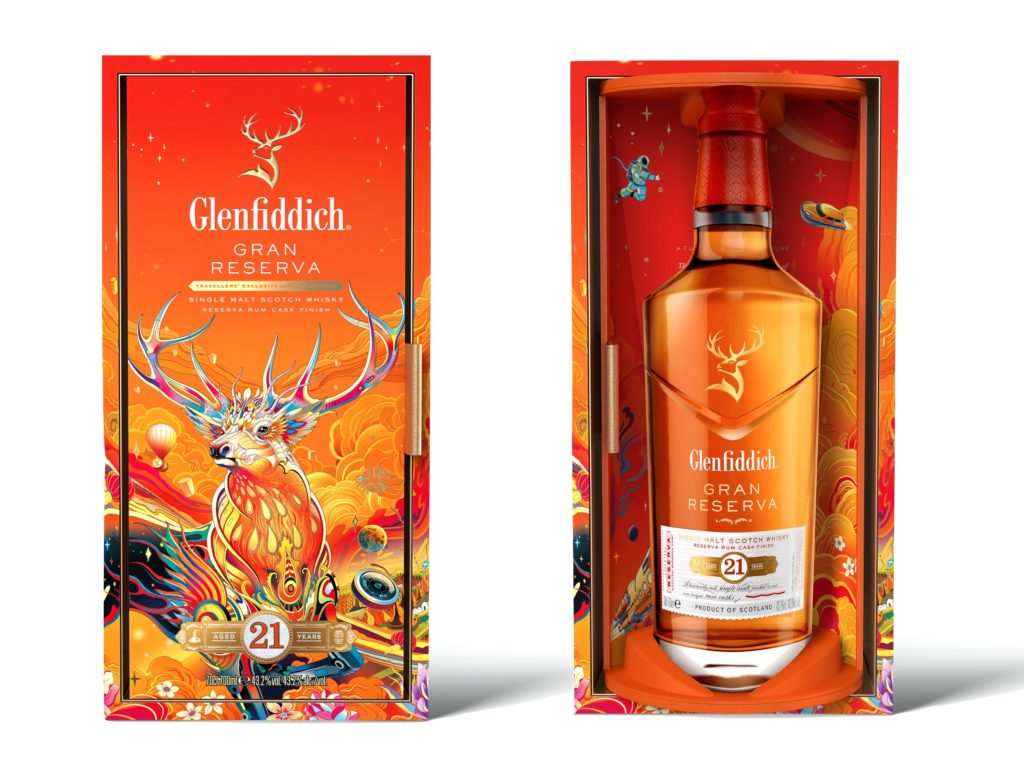 The Glenfiddich 21-Year-Old single malt whisky is created by using casks that once contained premium Caribbean rum. The whisky then spends four more months finishing in Gran Reserva barrels which are hand-selected by the distillery's Malt Master, Brian Kinsman. The whisky is aged for 21-years and combines both distinctive and complex flavours of Scotland and the Caribbean into a rich and unique tasting whisky. The expression gets its name 'Gran Reserva' after the name of the final finishing barrel. The whisky is bottled at 43.2% ABV.
Tasting Notes of the Single-Malt
Colour: Dark Gold
Nose: Intense and vanilla sweet. Floral hints of banana, figs, rich toffee, new leather, and oak.
Taste: Initially soft, then brisk, vibrant and drying, peppery, a touch of smoke, oak, lime, ginger, and spices.
Finish: Very long, warming, dry and spicy
Glenfiddich is also releasing 200 limited-edition Chinese Lunar New Year (CNY) NFTs along with the single malt whisky release. This release is inspired by the last in the Chinese New Year trilogy designed by renowned illustrator Rlon Wang. This release marks a new beginning for the distillery as the distillery is releasing New Year NFTS for the first time.
Only 200 bottles of the Glenfiddich 21 Year Old Chinese New Year Limited Edition will be available for purchase on BlockBar.com at 10 AM EST on the first day of the Lunar New Year (Tuesday 1st February), on a first come first served basis, priced at 0.15 ETH each (approx. US $467). The NFT may be purchased from BlockBar.com with Ethereum (ETH) or by credit card.
Upon purchase, the buyer can also unlock exclusive content including a JPG of the complete artwork from Rlon Wang, individual digital illustrations of the famous icons that make up the overall design, and a Golden Stag GIF that can be used to obtain early access to the next Glenfiddich drop via BlockBar.com.
To register for a tour of the Distillery, visit- https://www.glenfiddich.com/us/distillery/
Celebrate the Chinese New Year 2022 with GLENFIDDICH Gran Reserva 21-Year-Old and set beginnings for a good opportunity, wealth, prosperity, and happiness!!! The entire collection is breathtaking and a collector's worth.