There are various whiskies with unique production methods. An alcoholic beverage which has a huge fan base plus when it comes to Glenfiddich which is now the world's most awarded single malt scotch whiskey. One would expect the best from these whiskies but Glenfiddich distillery has successful managed to cross the boundaries with their new initiative. Let's have a look at this step taken by Glenfiddich towards making world a better place to live.
The Glenfiddich Distillery : 1886
A vision aged for 20 years – 'to make the best dram in the valley' led to the establishment of what we know today as Glenfiddich. A distillery built based on the vision of William Grant involved his seven sons and two daughters. All of their efforts took one year to construct the distillery and then it was named as Glenfiddich – Gaelic for valley of the deer.
This distillery is viewed as iconic due to it being one of the few single malt distilleries to remain entirely family owned. Glenfiddich is respected in the world of whiskey, the passion and determination of the founder still guides them to excel and create the best from the rest.
The New Initiative
"The thought process behind this was 'what can we do that's better for us all?"

Stuart Watts
The Scotch whiskey maker came up with a brilliant idea to be a step closer in reducing their own carbon emissions. Their new program is basically using the liquid waste generated from their own distillation process to fuel their delivery trucks. Traditionally Glenfiddich has sold off left over grains from their malting process to be used for a high-protein cattle feed. But during this process through anaerobic digestion (bacteria breaking down organic matter to produce biogas) – the distillery can use the liquid waste to make fuel for the delivery trucks. The main aim is basically to convert their delivery trucks to run on low-emission biogas which is obtained from waste products left out during the whiskey distillation process. This whole process is part of a 'closed loop' sustainability initiative.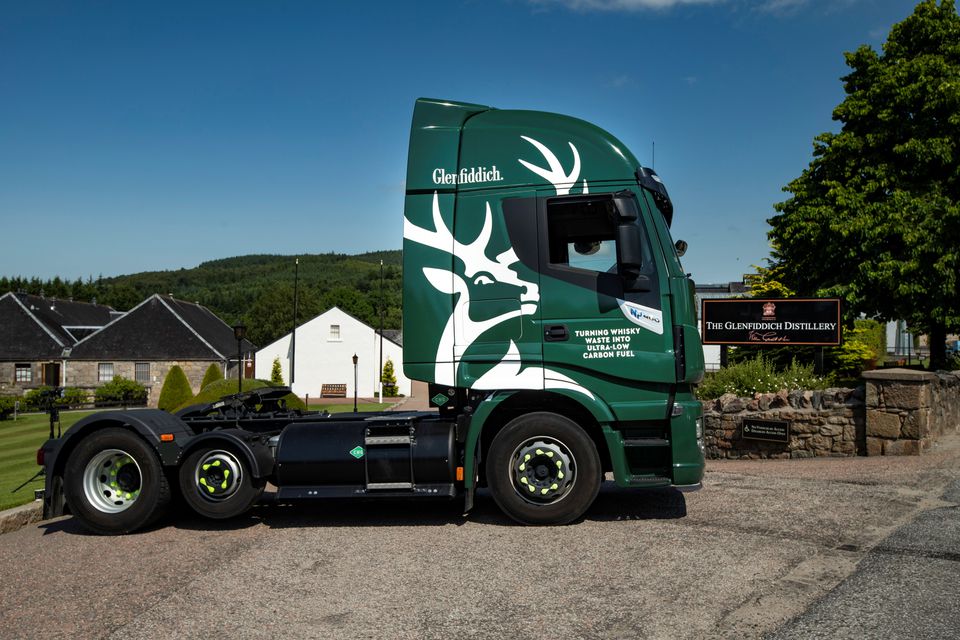 The gas in equation here is Ultra-low Carbon Fuel (ULCF) which produces minimal carbon dioxide emissions and other byproducts. According to Glenfiddich, this biogas cuts down approximately 95% of carbon dioxide emissions as compared to other fuels like petrol & diesel. It also decreases harmful greenhouse gases to an average of 99%. As of now three specially designed trucks by Iveco are made to run on the company's whiskey-based fuel. These converted trucks usually run on liquefied natural gas. Glenfiddich has around 20 trucks and this amazing technology could be applied to delivery trucks of William Grant & Sons. Once the technology is all set the usage is thought to be extended for other company's trucks as well.
"We are proud of these renewable energy breakthroughs in our industry as we scale up the de-carbonizing benefits of this closed-loop process across our entire transport fleet."

William Grant distilleries director Stuart Watts.
Glenfiddich said it has installed fueling stations at its Dufftown distillery in north-eastern Scotland which uses technology developed by its parent company William Grant & Sons for the conversion process mentioned above. The three trucks in co-operation with this whiskey based fuel transport the spirit from production at Dufftown through to bottling and packaging, across four William Grant & Sons sites in central and western Scotland.
Future Goals :
The Scotch whiskey industry as a whole has committed to carbon net-zero emissions by 2040. The other highlighted plan in this sustainability initiative include the use of all reusable, recyclable or composable packaging by 2025 and a "wider conservation and restoration of Scotland's peatland to deliver environmental benefits for the common good" by 2035.