The one thing most gin's have in common is 'juniper'. Gin and juniper berries go hand in hand. A fact not many know about is – Gin is a shortened form of the English word genever ( French word genièvre and the Dutch word jenever) which translates to juniper. A botanical used in the mash for extensive flavor profile. While there is addition of many other flavors, spices to construct a complex expression but juniper holds it all together. Gin is basically the most preferred beverage when it comes to cocktails due to its unique flavor and the ability to uplift other flavor impressions as well. Now that you know why gin is 'GIN' look at this newest flavored gin from Bombay Sapphire and its profile that shines out.
A little about Bombay Sapphire
Established in the year 1986 by wine merchant International Distillers & Vintners – Bombay Sapphire is currently under the control of Bacardi. 'Bombay' indicates popularity of gin during British rule in India and 'Sapphire' is a reference for 'Star of Bombay' a violet blue cut star sapphire mined from Sri Lanka. Currently their distillery is based in Laverstoke Mill in Whitchurch, Hampshire which was opened to public in 2014.
'Every one of our gins reflect our rigorous selection process and uncompromising approach to creating fresh, clean, bright flavours that are perfect for creating exceptional mixed drinks.'

By Bombay Sapphire
This brand is also well known for their design collaborations featuring martini glasses to tiles and cloth patterns labelled as ' Inspired by Bombay Sapphire'. Those collaborations brought in cheers of a huge success which led to establishment of Bombay Sapphire Designer Glass Competition, held annually where design students from all over the world can participate by designing their own "inspired" martini cocktail glass. One finalist from each participating country is then invited to Salone del Mobile, an international design fair in Milano, where the winner is chosen.
A bold new gin – Bombay Bramble
A lively, breath-taking addition to their luscious range of gins – Bombay Bramble, a new creative & crafted expression of gin bursting with natural fruit infusion and visually depicting a lovely crimson color. Bombay Sapphire's vapor distilled gin is infused with an all-natural berry infusion which contributes to the distinctive color and flavor. This gin is a harmonious combination of juniper, floral, spice and citrus flavors. Visually it is eye-catching, the deep cranberry hue which is a result of  a natural infusion of black carrots and black currant makes it more appetizing. 43% alcohol by volume and priced at $29.95 for 750 ml.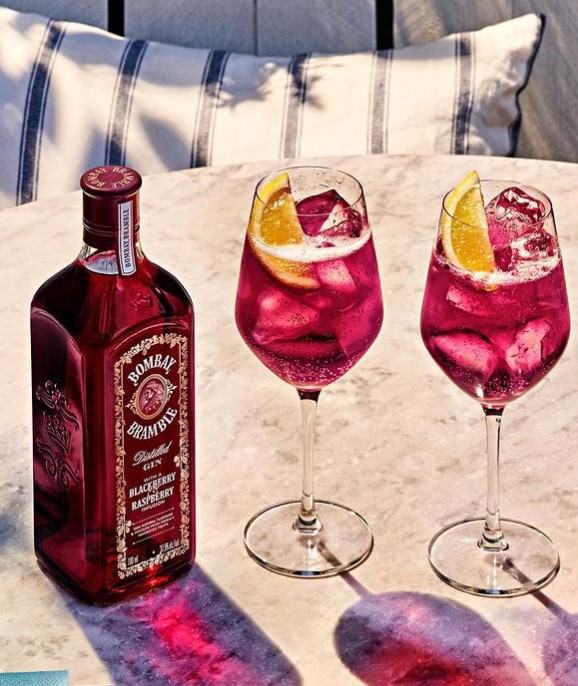 "The color and flavor of BOMBAY BRAMBLE® comes only from botanicals and 100% natural fruit ingredients. The craftmanship required to create the new gin took time and consideration. Master Distiller Dr. Anne Brock and I worked together to blend our gin with an alcoholic infusion of berries that have been harvested at their ripest moment, resulting in a unique, rich flavor profile."

By Ivano Tonutti, BOMBAY SAPPHIRE Master of Botanicals
Overall description of Bombay bramble : A deep reddish pink color which is clearly transparent with a natural tartness, hints of spice and heavy aroma of the currants. A dry finish devoid of any sweetness, comes off as a surprise to the palate.
Bramble? converts to Cocktails
The modern classic 'Bramble' cocktail shines light on Bombay Bramble. Served with crushed ice and this gin becomes a go to drink for summer season. The natural, ripe flavor of berries overcome the need of blackberry liqueur with an added advantage of less sugar in cocktails.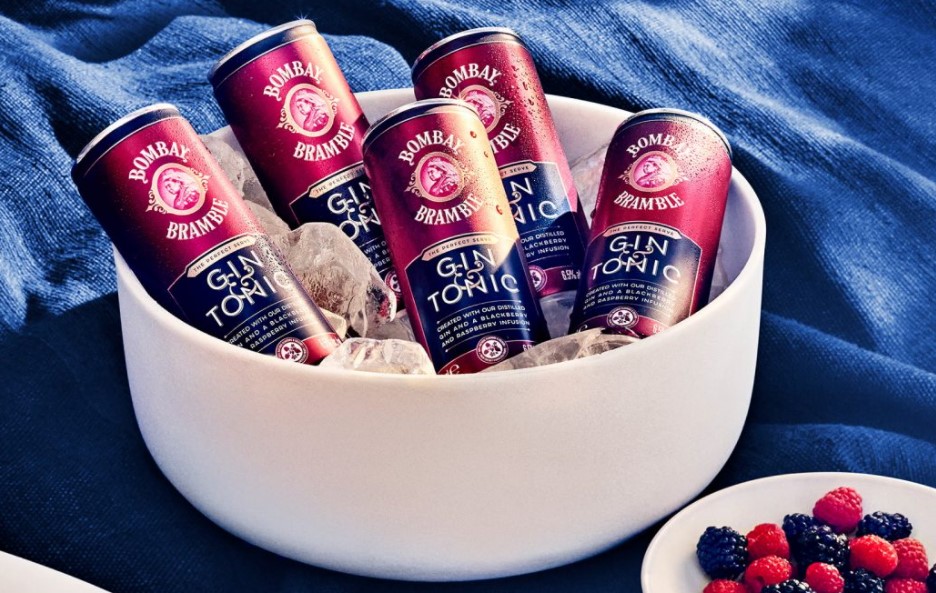 Bombay Bramble & Tonic :
50 ml Bombay Bramble
100 ml Premium tonic water
Lemon Wedge – squeezed and dropped in
Method : Build over cubed ice. Squeeze and drop in lemon wedge.
This recipe is also converted as an official addition to their ready-to-drink range. The product Bombay Bramble Gin & Tonic is the best way to enjoy any occasion with a grade of bar quality serve.
For more cocktail like this one, visit their official website.
Their range of products
Bombay Sapphire
Bombay Bramble
Bombay Sunset
Star of Bombay
Bombay English Estate (ltd. edition)
Bombay Bramble Gin & Tonic
Bombay Sapphire Gin & tonic
Bombay Dry Gin
Bombay Sapphire Gin & light tonic.