Japanese Elegance Meets Scottish Whisky Excellence
Beam Suntory has released a new blended Scotch that combines malt and grain whiskies from the Highlands, Lowlands and Islands, called Ardray. For Ardray, Beam Suntory sourced malt and grain whiskies from the Highlands, Lowlands and Islands of Scotland. Ardray has an ABV of 48% and is a limited release of under 2,000 cases slated to sell in London, Shanghai, Los Angeles and New York.
Ardray was created in partnership between Beam Suntory's chief blender for Scotch, Calum Fraser, and Suntory's blending team. The expression is described as a 'new interpretation' of blended Scotch. The team tasted almost 200 whisky combinations before settling on the final blend.
Ardray hosts a distinctive Japanese influence. The style of the whisky was inspired by historic blends from The House of Suntory and its visionary founder, Shinjiro Torii. Suntory acquired Beam in 2014.
The name Ardray means "towards the light" and reflects the leadership of Torii coupled with the distillery team's continuous desire to strive for more, according to the brand.
Torii founded Yamazaki Distillery, the first malt whisky producer in Japan, in 1923. The Ardray team worked to yield a whisky with a subtle elegance they believe he would have approved of.
"In creating Ardray, we have combined an exceptional selection of the very best Scotch whisky has to offer with the inspiring talent of Suntory's blending team to create something new, refreshing and exciting. "The time, care and attention to detail taken to source both malt and grain whiskies from some of Scotland's most noted distilleries has allowed us to explore hundreds of blends of Scotch malt and grain whiskies to achieve Ardray's optimum balance of multi-layered flavours.

"Ardray promises a rich and complex taste, with a distinctive harmony of flavours: a mild, gently floral, and citrusy fruitiness, with a vanilla custard creaminess and a rich, silky mouthfeel and lengthy aftertaste that is unmatched."

Beam Suntory Chief Blender Calum Fraser said
Ardray (48% ABV) is now available to buy from The Whisky Shop with an RRP of £60/US$80. Tasting Notes Suggest :- Aroma: Balanced with floral and herbaceous qualities. Palate: Honey-smooth mouthfeel. Finish: Long-lasting.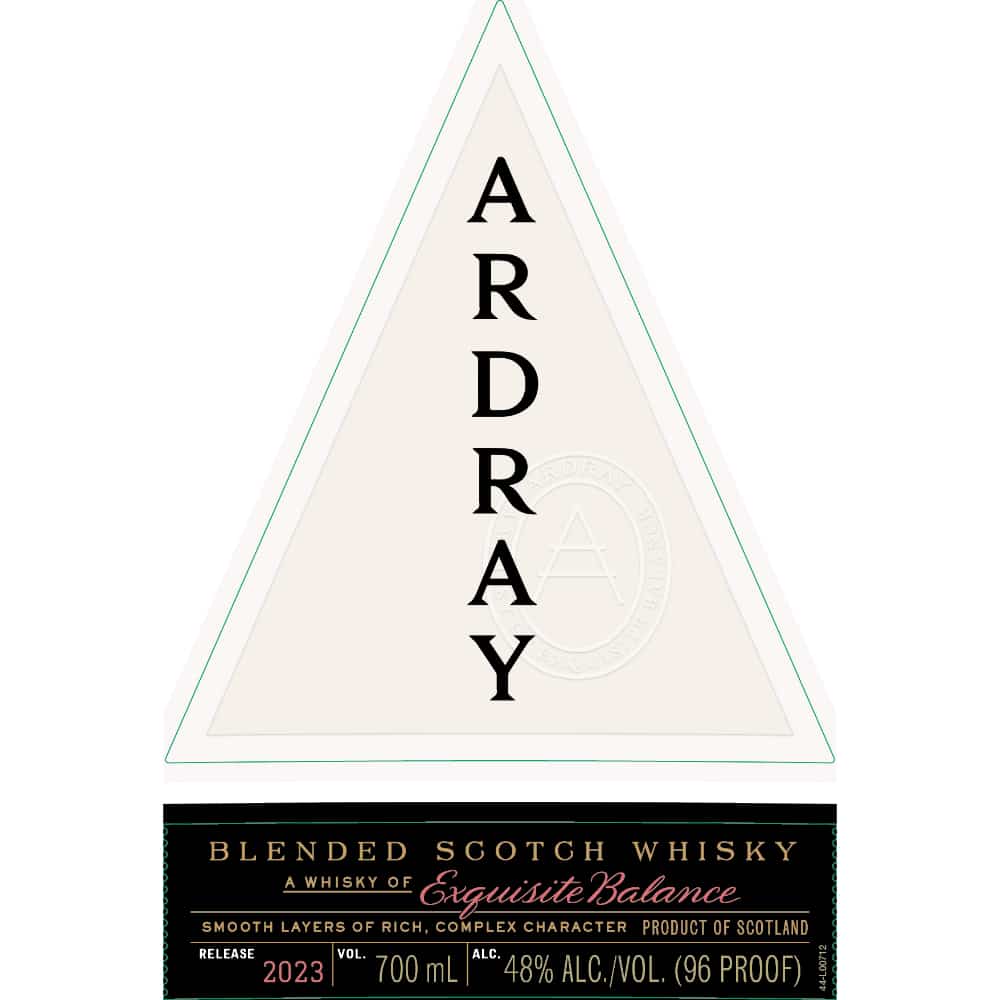 ABOUT BEAM SUNTORY
As a world leader in premium spirits, Beam Suntory inspires the brilliance of life by delivering great consumer experiences through its world-class portfolio of brands. Known for its craftsmanship of premium whiskies, including Jim Beam®, Maker's Mark®, Basil Hayden® and Knob Creek® bourbons; Japanese whiskies, including Yamazaki®, Hakushu®, Hibiki® and Toki™; and leading Scotch brands including Teacher's, Laphroaig® and Bowmore®, Beam Suntory also produces leading brands such as Courvoisier® cognac, Tres Generaciones®, El Tesoro® and Hornitos® tequila, Roku™ and Sipsmith® gin, Canadian Club® whisky, and is a world leader in ready-to-drink cocktails, with brands like -196 and On The Rocks™ Premium Cocktails.
A global company with approximately 6,000 employees in more than 30 countries, one of Beam Suntory's core values is Growing for Good and through its Proof Positive sustainability strategy, the company has committed to ambitious goals and investments to promote environmental sustainability in its operations, ensure the company has a positive impact on the communities where employees live and work, and programs to educate and inform consumers to make the right personal choices about drinking. Headquartered in New York City, Beam Suntory is a subsidiary of Suntory Holdings Limited of Japan. For more information on Beam Suntory, its brands, and its commitment to social responsibility, please visit www.beamsuntory.com and www.drinksmart.com.