The team at Barrell Craft Spirits put together these two new expressions: Stellum Spirits Rye and Bourbon
Stellum's rye picked up a Double Gold at the 2021 San Francisco World Spirits Awards, and the bourbon won a Gold.
STELLUM BOURBON ($54.99)
Stellum Bourbon finds its flavor in the tension of three Indiana Bourbon mash bills, two of which are high-rye, with the third being almost exclusively corn. Older barrels from both Kentucky and Tennessee are folded in slowly, through a multi-step blending process. This brings added layers of depth and complexity, ultimately allowing to round out a uniquely Stellum flavor profile.
A blend of straight Bourbon Whiskeys Distilled and Aged in TN, KY, and IN
Bottled in Kentucky
114.98 Proof cask strength bottling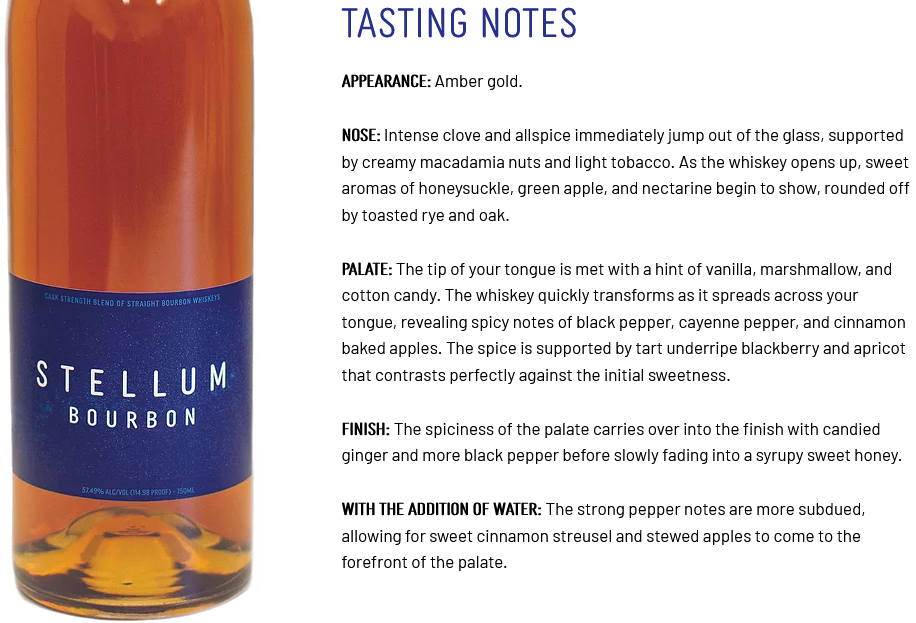 One of my favorite things about this bourbon is the complexity of flavors from start to finish. When I took the first sip, I thought that it was going to only be a sweet whiskey due to the marshmallow and cotton candy notes. As the whiskey rolled across my tongue, the spice kick came out of nowhere, and took the flavor in a completely different direction with cinnamon and black pepper. As I continued to nose and sip the whiskey, an even greater variety of flavors began to appear, which made this a fun and very enjoyable experience. While it is a bold and complex cask strength whiskey, it is not overwhelmingly hot in any way. It carries a pepper-like punch, which I think would pair perfectly with a rich chocolate dessert given that it could cut through the sweetness. The tart green apple on the nose, cinnamon brown sugar on the palate, and the ginger on the finish all remind me of a delicious Dutch apple pie. Sweet, spicy, tart, and something you want to go back to for a second helping.

By CoffeeBlackWhiskeyNeat
STELLUM RYE ($54.99)
The identity of Stellum Rye is rooted in a tried and true 95% Rye Indiana mash bill. To enhance this classic style, we incorporate small amounts more barley-forward rye and choice barrels from both Kentucky and Tennessee. This brings a full, round mouthfeel and flashes of buttery sweetness to an otherwise spicy and tightly focused Rye Whiskey.
A blend of straight Rye Whiskeys Distilled and Aged in TN, KY, IN
Bottled in Kentucky
116.24 proof cask strength bottling
What first drew me in to this pour was the rich peaches in syrup note on the nose that was unexpected for a cask strength rye. Normally there is a strong spice note on the nose to match the palate, but this rye skillfully balanced the sweet and spicy notes throughout the entire experience. The rye spice hit me right away on the palate, immediately followed by the floral, citrus, and spearmint notes. It might sound a bit strange, but that combination of flavors brings out such an intriguing lemon-lime soda flavor that makes me think there is a subtle carbonation on my tongue. To close out the tasting experience, the lack of chill-filtration allowed the rye to coat my entire mouth with sweet honey, mint, and lemon peel. This whiskey hits all of the notes I look for in a high-proof rye, and then some.

By CoffeeBlackWhiskeyNeat
---
Source:-