The Alkkemist Gin is a getaway that explores new horizons while challenging the rules in search of light. This gin has a unique personality that boldly portrays innovation and passion. The highlight of this gin is the process of distillation which is influenced by the phases of the moon. Gin and moon? What is the connection? That is what you might be thinking but there's so much to explore in terms of the significance of this brand and the flavours of the perfectly infused gin.
'ALKKEMIST Gin is the artisanal vision of a 21st century alchemist, passionate about gin and the Mediterranean coast. Travel the ends of the world and caress each sunrise detailing each new discovery. Botanicals, precise notes, keys to a unique elixir… twenty-one reasons to keep going. The journey where the senses merge with nature. Approximate perfection with each new key, in the light of the moon. And come back to tell.'

By Alkkemist Gin
Distilled by the light of the full moon x 21 botanicals
Alkkemist Gin is inspired by the phases of the moon and this is one of the major factors behind its success. The distillation process is carried out when the influence of the moon is greatest, 12 times a year, a strict methodology to produce an Ultra-Premium quality gin. Born from a three times distilled grain alcohol. To achieve a blend that flaunts a perfect infusion of the grain alcohol and a magnificent selection of 21 carefully chosen botanicals. 21 botanicals? you read that right!
Along with such a fine base, Alkkemist Gin is the first gin that uses the botanical – Muscatel grape in the production. These grapes are sourced from the best strains of the Mediterranean and are added to the process in the end. This results in an exclusively bold and curious aroma.
The ABV of this gin is 40% and it is priced at $39.00 for 700ml. Although fluctuation in price is noticeably based on the location.
The 21 Botanicals:
Sea Fennel
Sage
Lemon Verbena
Chamomile of Mahón
Rose Petals
Muscatel Grapes
Balm
Rock Tea
Sweet Chamomile
Thyme
Fennel
Juniper
Angelica
Cardamom
Cilantro
Orange Rind
Lemon Rind
Mint
Pennyroyal
Cat's Tail
Agrimony.
This gin is inspired by artists and teachers from different disciplines – Musicians, Chefs, Poets, Bartenders, Mixologists, Illustrators, Photographers, Designers, Architects, Sculptors… all the artists who bring a universe of new emotions with their personal vision. This creative gin is the emotion of the beginning of an adventure. Thus, consumers worldwide have loved this beautiful expression and try to divulge deep within the magic of those 21 botanicals.
The design of the bottle is simple, aesthetic and bold.
'Our Cap is inspired by the Philosophers' Stone, a mythical alchemical substance capable of turning base metals such as mercury into gold. It is also called the elixir of life, useful for rejuvenation and for achieving immortality, symbolizing perfection at its finest, enlightenment, and heavenly bliss.'

By Alkkemist Gin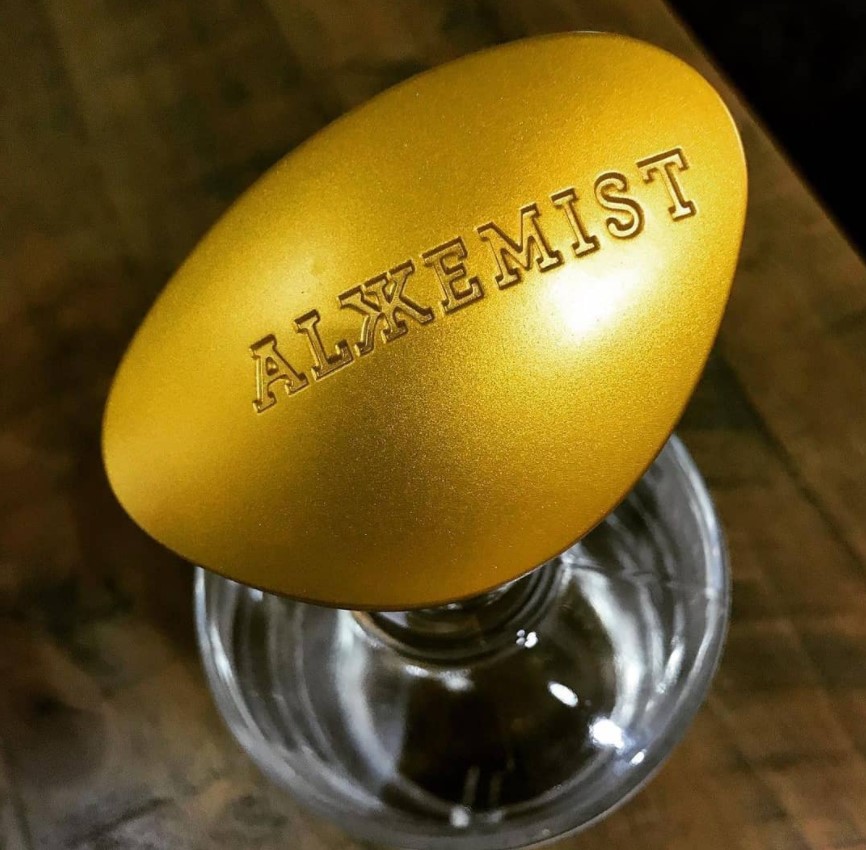 For more information, visit – Official website | Instagram