Alcohol and food have always been in the veins of Frenchmen and they have introduced the whole world to the etiquette of drinking and mixing. Wine, as we all know, was one of the most popular and loved drinks in the whole of France. From cheap to luxurious wines, all grades of French people have lived on wine for ages and used drinking as a medium for socializing. 
But do Frenchmen only love wines?
Well, this question can have many answers! France has always been into wine. However, since a few years, Frenchmen have started showing their interest in some of the other popular global spirits like rum, whisky, and gin.
Gin is a perfect mixer! And this makes French people explore gin more. With complex flavors of superior botanicals infused within, Gin has won many hearts to date. To make it reach more and more lips, some of the major producers of France have invested in this magic spirit.
A famous wine estate in Provence, Chateau Léoube has recently launched a flavourful Mediterranean Gin infused with seven organic botanicals including olives and Rosemary. Here's the full story!
The story of an exceptional winery:
Chateau Léoube estate is the largest privately owned property located beside the beautiful sandy beaches and rocky shoreline of the Mediterranean Sea. It was in the year 1997, that the rich estates of Provence impressed the Bamford family, the current owners of Léoube Chateau. The Bamford family being the founders of Daylesford Organic were fond of sustainable farming and wanted to spread their legacy in and around.
According to them" if you respect the balance of the plant then you will get the most balanced fruit in return" and the rustic taste of organic farming can be felt in the flavors of their excellent products.
Léoube's fabulous, award-winning range of wines have been hitting the global markets for a long time now and all of them are stars! However, this time they wanted to try something new. And what's better than a gin?
Seven organic botanicals X Mediterranean twist: Léoube's Provençal Gin
"We wanted to share in liquid form the essence of Provence and the estate, and gin was the perfect way to do this."- Léoube Château.
Known for their best organic farming techniques, the founders of Léobue Chateau in partnership with Daylesford Organic have recently crafted their best Mediterranean gin distilled with self-grown olives and herbs.
Rustic botanicals used:
Juniper
Olives
Almond
Orange
Fennel
Rosemary
Mandarin
Each of these Mediterranean botanicals is distilled separately through copper stills using Léoube's grape-based alcohol to extract the extravagant flavors and aromas of each herb. The next process includes blending several batches of the alcohol meticulously under the guidance of master distillers to craft a gin that remains unique to Léoube Chateau.
This delicately flavored liquor soothes your palate and fills your mouth with its subtleness. One sip of this rustic gin is reminiscent of the calmness of spending a warm summer evening near a seashore.
According to the master distillers and tasting experts of Léoube: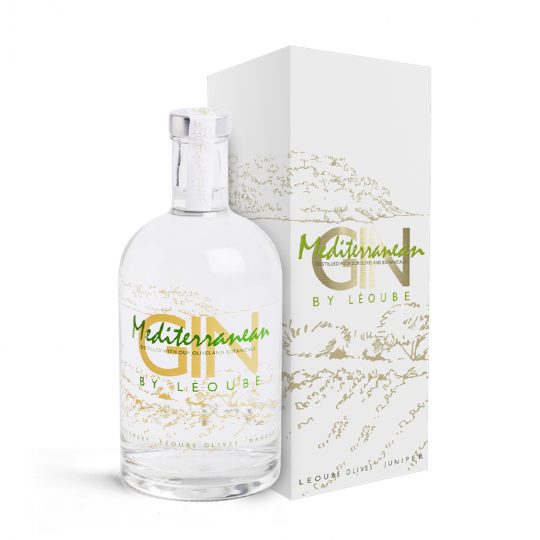 Nose:  It is "elegant, fruity and expressive, beginning with soft sweet citrus fruit and citrus leaves complemented by a heady bouquet of aromatic gin spices".
Palate: Apart from the nose, the gin is "smooth and complex with discreet notes of anise, pepper, and rosemary on the finish"
Léboue's Mediterranean gin wished to capture all the extravagant scents of South France and give its sippers a feel of the trip to the Mediterranean coastline. The rustic gin proved to be 41.5% ABV and hit the UK markets on 18th September 2021. This 70cl bottle of Mediterranean gin will cost £50 to its buyers and will be available for sale on its official website.
"Many different botanicals were put on a table, from the traditional gin ingredients to botanicals that were available to us on the estate. After multiple blends, we managed to create a unique flavor of Provence."

By the export director of Léoube , Jerome Pernot
Léoube Chateau Gin and its drinking styles:
This gin has been carefully crafted to have a delicate and subtle flavor that can be enjoyed neat, on the rocks, or can be perfectly blended with other ingredients to shine as a cocktail.
Léoube's Signature Cocktail: A must try!
Ingredients:
50 ml of Mediterranean gin
1 spoon crushed pink peppercorns
Some dried orange pieces
1 bar spoon Léboue olive oil
How to mix:
Place the peppercorns in the mixing glass and muddle them slightly.
Fill the glass with ice cubes, pour gin and orange pieces
Mix the drink slightly and pour it into the serving glass and enjoy!
Bestsellers:
Château Léoube Rosé de Léoube – £19
Château Léoube Léoube Collector- £49
Château Léoube Rouge de Léoube-£21