Fascinating are the tales that link alcohol with a place. As simple as it sounds, every alcoholic beverage has one story that reflects its pathway from a golden history to modern fame. A distilled spirit made from sugarcane or molasses is the main character here. 'Segredo Aldeia' a Portuguese term that translates to 'Secret Village' has been recently popularized as a brand-new product- Rum. New products coming into the alcoholic beverage industry are all exceptional and contribute new flavours for consumers. So, without any further ado, here is why 'Segredo Aldeia' is a must-try for everyone who loves rum.
April, 1721
Olivier Levasseur also nicknamed as 'La Buse' was a French pirate who spent his time pillaging across the Indian Ocean and then went forward to Seychelles. In 1721, Levasseur roamed across the Indian Ocean and ultimately plundered one of the largest treasures in the history of grand-treasures. He snatched control of 'Nossa Senhora do Cabo'- The Bishop of Goa's ship near the Reunion Island. Jewels, rare-artifacts, gold and many more expensive things from Sé Cathedral made this treasure vast it also had an artifact so heavy that it took 3 men to lift – 'The Flaming Cross of Goa' made of solid gold & a diamond, ruby, and emerald.
But this wasn't the only fact that made this treasure unique, barrels of rum rolled in the deck of the ship. These barrels of rum belonged to a village known to very few. 'Segredo Aldeia' (the secret village) was the name given to this village located somewhere along the banks of Mandovi river. All sorts of people visited this place to get over their trouble pasts while engaging in the process of making rum and relishing it.
What is Segredo Aldeia's rum?
"Rum has been on our minds for quite some time now. It felt like a natural progression to go from whisky to gin to rum. Our goal has always been to create an offering of contemporary Indian spirits, with the launch of our new rum, we are one step closer to our goal. The rum has been in the works for well over two years."

By Fullarton's Aman Thadani.
Segredo Aldeia's launched in March 2021 is basically a distilled spirit that contains a combination of cane and jaggery. Fullarton Distilleries a seven-year-old distillery is the production house for this rum based in Candepar, Goa. This distillery is also famous for Pumori gin and Woodburns Whisky. It is available in two variants – white rum & café rum.
"Segredo Aldeia has been in the works for some time, it was the next step after the launch of our whisky and gin. The rum revival started in the West a couple of years ago, and we figured this was the right time to start creating and riding the wave here."
The two treasures
White Rum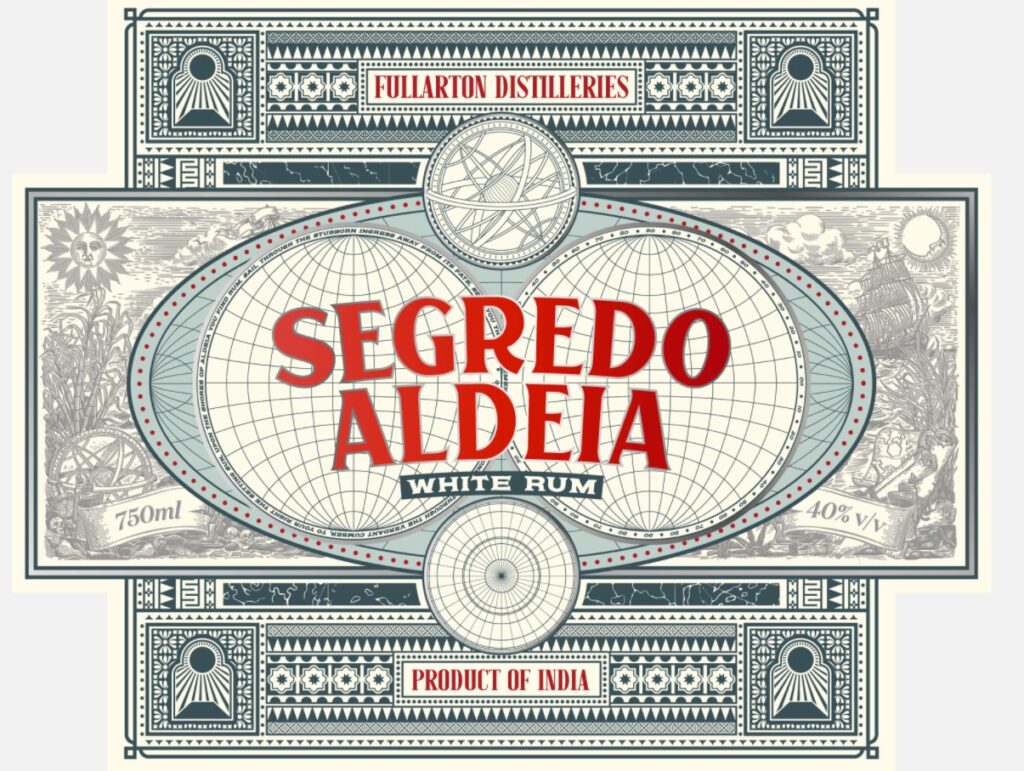 According to the company, this rum has a "dry finish with lingering notes of caramel and vanilla". A lavish combination of rums aged in ex-bourbon barrels and unaged rums. It has an appearance that ranges from clear to a slight yellowish tint. Aromas indicate hints of vanilla and toffee. ABV is 42.8% and priced at Rs 1,500 for 750ml (Goa). The same bottle is priced at Rs 2,800 in Mumbai.
Café rum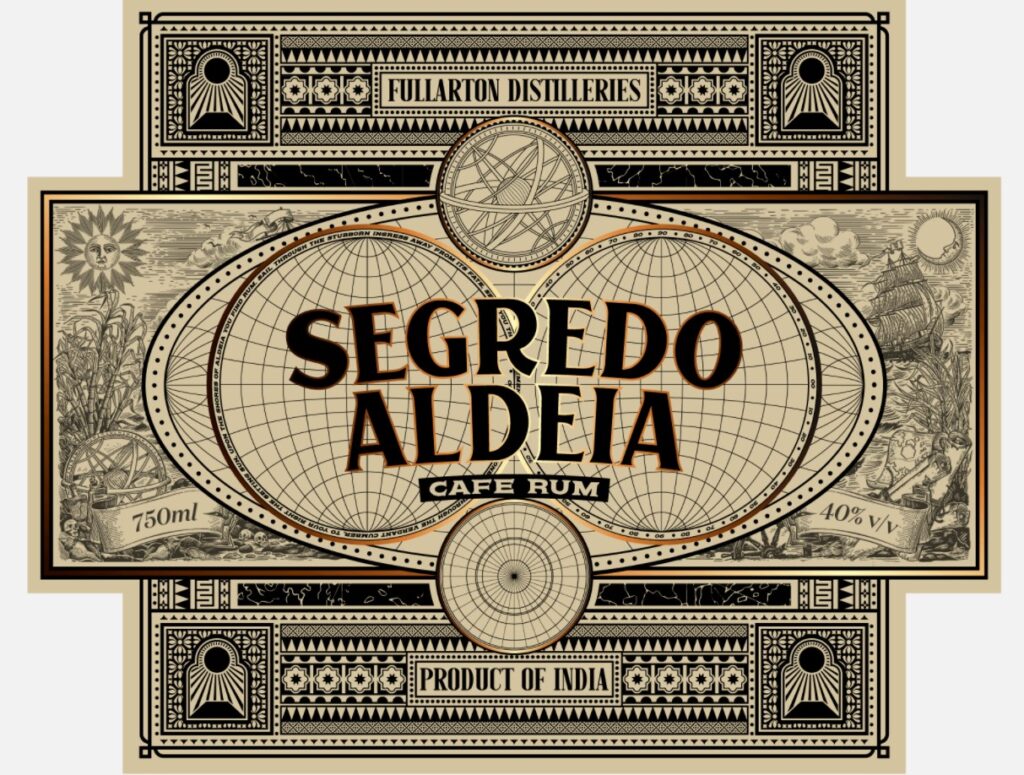 According to the company, this rum is "coffee-forward with notes of sweet wood". Resembling a deep amber colour and aroma indicates coffee with hints of toffee & vanilla. ABV is 42.8% and priced at Rs 1,650 for 750ml (Goa). The same bottle is priced at Rs 3,050 in Mumbai.
Aesthetics of the design
The framework of the label design is quite captivating and very detailed. It is based on an adaptation of the iconic Nova Totius Terrarum Orbis Geographica overlaid atop a vintage drawing. It illustrates a panorama of rough open seas and a shore filled with. It doesn't end here the – Ornamental Portuguese tilework holds together the entire composition. On top of the design lays the name of 'Fullarton Distilleries' and the design is bestowed with 'Product of India' at the bottom of the label. The design is aesthetically very appealing and one would get lost in the craft work of the design before experiencing the flavors of this treasure rum.