When I think of Goa, I get 'Hakuna Matata' vibes. It is a great place with ambiance, beauty, beaches, and liquor. Maka Zai, India's first premium craft rum, takes its roots from Goan seashore. 'Maka Zai' translates to 'I Want', in Konkani. Maka Zai is a product of Stilldistilling Spirits – a small, homegrown, and independent company that serves up 'micro-marvels' of rum, that help elevate your drinking experience.
The beginning: Passion turned to profession
Kasturi Banerjee is the Founder & Director of Stilldistilling Spirits. Her story is a banker-turned-bartender-turned-founder story. Previously known as a banker, Kasturi worked in the financial services industry for over 16 years across various departments, in India and Singapore. As a banker, she was involved in preparing strategic plans, developing product propositions, training, and content development.
"The world of wine and spirits has always fascinated me and the journey to Banker-turned-Bartender started last year, 2019. Wines and spirits are the representation of celebrations; they are associated with bookmarking important days, they contribute in building memories, boost friendships, unleash the creative minds of artists, and sometimes just lightening up and climbing out of despair"

Kasturi says in a prepaid statement.
Her passion for wine and spirits, made her pursue a bartending course in 2019. She took the internship to better understand the art of mixology. Kasturi started to understand the history of the Alco-Bev industry in India. Through experiments with blends and research, Kasturi realized a market opportunity in the premium rum category.
She started her entrepreneurial journey after completing several certifications and training over 2 years. It includes- Certified Bartender from NSDC (National Skills Development Corporation); Certified WSET Level2 in wines, with merit; Certified Whisky Ambassador with merit, UK's BIIAB accredited; Conducted Whisky Tasting sessions with Islay and Indian Single Malts; etc.
With a vision to elevate drinking experiences, she set up Stilldistilling Spirits in 2020, a homegrown manufacturing and blending company that produces Maka Zai – premium craft rum out of Goa.
Maka Zai Brand with its two editions
Maka Zai is the brand of Stilldistilling Spirits. The brand has two products: – White Rum – the Bartender's Edition, and India's first Gold Rum – the Tribute Edition. Both variants are made from locally sourced sugarcane from various parts of the country, blended on Indian soil, and nourished by the sweet waters of Goa. The spirits are wood-matured.
"Maka Zai was born out of my passion for spirits and my curiosity to experiment with different flavours. I decided to curate a collection of premium rums that would meet the needs of consumers in India who were looking for new and fine-tasting rum,"
"We are so excited to launch our product in Mumbai, a city that is close to my heart, and hope to spread our Drink Well philosophy, through our made-in-India rum."

said Kasturi Banerjee, Founder, and Director of Stilldistilling Spirits.
Maka Zai's brand logo takes inspiration from the "Olive Ridley turtle" in the sea. This tiny yet marvellous creature begins its perilous journey and travels as far as 9000 km, but always makes its way back home.
Maka Zai White Rum "Bartender's Edition"
The Maka Zai White Rum is made with sugarcane grown in and around the Panchaganga River in Maharashtra. Because the fermentation and distillation take place in the region where the cane is grown, the rum picks up the influences of red soil, making it floral, sweet, spicy, and herbaceous. This crystal clear, complex, vibrant, and medium-bodied white rum is packed with funky tropical characteristics in its every sip, paying homage to the unsung passion and talent of those bartenders who have enough stories for many a lifetime.
Maka Zai Gold Rum "Tribute Edition"
High-quality and oak-aged, the Maka Zai Gold Rum is blended on the Goan seashore. Hints of praline, dry dates, figs, caramel, cinnamon, and honey create a symphony of notes to make this spirit stand out. Together with a creamy mouthfeel and a well-rounded vanilla accent, it is a perfect dessert and sipping rum. Its silky, elegant and approachable charm gives you the feeling of a sunny, late afternoon.
Each of Maka Zai Rums is bottled at Size 750 ml with 42.8% ABV.
The White Rum is available for purchase at INR 1995 and Gold Rum at INR 2595. The rums are available in 140 retail outlets and 40 restaurants, hotels, and bars in Goa. It is also available in 70 retail outlets in Maharashtra. You can also order it online through the Living Liquidz App.
Maka Zai's philosophy is 'Drink Well'. With its home-grown, "Made in India" product and ingredients, Maka Zai aims to elevate your drinking experience, by providing a high-quality craft rum that is a pioneer in the Indian spirits industry.
---
About Stilldistilling Spirits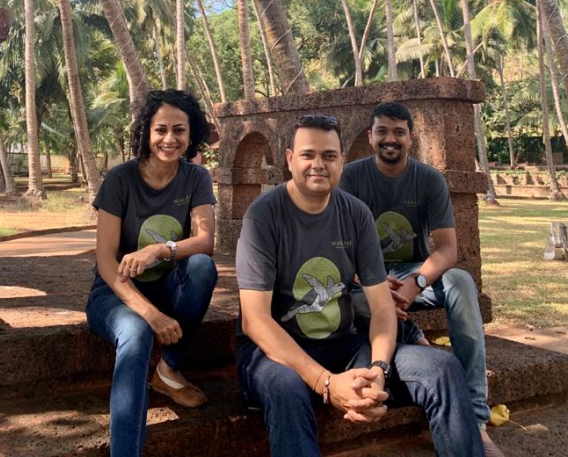 Stilldistilling Spirits Pvt. Ltd. is established in January 2021 by Kasturi Banerjee. Stilldistilling Spirits is headquartered in Mumbai, Maharashtra. Established in 2020, the company launched its first product, a premium rum brand, Maka Zai in January 2021. The two editions of Maka Zai, the white and gold rum are currently available in Goa and Maharashtra. Stilldistilling Spirits is a pioneer in the Indian spirits industry with a first-of-its-kind premium, craft rum brand in the country.
Maka Zai believes in "Cheers To The Chase"- Life is not a race, as cliché as it sounds. But everyone has something they are chasing – that is personal to you. So, as you undertake that chase, we hope you celebrate the moments with a new age rum that represents your chase. And we hope it reminds you that wonders are truly possible when you keep on chasing whatever you are chasing. Because that's what it does for us.
Indulge yourself in Maka Zai's premium-crafted White and Gold Rums as a collector's trophy. Take on the serene, mystical, and sweet experience to enjoy the flavours of Indian soil and Goan seawater with Maka Zai Rums. Cheers!!!