Made in Fukuoka, Japan using the Takamine Process.
Takamine Koji Whiskey is made with the patented Takamine Process, which uses an ancient Japanese mold, koji, to convert starches to sugars in a process similar to malting barley. Unlike malt whiskey where sugars are extracted in a warm water mash before yeast is introduced to start the fermentation, both the koji and yeast are active at the same time in a multiple parallel fermentation. This 100% barley ferment is then double distilled and aged in virgin oak and ex-Bourbon casks to give the spirit its natural golden color and deep, lush flavors.
This new spirit won a Gold Medal at the 2021 San Francisco Wine & Spirits Competition.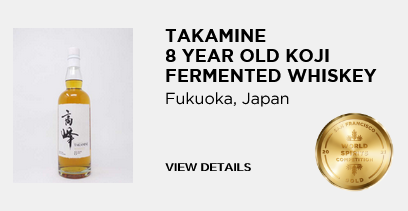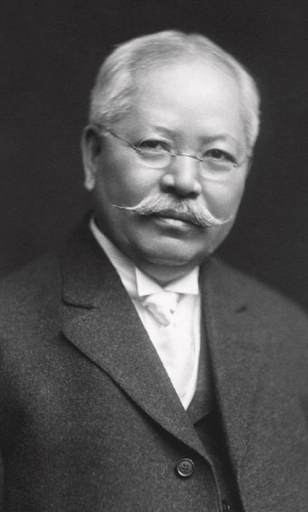 Jokichi Takamine, a Japanese chemist living in Illinois, was the first to apply koji fermentation to American whiskey in the 1890s. Koji is actually a mold that grows on grains, breaking the starches into sugars which yeast can then convert into alcohol through fermentation. It has been used in Japan for more than 1,200 years to make sake as well as soy sauce, miso, shochu, and other familiar umami-laden Japanese specialties.
Koji fermentation is Japan's alternative to malting. Honkaku officials said in a prepared statement that it was Takamine, in 1891, who patented his "Takamine Process" and began experiments with the Illinois Whiskey Trust. Shortly thereafter, the building in which the experiments were taking place burned to the ground under mysterious circumstances.
Not dissuaded, in 1894, the Trust began producing whiskey using the Takamine process. Sadly, the following year, the Trust was busted and Takamine's koji-fermented whiskey never made it to the American public.
Despite this second setback, Takamine transformed his koji know-how into medical innovation, becoming what was said to be a prominent Japanese businessman in early 20th century America.
Takamine Whiskey was revived by Shinozaki Distillery (Asakura City, Fukuoka, Japan), which has been making traditional Japanese alcohol since the 1800s. The mash bill is 100 percent pearled, two-row barley: 40 percent koji-fermented and 60 percent steamed. A two-day koji propagation is followed by a two-stage open fermentation, then a double pot-still distillation to a barrel proof of 86.7 percent. The whiskey is then aged in virgin American oak and ex-bourbon casks.
"Winebow is honored to represent Honkaku Spirits, starting with Takamine Whiskey". "We are thrilled to bring Jokichi Takamine's legacy of whiskey making back to the U.S. This is an exceptional product with an incredible story, and we cannot wait to introduce it to our customers throughout the country."

said Richard Driscoll, executive vice president of spirits at Winebow
Source:-