One of the oldest Scottish distilleries, The Dalmore Highland Single Malt whisky brand recently announced the No.5 Collection in The Dalmore Decades. The collection showcases one-of-a-kind, five premium whiskies, spanning five decades – 1967, 1979, 1980, 1995, 2000. The No.5 collection is priced at $275,000.
The Dalmore Decades No. 5 Collection will be presented in The Dalmore's recognizable bottle design, with a bespoke silver collar and Glencairn crystal decanter. Each bottling in the 15 sets is associated with an invaluable piece of Scotch history, typifying the DNA of The Dalmore and speaking to its legacy of exceptional whiskies. Each decanter features a different colored stopper and each is engraved with an exclusive set number. Every set is displayed on a unique pedestal.
"Over the past 50 years, I have kept a watchful eye over our superlative inventory of rare whiskies, giving them the guidance to mature and reach their full potential in the finest casks sourced from around the world. The Dalmore Decades opens doors to the world of luxury … every drop of liquid is a masterpiece of the time. If the last year has taught us anything, it is that life is to be enjoyed now, and I hope the lucky collector will enjoy it with those closest to them. The Dalmore Decades is Paterson's selection and a masterpiece of his custody of the rare casks the distillery enjoys."

By Master Distiller Richard Paterson in a prepared statement.
"This intricate 5 piece collection is an artful depiction of The Dalmore's timeless excellence. It represents 180 years of masterful whisky making and I'm proud to be part of The Dalmore Decades' inception. Having been immersed in the brand for over a decade, I'm honored to share this special piece of The Dalmore's history."

By Christopher Watt, President of Whyte & Mackay Americas.
Each No.5 Collection set will be sold exclusively through the finest retailers in the world, including Harrods (London), Wally's Wine & Spirits (Los Angeles), and Le Bon Marché (Paris). Beginning in November, set Number 14 of 15 will be available for collectors to acquire, and it will be the only set available in the U.S.
 The Dalmore Decade's No.5 Collection is comprised of:
The Dalmore Decades 1967 – 'Expertly Composed Spirit'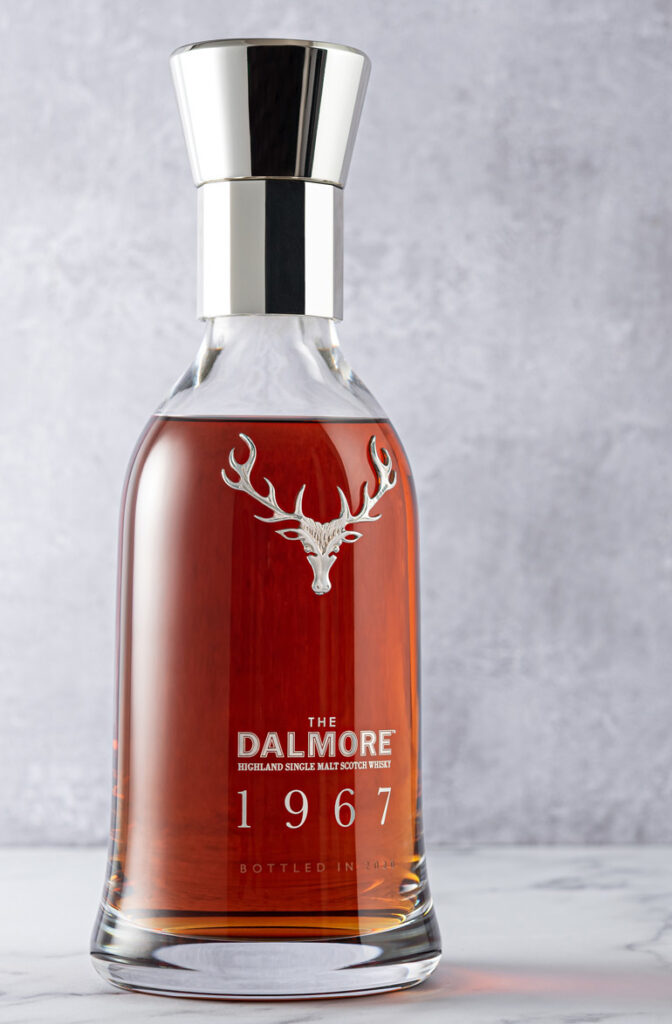 1967 is a landmark year in which the stillhouse of the distillery was created. The spirit is matured in a specially selected 20-year-old Graham's Tawny Port Pipe sourced from Portugal's Douro Valley and handcrafted in a barrique previously used to age Châteauneuf-du-Pape from acclaimed winery Château Mont-Redon which is expertly composed of up to 18 different grape varieties.
The 1967 decade whisky is complex but wonderfully intriguing, as a multitude of exotic flavors rolls out in gentle profusion to extenuate toffee apple laced with cinnamon, Devonshire fudge, spiced pear, and sweet Sanguinello blood oranges. The spirit glades into tangy ground coffee, ginger spice, and muscovado, in a richly textured and harmonious finish.
The Dalmore Decades 1979 – 'Curating Exquisite Casks' 
The 1970's era marked the time when releasing a single malt whisky with long age was a rare bold move. Around 1979, young Richard Paterson joined the Dalmore Distillery. The 1979 40-year-old single malt is a tribute to the longstanding relationship between González Byass and The Dalmore. The single malt whisky was filled into American white oak ex-Bourbon casks in October 1979, before maturation in a particularly fine Matusalem oloroso Sherry butt. Finally, the whisky finishes its maturation in an exceptionally rare Graham's vintage Port Pipe from 1952.
The 1979 decade whisky is a rare gem with hidden treasures like notes of toasted pistachios, caramel fudge, maraschino cherries, Demerara sugar, blood oranges, treacle tart, Rwanda black coffee, and a touch of kirsch. The spirits then finish into notes of maple syrup, pineapple, and succulent dates.
The Dalmore Decades 1980 – 'Unbroken Chain of Visionaries'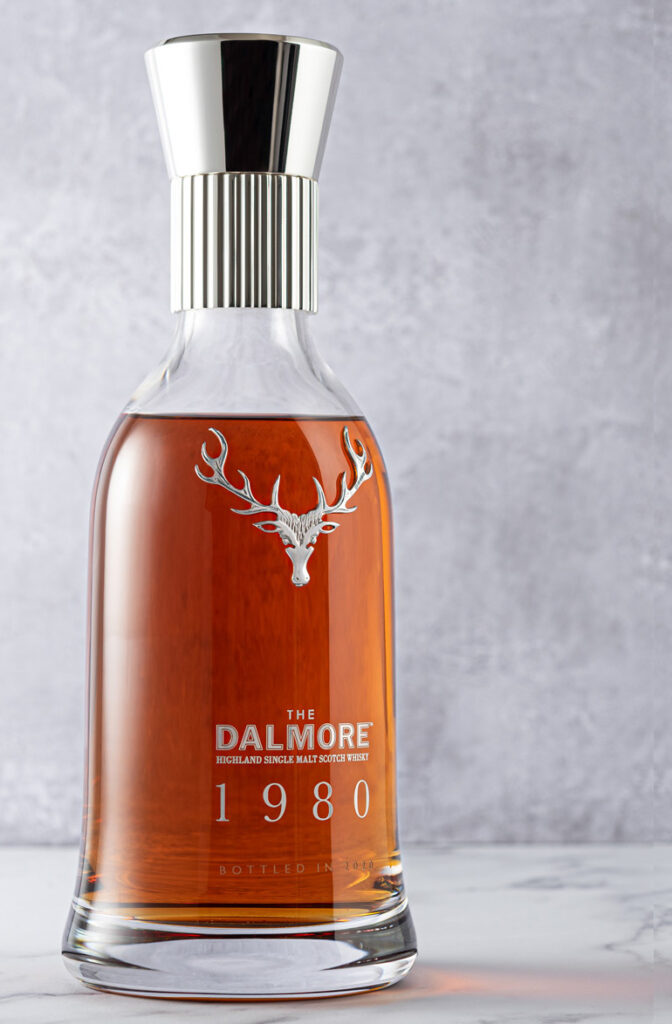 The 1980s marked the master distiller, Richard Paterson's arrival at The Dalmore. He spent 20 years working and learning under the Colonel 'HAC' Mackenzie, the last of the Mackenzie family associated with The Dalmore. The 40-year-old single malt whisky is first filled into ex-Bourbon casks, before transferring the whisky into hand-selected, exquisite casks from a variety of sources: Sherry, Port, or fine wines. This decadent whisky moves from Bourbon casks into Matusalem Sherry butts, and finally, transferred back to first-fill ex-Bourbon casks for at least 5 years before bottling– "a bold move which brings renewed life and vivacity to the spirit, creating a true masterpiece of malt."
The 1980 decade whisky imparts beautiful orchestrated single malt layers like baked banana bread, vanilla custard laced with Pedro Ximénez Sherry, Christstollen cake, and chocolate truffles. This finishes into a gentle whisper of bitter chocolate, marzipan, and cocoa powder.
The Dalmore Decades 1995 – 'The Creation of an Icon'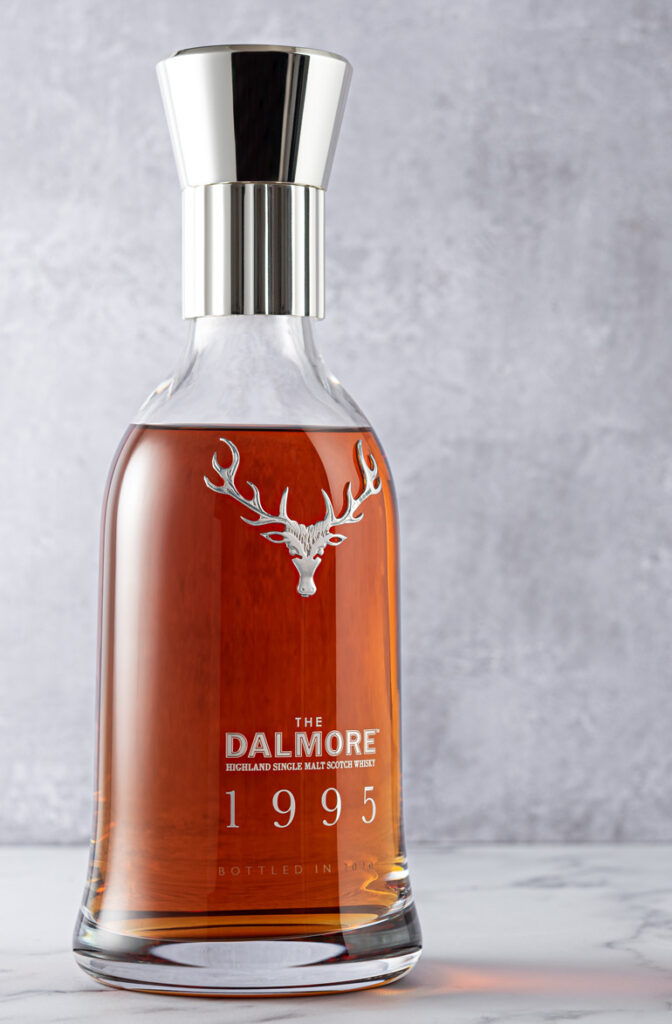 In 1994, The Dalmore's minimalist and the iconic bell-shaped bottle was introduced, its sinuous curves echoing the voluptuous shape of the stills through which the distillery's matchless spirit runs. Aged initially in ex-Bourbon casks, this 25-year-old whisky was then transferred into a Graham's vintage Port Pipe from 1994 before being crafted by hand for more than five years in a barrel used to mature Tintilla de Rota. This involvement of the world's illustrious fortified wines gives the whisky its unique intriguing dimensional flavors.
The 1995 decade whisky gives exquisite flavors of Madagascan vanilla pod, licorice spice, crushed pineapple, and Bramley apples which continues with layers of caramel fudge, gingerbread smothered with icing sugar, soft chewy macaroons, and cassis on the palate. The whisky finishes with notes of red cherries, glazed nectarines, frangipane, and moist pecan pie.
The Dalmore Decades 2000 – 'Into the New Millennium'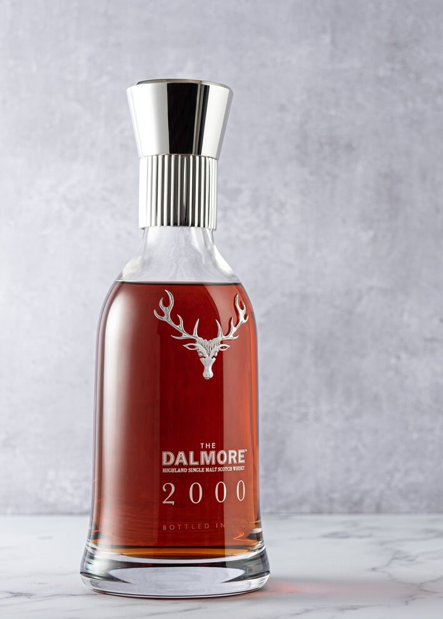 At 12:02 am on Saturday, January. 1st, 2000, The Dalmore distillery secured a vital achievement. It became the first distillery in Scotland to produce a new spirit off the stills in the third millennium which was officially witnessed three minutes after midnight. This rare and exquisite single malt whisky was matured for 20 years in González Byass's Matusalem Oloroso sherry butts from Spain.
Combining the flavors of sherry and dessert wine, the 2000 decade whisky gives notes of black maraschino cherries, bitter chocolate, coffee-Esque, and treacle toffee on the palate which slowly glazes into licorice, pecan cake, Tarte Tatin, and maple syrup ebbs. The 2000 Dalmore decade whisky after its release became a hit and broke records in specialist stores and auctions.
As collector's trophy, the Dalmore distillery also features a unique set of No.6 Collection comprising of whiskies from 1951, 1951, 1967, 1979, 1980, 1995, and 2000, and 25 sets of No.4 Collection comprising rare whiskies from 1979, 1980, 1995 and 2000. These rare collections together celebrate the best of Dalmore's 60 years of superior whisky making.