A brand known for its distinctive flavor, infusion of exotic botanicals and most of all -The apothecary style of bottle that holds the magnificent gin. Hendrick's is all about the way of production and that is why their portfolio of spirits taste like none other. The sight of traditional methods is respected and has been in implementation even today, so now we know one of the many reasons why this brand is so popular – Consistency .
 But that's not all blending creativity to their original vision has taken Hendrick's way up the road of success. Their new launch Neptunia Gin is a wonderful combination incorporating the magic of sea and the expertise of Hendrick's. Read along to find out the flavor of a gin that is made up with locally sourced coastal botanicals. 
A little about Hendrick's
Introduced in 1999, Hendrick's is a brand that has a wonderful portfolio of gins. Produced by William Grant & Sons, the distillery is located in the seaside village of Girvan, Scotland. This distillery is called as the Hendrick's Gin Palace and it also overlooks the mysterious volcanic island of Ailsa Craig. Lesley Gracie – The master distiller is the person who invented this brand after she was appointed by William Grant & Sons to work on new liquid development.
One highlight of this brand is that during 1999, each batch of Hendrick's Gin was crafted only 500 litres at a time. This method is still used today thus making it a gem in the world of gins.
The Bennett & Carter Head Stills – These are the two stills that are responsible for the unusually smooth character and subtle balance of flavors. The Bennett still is used for steeping the botanicals overnight in spirit which results in a rich complex liquid. The Carter Head still is used for steaming the botanicals in a basket above its neck resulting in a rich complex liquid. This process can be named as a botanical steam bath which curates a lighter and delicate spirit.
The brand new Neptunia Gin
Created in the Hendrick's Gin Palace, Neptunia Gin expresses the glorious sensory delights of the coast. Inspired by the Ayrshire coast's waves and infused with an exquisite blend of locally sourced coastal botanicals. This gin is a part of the 'Cabinet of Curiosities' range which was started in the year 2019. This range is all about a series of experimentation gins done by the master distiller Lesley Grace.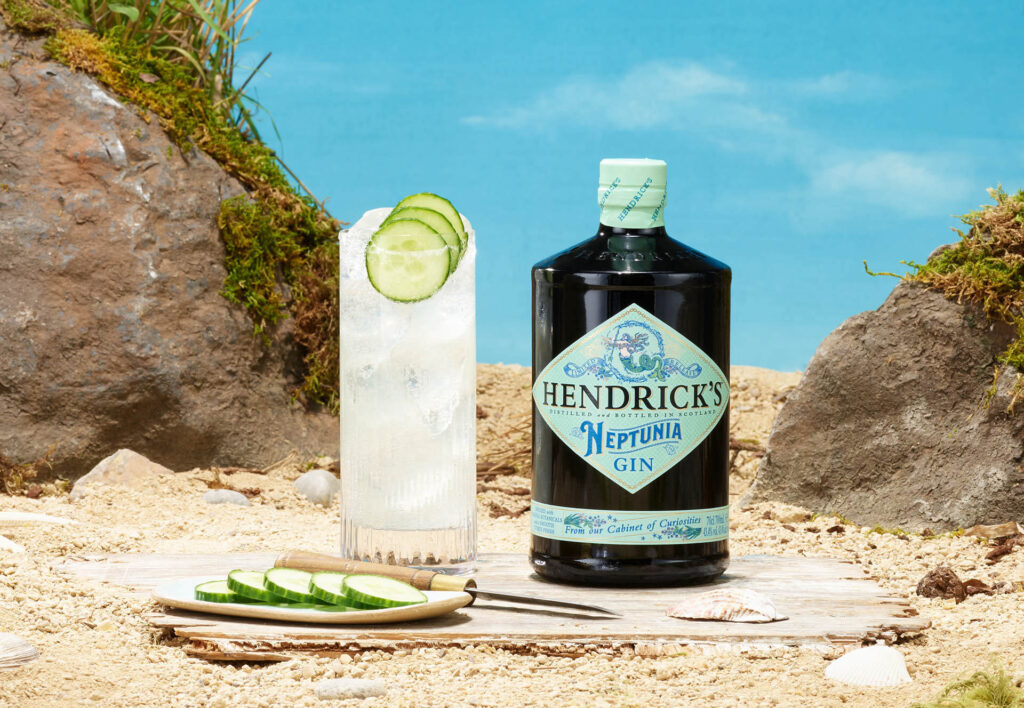 "Most of my creations are based on memories – I play around with botanicals and combine them to recreate certain sensations."

– Lesley Grace.
The new launch – Neptunia gin has an exquisite citrus finish. Their first maritime release contains the fresh sea-song notes characteristic of native coastal flora vigorously emboldens HENDRICK'S signature combination of Cucumber and Rose, culminating in an astonishingly smooth citrus finish. This limited-edition gin is available worldwide but only for a limited period. The ABV of this gin is 43% and it is priced at US$46.90 for 700ml.
The bottle that holds this sea inspired gin is an apothecary style just like the original Hendrick's Gin. It has a blue label that displays the Hendrick's logo, the name of the gin and a limited release mermaid stamp.
For more information, visit : Official website | Instagram