Lark Distillery based in Tasmania has released Para 1992 single malt whiskey in celebration of the distillery's 30th anniversary. This expression is a new edition in the Rare Cask Series.  
The release also commemorates the partnership of Lark Distillery with the Australian wine estate Seppeltsfield. The Head Distiller of Lark Distillery found 16 special tawny port casks from 1992 while exploring the wines in Seppeltsfield. Tasmanian peated single malt is matured in these rare wine casks to create the PARA 92 whiskey. This single malt whiskey imparts the unique flavor of the wine casks embedded in it- rich, deep, and incredibly complex.
"The release of this special single malt is a celebration of Lark Distilling and the partnership with Seppeltsfield. This is a release we want to be celebrated and enjoyed with a limited number of bottles released from today (3 March). The Para Tawny casks were complex and offered a depth and character that have made this release so special. The result is long and sticky oak sweetness, perfect for those wanting to enjoy as we roll into autumn."

By Bill Lark, The distillery's founder
The expression clocks at 46.2% ABV.
Tasting Notes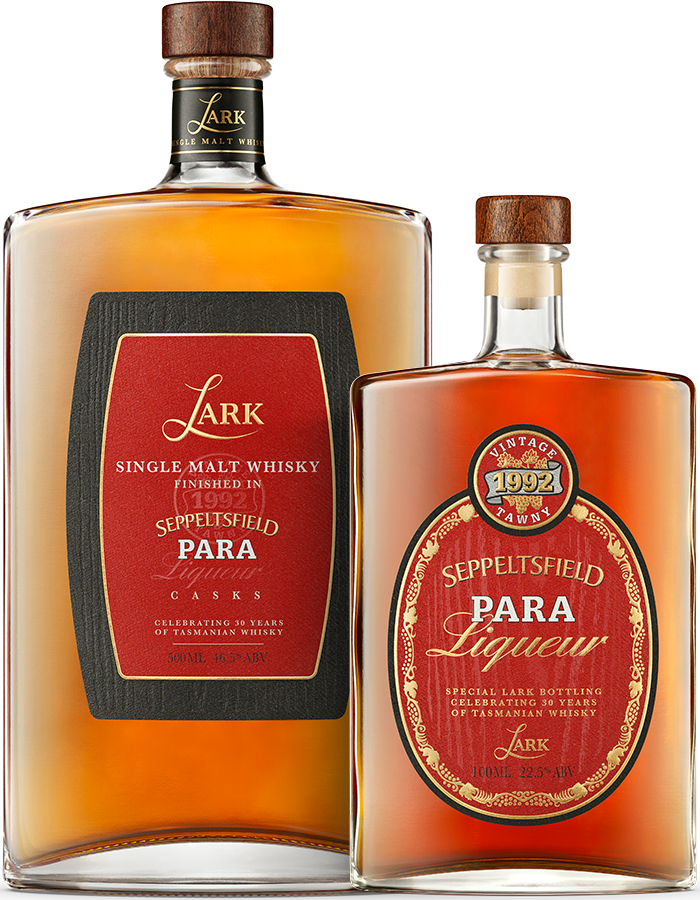 Nose: Hints of Lapsang Souchong, with berry custard and scorched nuts, followed by new leather and pipe tobacco.
Palate: Touches of smoke emerge, passing on to spicy blackcurrant crumble, heather honey, and dark chocolate.
Finish: Rich earthy peat and toasty barley remain, with a long and sticky oak sweetness from the PARA 1992 casks.
The distillery has released 3,000 bottles of Rare Cask Para 92 whiskey.
"Established in the Barossa in 1851, Seppeltsfield is a treasure trove of fortified wines with an exceptionally rich history. Synonymous with luxury for more than a century, it's an honor to commemorate Lark's 30th anniversary with this collaboration."

According to Lark Distillery website.
The distillery has released an anniversary set collection which includes a 500ml bottle of Para 92 and a 100ml bottle of Seppeltsfield Vintage 1992 Tawny Para Liqueur (22% ABV).
The Rare Cask Para 92 anniversary set is available to purchase for RRP AU$499.99 (US$365.28).
About Lark Distillery
Lark Distillery was founded in 1992 by Bill Lark. The distillery's idea started with a question- "I wonder why there isn't anyone making malt whisky in Tasmania?". The distillery became the first Australian distillery to produce single malt spirit in 154 years. The Lark Household finally started the creation of making rich Tasmanian Single Malt Whisky aged in small casks. In 1998, after years in the making, from Bill and Lyn's kitchen table to Davey Street Bond Store, the first Lark Distillery Single Malt Whisky was released commercially. Presently, Lark whiskey has won several golds, silver, and bronze awards in various competitions in the last 30 years. The distillery was nominated as one of the top 4 distilleries for Worldwide Whisky Producer of the Year (IWSC). Last year, they have secured carbon neutral certification under the Australian Government's Climate Active Program.
Enjoy the Lark Distillery anniversary collection set and taste the flavor of the award-winning whiskey of Australia!!