"Imagine if the best bartender made the best cocktail at the best bar in your city. Now, imagine if all of that was sitting in your fridge waiting for you – that's InACan. A genuinely fantastic cocktail made by a truly fantastic team that wanted you to feel the vibe of your favourite watering hole at home during a time when all bars were shut."

By InACan website
Almost all of us enjoy sipping high-quality cocktails made by bartenders at the best bar in our city. A glass of the favourite cocktail blend brings in the party vibes and takes the stress away, especially during weekends. Want to experience premium cocktail mixes but can't step out because of pandemic blues? Thinking to make a cocktail at home but don't have bartending tools or special ingredients? InACan promises to give you the amazing bar experience in a tiny 250ml can at the comfort of your home.
InACan is the first ready-to-drink craft cocktail in the Indian Beverage market. InACan innovation was born out of the lack of availability of good drinks during the pandemic in 2020. The idea was born in the minds of co-founders Sameer Mirajkar and Viraj Sawant in 2020. During pandemic times, there was a lockdown and people had to stay at home. Even at weekends couldn't step out as bars were closed. The two entrepreneur friends decided to create a cocktail range that can give a high-quality bar experience and be enjoyed at the comfort of home without any hassle. So, they teamed up with a bartending maestro, Varun Sudhakar (present Head of Product Innovation) to create their favourite whiskey cocktail bar experience. The rest, as they say, is history. Three people who love fantastic cocktails and adore convenience came together to found InACan. In 2021, they set up RM Beverages in Pune, Maharashtra, India and InACan became the first released product.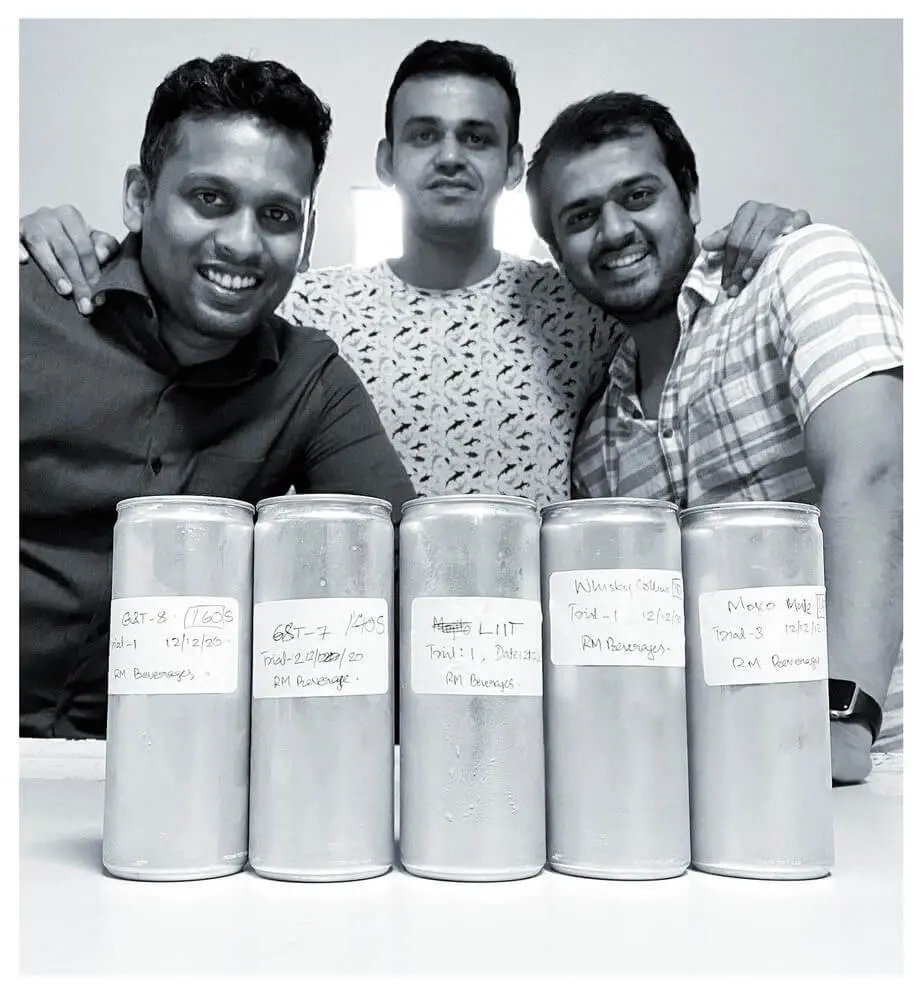 Sameer, Viraj and Varun journeyed nine months, fifteen thousand kilometres of road and three states to unearth the perfection needed to make InACan. Everything that went into the InACan process was tailored to these scrumptious cocktails. This includes the development of a semi-automatic can seamer machine, five cocktail variations and the picture-perfect packaging design.
"The InACan experience is a unique concept in the Indian market. Delicious, low-calorie cocktails that can just sit, ready-to-go, in your fridge. Experience the satisfying snap of a can, the sounds of the drink effervescing, the delightful aromatics that tickle your nose and a fantastic, satisfying flavour that satiates your desires with every InACan cocktail."

By InACanWebsite
For detailed distillation process can be found here.
Crafted Canned Cocktails Flavors
InACan crafted cocktails come in 5 delicious flavours that are derived from fresh and natural ingredients:
Ingredients: The InACan G&T uses low-sugar tonic water, rosemary sprigs and a generous amount of lime to tie the whole drink together.
Ingredients: The Rum Latte cocktail uses gentle and complimentary rum with robust and aromatic coffee, enchanting vanilla essence and the earthiness of hazelnut notes to create the perfect yet soothing beverage experience.
Ingredients: InACan's Vodka Mule is inspired by Moscow Mule. The flavour contains vodka, lime juice, ginger and soda. 
Ingredients: Whiskey Collins comprises bourbon whiskey, simple syrup, extra-punchy soda water, angostura bitters, delightfully sweet apples, and robust, spicy earthy cinnamon.
Ingredients: LIIT is made with vodka, gin, light rum, tequila and triple sec, a splash of lime juice and simple syrup and soda. 
A Bar Experience without Any Hassle in InACan
High-Quality Alcohol– Alcohol is distilled specifically for INACAN with standardized mixes and consistent taste.
In-House Blended– DIAGEO World Class winning mixologist heading the product innovation.
Effortless Convenience– Approx. service time is 5 seconds. Just chill, pop and enjoy.
InACan cocktail mixes are available in a 250ml can for purchase across all leading wine stores in Goa (INR 140) and at select retail stores in Lucknow, Ghaziabad, Agra and Noida (INR 210). Each cocktail flavour has below 100kcal and is below 9% ABV.
InACan was also featured as an upcoming brand in Drink Magazine Asia among the top 50 Best Canned Cocktails in Asia. The RM Beverage entrepreneurs also came together on the broadcast episode of Shark Tank India on Sony Channel. The episode was aired on television on 15th January 2022. The brand is also planning to expand in the international market very soon.
Here are the Links to know more about their products:- Official website | Instagram ID | Facebook ID
If you are in India, enjoy these delicious canned InACan cocktail experiences at your home. Just buy a can, chill it, pop it, sip it and relish in the bar cocktail vibed experience!!! Enjoy the convenience!