Heineken is a brand with an enormous global presence, available in many regions and loved by millions of consumers. Known for their brewing process, innovation and focus on improvement are the core of Heineken. The story of this brand started in the year 1864 and now it encompasses a span of more than 150 years with the golden heritage of 300 brands.
'From a small family-owned brewery in the heart of Amsterdam to the largest global presence in the brewing world.' – Heineken.
15th February 1864
On this day Gerard Adriaan Heineken started his journey by taking over the Haystack Brewery in Amsterdam. Although he had little knowledge about the brewing world, his dedication, entrepreneurial spirit and courage gave rise to the glorious brand we all know today. The hard decisions that Gerard took made a huge difference overall. Back in those days, Dutch were known to brew ale, porter and brown but he decided to extensively brew only lager. Owing to this tough choice, a second brewery was opened in Rotterdam. This was the journey that made it possible for Heineken to have more than 160 breweries today.
'Our flagship brand, Heineken®, is the world's most valuable beer brand, a global icon that embodies the values and standards we commit to with all our other great beers and ciders' – Heineken.
Why is Heineken so popular?
Heineken's global presence is remarkable. People look forward to consuming their products due to consistent quality, value for money and the same crisp that generations have enjoyed in their beer. The world's most valuable international premium beer brand is available in 192 countries. It is a fact that every day 25 million Heinekens are served. The wide availability has a huge role in the brand's success. Apart from this, encompasses more than 300 brands and each of them delivers supreme quality. This shows the leadership and value for consumers that Heineken holds. 
And if this wasn't enough, the brand has 5 excellent ways to enjoy their cold, crisp and high-quality Heineken –
The draught – The best way to enjoy this world class beer – a firm foam head. It's a seal that keeps the air out and the fine bubbles in, ensuring that you can enjoy the taste as it's meant to be.
The draught keg – Meant for Parties! This star is filled with 5 litres of refreshing draught Heineken.
The club bottle – This limited edition has an aesthetic look and is dressed to impress.
Extra cold – When the temperature starts to rise, order a smooth draught from the frozen column or choose an ice-cold bottle from the Sub-Zero fridge – both are chilled to zero-degree perfection using innovative, efficient methods.
The can – The classic can, easy to consume with the same refreshing taste.
Heineken 0.0 – An innovation meant for the modern world, this non-alcoholic refreshing lager has a distinct, balanced taste, refreshing fruity notes and soft malty body.
'Ensuring that Heineken® tastes as good as Heineken® should, no matter where you drink it in the world, is no small undertaking – and for the past fifteen years the responsibility for this has laid with our master brewer, Willem.' – Heineken.
Heineken's premium portfolio :
International brands –
Amstel
Sol
Tiger
Birra Moretti
Edelweiss
Lagunitas
Cider brands –
Strongbow Apple Ciders
Orchard Thieves
Cidrerie Stassen
Bulmers
Old Mout
Regional & Local Brands –
Dos equis
Red Stripe
Bintang
South Pacific Export
Kingfisher
Affligem
Gösser
Mort Subite
Sagres.
These are some brands out of the expansive portfolio of 300 brands. Heineken is also popular in the sports field. Heineken Champions Cup – The European Rugby Champions Cup is known as the 'Heineken Champions Cup'  is an annual rugby union tournament organized by European Professional Club Rugby (EPCR). Heineken has also been the official beer partner for Euro 2020 and the brewer will also continue sponsoring the UEFA Champions League until at least 2024, continuing a partnership that stretches back more than 25 years. Moreover, Heineken is banking on women's sport to raise its profile by expanding its sponsorship net to include the Uefa Women's Champions League, Uefa Women's Euro 2022 and W Series.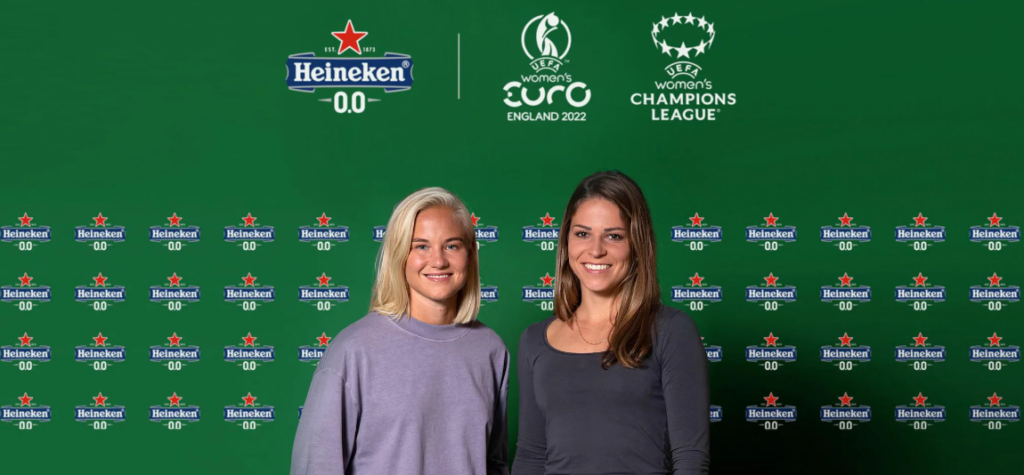 For more information on the brand, visit - https://www.theheinekencompany.com/