Ready-To-Drink (RTD) cocktails are becoming a trend in today's Spirits world. Beverage companies and brands are moving towards producing and manufacturing RTD cocktails using the company's whiskies, rum, vodka, or tequila as the base. Each RTD varies in flavour and taste but it never compromises on the quality; giving a bar-like cocktail experience.
Grey Goose Vodka brand owned by Bacardi has recently announced to launch their Essence Spritz range in the U.K. next month. The brand also unveils its first ready-to-drink range.
Grey Goose Essences range is carefully crafted from botanicals selected from all over the world. Grey Goose Essences is available in three flavours: Strawberry & Lemongrass, Watermelon & Basil, and White Peach & Rosemary. The range uses Grey Goose Vodka as the base into which the 'real' fruits and botanicals are blended to give unique and vibrant flavours. The ingredients are exported from countries such as France, Spain, Thailand, and Sri Lanka. Each Essences expression contains 82 calories per 50ml serve, no artificial ingredients, and clocks at 30% ABV.
GREY GOOSE® ESSENCES STRAWBERRY & LEMONGRASS
The subtle taste of freshly picked strawberries meets aromatic notes of lemongrass for a cocktail experience like no other.
Nose: Bright and Citrusy
Palate: Juicy and Sweet
Finish: Light and Refreshing
GREY GOOSE® ESSENCES WATERMELON & BASIL
Cold-pressed watermelon mixes with a touch of wild berries for one sensational spirit.
Nose: Rich and Juicy
Palate: Bright and Bold
Finish: Light and Refreshing
GREY GOOSE® ESSENCES WHITE PEACH & ROSEMARY
Delicate white peach blends with a drop of floral rosemary for a flavour that defies your senses.
Nose: Citrusy and Floral
Palate: Bright and Crisp
Finish: Light and Delicate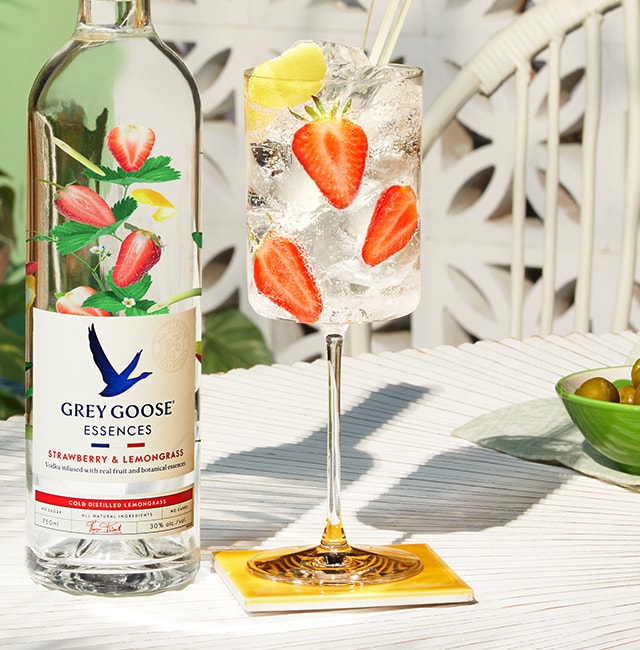 "Spritzes and drinks featuring botanicals have been growing trends, and with consumers increasingly trying their hand at mixology, we knew there was an exciting opportunity to create a distinctive drink using real fruit essences that would take the guesswork out of mixing light tasting and delicious cocktails at home."

By Martin de Dreuille, Grey Goose vice-president of global marketing
After the hit success of the product in the U.S. following its launch in February last year, the brand decided to launch the range in the U.K market by next month.
Furthermore, the brand will unveil ready-to-drink (RTD) variants of the range mixed with soda water, called Grey Goose Essences Vodka Spritz. The collection marks the first RTD line for the brand. The RTDs comes with an ABV of 4.5% and contain 79 calories per 250ml can.
Essences will be priced at RRP £39 (US$51.40) per 700ml bottle and available for purchase from Waitrose, Tesco, Majestic Wine, and Costco, along with select on-trade accounts. The RTDs will be available from June 2022.
For more information, click here.