At least 51% corn registers the making of a bourbon. Strongly associated with America especially Kentucky, bourbon whiskies are famous for a distinctive mildly sweet flavor contributed by the percentage of corn in the mash. In depth complex flavor yet subtle on the palate combined with a wide range of inherent flavors is the reason why bourbon is such a famous category. A seemingly common combination of grains used for making bourbon is – corn, rye & malted barley. The percentage of these grains vary from one bourbon to the other. Since we know at least 51% corn is a must for any whiskey to be called bourbon, malted barley plays a significant role in conversion of starch into sugar while delivering a smoky earthiness to the character and rye imparts a dimension of spicy traits to the whiskey. But innovation led Basil Hayden to replace rye with brown rice and create one of the finest expressions of bourbon – Basil Hayden's Toast. Read along to find out how a grain replacement led to a significant change overall.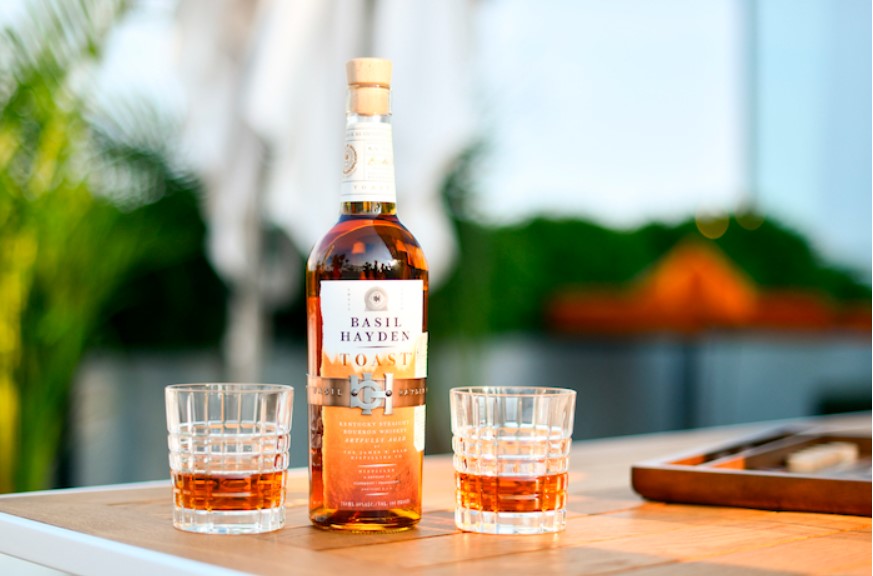 'Artfully Aged' – a new Kentucky Straight Bourbon Whiskey
"The unexpected addition of brown rice, as well as the toasted barrel finish of Basil Hayden Toast … delivers an intriguing avenue into the warm and memorable bourbon sipping occasion. I encourage you to raise a toast with friends to this exciting addition to the Basil Hayden family!""

By Freddie Noe, Master Distiller
The latest permanent addition to Basil Hayden's range of premium whiskies – Basil Hayden toast is a release that stands out from the current range and offers a new flavor in the range of bourbons. The signature combination of Jim Beam has a slight modification just for the 'toast'. Rye grain is substituted with brown rice which cuts a significant flavor of spiciness from rye. The brown rice in equation here is " US-grown brown rice selected for this recipe to impart "a hint of sweetness and a touch less spice." The secondary finish done in toasted barrels contributes to deeper notes of sweetness with hints of caramelized sugar and toasted wood. The final step merges this toasted barrel finish whiskey with some un-toasted brown rice bourbon from level four char barrels, producing a new-complex flavor. The result is a bourbon with less spice, and deepened notes of sweet caramel with a bright, light mouthfeel.
The credit to create such a unique bourbon goes to Master Distiller – Freddie Noe. Noe is the reason behind Jim Beam using a rice recipe almost after a decade of the Signature Craft line.
"Basil Hayden Toast is truly a whiskey for fans of all taste and experience levels to share. When my grandfather Booker Noe first made Basil Hayden, his intention was always to create bourbon that opened people's minds to what bourbon can be. Inspired by his mission, I've spent many years working to produce a new bourbon that speaks to this sense of discovery,"

By Freddie Noe, Master Distiller
Available in the USA, Basil Hayden Toast has an ABV of 40% and priced at $49.99 for 750 ml. Basil Hayden Toast brings complexity and deeper flavor to any table, no matter where the conversation takes you.
Aesthetics of the design fits the brand's fame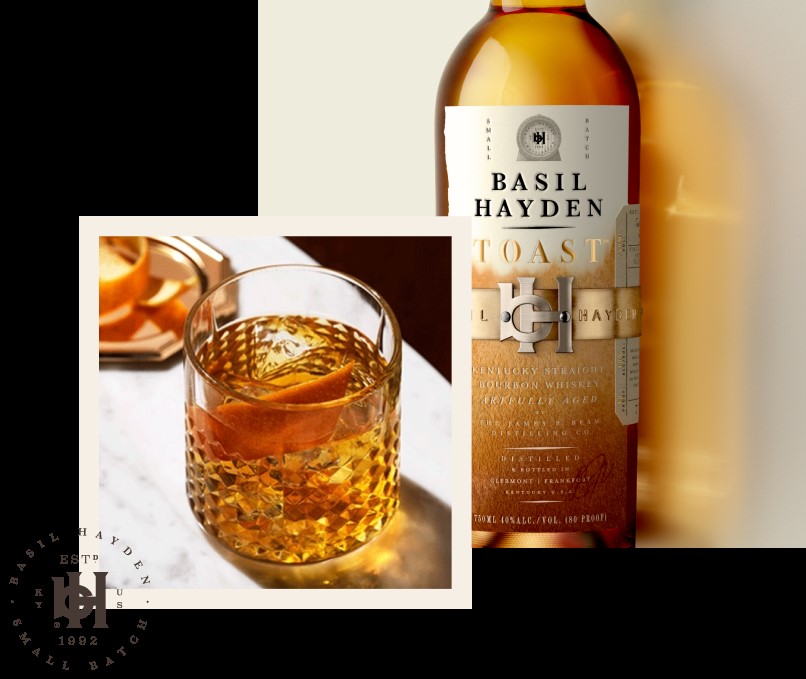 The dark amber liquid is simply a heaven for bourbon lovers. But even before one has a sip of it, the design of the bottle that holds this beauty captivates the consumers. The design reflects a combination of simplicity bonded with luxury inducing colors like silver, copper and a hue of golden. The monogrammed belt is a signature of Basil Hayden's and it is accessorized on this new release as well. Center of the belt highlights the initials 'B' & 'H' in silver shades with the overall belt engulfed in a copper shade with Basil and Hayden written in capitals. This belt holds the bottle, the amber liquid and the history of Basil and Hayden with all the liquid glory. Along with it the official label has a logo and the name of the brand with all the necessary things like region, ABV, quantity, price etc.
A little about Basil Hayden
1785 : Basil Hayden a unique name associated with the founder – Meredith Basil Hayden Sr., a Maryland Catholic who moved to Kentucky in 1785. After being settled, Hayden Sr. donated land for construction of the first Catholic church west of the Alleghanies and simultaneously began distilling. No data is available for the mash bill used at that time except that Hayden used a higher percentage of rye in his mash.
1840 : A new distillery was built in Nelson County by the grandson of Hayden – Raymond Basil Hayden. In honor of the first founder he named the whiskey produced by him as 'Old Grand-dad'.
1992 : This year witnessed a beautiful small batch collection by Beam Industries which included 4 whiskey expressions – Basil Hayden, Knob Creek, Bookers and Baker's. According to Jim Beam, Basil Hayden was the lightest out of the four and expressed a combination that was similar to the one used by the first founder.
The present : 'Old Grand-dad' bourbon still exists today making it one of the oldest bourbons to exist. Owned by Beam Suntory, and produced at the Jim Beam distillery in Clermont, Kentucky. Today the composition for this bourbon is 63% corn, 27% rye & 10% malted barley which is still consistent with the mash bill composition of Meredith Basil Hayden. As of today Basil Hayden's range include a Kentucky Straight Bourbon, a 10 YO Kentucky Straight Bourbon, a Dark Rye Whiskey & the Toast.
The physical foundation of Basil Hayden was built in the year 1992, but the story started from 1785. One of the oldest bourbon legacies to exist and flourish.