Gin: a distilled alcoholic beverage that derives its predominant essence from juniper berries. Besides juniper, gin has botanical/herbal, spice, floral fruit flavours which are mostly consumed with tonic water. In recent years, gin popularity is flourishing in the beverage world due to – craft beer and movement, versatility and affordability. This article is all about one such popular gin with a unique flavour capturing the heart of people within a short period which is- Ginscape. Let us explore the world of Ginscape; a unique gin brand with various ranges and titled with multiple awards.
Ginscape is the Danish gin manufactured in the world-famous Langley Distillery in Buckingham, London launched in early 2017. Yet, its journey dated back to 2016 when Hans Kamp, Hans Christian Kjærgaard, Hansen and Ole Schrøter craved for distinct taste in a good gin and after a lot of research and hit and trial, they finally created the smooth and balanced gin in 501 days with only one goal i.e. Suppleness.
Ginscape is much more than being there. It is the feeling of enthusiasm, involvement, enjoying the moment. Ginscape is a premium gin with excellent balance in nose, taste and finish.

-Ginscape gin makers Ole & HC
Ginscape isn't like your classic juniper gin. The sea buckthorn from the Danish Island of Bornholm ingredient brings out the soft and fruity flavour to the gin reflecting the botanical side of Denmark, the coast and the sea. Ginscape provides a sense of freedom and fresh air from the seaside creating new thoughts. Ginscape is a new and modern passionate Danish gin bringing your gin & tonic as well as your cocktail to a new and higher level. The very first equipment used by Ginscape was a 60 litres copper pot still.
The Design:
The design for each Ginscape is inspired by the orange sea of fine dunes (London Dry), beaches (Navy Strength) and summer garden (Summer Orchard). They worked on the design for a long time and tried to replicate something which coincides with the idea and gin ingredient.
The design of the Ginscape bottles is inspired by the "escape moment". Symbolism for the feeling of freedom one would experience in the proximity of sea, winds, tides, summer garden. And, a beautiful cork closure puts the closed crown on top.
Their Luscious Diversity of Ginscape
1. Ginscape London Dry Gin Sea Buckthorn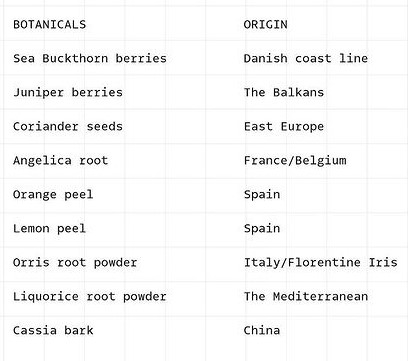 The very first product of Ginscape featured in the market was London Dry Gin Sea Buckthorn; a smooth and elegant drink sought by countless for its unique flavours. The fresh and citrus notes from Danish Sea Buckthorn berries dominating the taste of juniper makes it different that from your regular gin. A light gin deserved to be enjoyed on the sea coast on summer days.
Matching Tonic Water: This fruity and slightly upbeat gin deserve nothing but, equally playful serious tonic water. Classic tonic water with the not too citrus note will excellently complement the drink. With its already pronounced fruity notes of the gin, it'll add bitterness which will definitely bring a smile to anybody's face.
Fruity tonic water like Blueberry or Aromatic is some interesting choices. It's a little tricky to pair yet provide a refreshing and tingling feeling with bit fruity notes. And lastly, garnishing it with a slice of twisted organic lemon peel in a glass with lots of ice, it tastes heavenly.
Awards:
Awarded Silver Medal at the International Wine & Spirits Competition 2017 in London
Awarded Silver Medal at the International Wine & Spirits Competition 2017 Packaging
Awarded Gold Medal at World Gin Awards 2018 in London in the category "Contemporary Style Gin"
Awarded Silver Medal at San Francisco World Spirits Competition 2018
Awarded Silver Medal at the International Spirits Challenges 2021
2. Ginscape Navy Strength
Ginscape Navy Strength, a premium London Dry Gin is a perfect and elegant beverage with extravagant lavishness in taste and Abv of 52.7%. It's an impeccably balanced gin with fresh notes of Danish Sea buckthorn complementing crispy juniper, coriander, liquorice and citrus that relinquishes into beautiful floral notes.
Matching Tonic Water: The Classic tonic water works definitely well and the Indian tonic water from Fever-Tree, Thomas Henry and Schweppes premium also complement well.
For freshness and fine herbal notes, tonic water like the Mediterranean from Fever-Tree is a good filler and the Schweppes Pink Pepper is an exciting combo as it adds a springboard for the taste buds for the already powerful gin.
Awards:
Awarded Sliver Medal at International Wine and Spirits Competition 2019
Awarded Double Gold at International Spirits Challenges 2021
Awarded Trophy at International Spirit Challenge 2021
3. Ginscape Summer Orchard Gin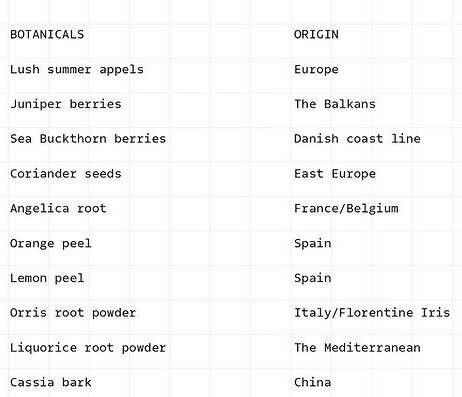 Ginscape Summer Orchard is a modern and passionate Danish summer gin with 43.7% Abv relinquish you to feel apple picking in the Danish summer. With the soft notes of fruity apples, Orchards and light citrus from sea buckthorn; this beverage is perfect for the warming sun and long summer nights. It's a new inspiration for an adventurous gin lover, and party animal on the dancefloor.
Matching Tonic Water: This fruity gin complements perfectly with tonic water like Elder Flower from Fever-Tree, Thomas Henry or Fentimans. For summer or spring vibes, one can blend it with classic tonic water for a strong citrus note, freshness and a slightly bitter aftertaste.
Awards:
Awarded Bronze Medal at International Wine and Spirits Competition 2019.