Nothing incentivizes Americans quite like an ice-cold beer.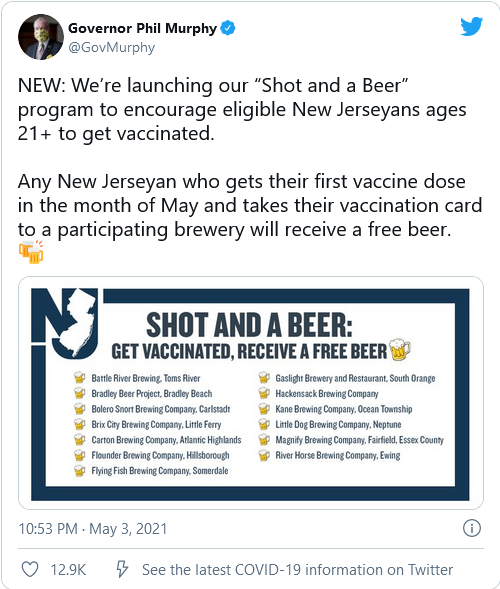 New Jersey governor Phil Murphy seems to understand this. On Monday, Murphy unveiled the state's "Shot and a Beer" program wherein New Jerseyans over the age of 21 who get their first Covid-19 vaccine shot in May will be able to take their vaccination card to a local participating brewery and receive a free beer.
Thirteen breweries across the state are participating in the program and doing their part to ensure that the region is one step closer to herd immunity. The initiative is part of New Jersey's "Operation Jersey Summer" — the state's plan to increase vaccination rates while gradually lifting Covid-19 related restrictions.
New Jersey isn't the only state to use the lure of a good brew to encourage community-wide cooperation. The local government in Erie County of Buffalo, N.Y. has launched its own "Shot and a Chaser" program in an effort to capture the attention of younger city residents. The local Health Department is setting up pop-up vaccination sites next to local breweries that have agreed to offer a free drink to those who receive their shot.
Budweiser came up with "Reunited with Buds"
Budweiser, which skipped a Super Bowl commercial this year to put money towards promoting vaccinations, announced Thursday that it would give a free round of beer to anyone over the age of 21 who can show proof they got their shots. The first 10,000 people to register at ABeerOnBud.com and upload a picture of an "I got vaccinated" sticker, a picture of a bandage, or a selfie at a vaccination site will receive a $5 virtual debit card towards buying a single Budweiser beer.
Anheuser-Busch also released a "Reunited with Buds" commercial for the promotion, featuring the Budweiser Clydesdales with a puppy, representing families and friends that will be able to reunite after getting vaccinated.
Other Covid vaccine freebies include free beer from Sam Adams, free donuts from Krispy Kreme, and even free admission to a Syracuse museum.