DE-NADA Tequila, the additive-free tequila born from the idea of two Millennial Entrepreneurs Adam Millman and Danny Neeson has turned a new beginning by launching DE-NADA tequilas in the U.S. Spirits Market. The tequilas are known for having no perfume, no additives, and no artificial color in them. The award-winning DE-NADA Tequila is introduced in two varieties- Tequila Blanco and Tequila Resposado.
The Journey of DE-NADA: Next-Level Smoothness
The idea of DE-NADA was born in New Orleans, Louisiana. In 2017, two friends at Tulane University, Adam Millman and Danny Neeson bonded over their love for traveling and finding the "perfect" tequila. In their freshman years, Millman and Neeson tasted a lot of tequila brands in search of finding "the one" perfect tequila. They did find the "perfect" tequila but realized it was a bit expensive for a college freshman's budget. Then an idea came to their minds- a fresh and young tequila brand, made by Millennials for Millennials. 
Millman and Neeson set on a quest to meet the makers of that flawless best tequila in the Highlands of Jalisco, Mexico. At the Vivanco family's artisan distillery 'Mi Ranchito' in Arandas, the friends bonded over tequila quality with the fifth-generation growers and distillers. Over a toast, the Vivanco's agreed to produce DE-NADA, creating a proprietary blend that would shake up the market. DE-NADA was born from that epic journey.
"Legendary Distillery…The Vivancos of Jalisco are masters of their craft — This family breathes, sleeps, and dreams tequila. You could even say it's their lifeblood.
Sergio Cruz and Jose Manuel are the maestros; this intrepid duo knows everything about the business. For them, the cultivation, harvesting, and distilling process is both a science and an art. To watch them in their natural environment was an honor and a privilege.

By DE-NADA website
In autumn 2020, DE-NADA was first bottled. By January 2021, Millman and Neeson were selling it door-to-door on the streets of New York. The rest they say is history.
"Top accounts were quick to embrace DE-NADA: Jillian Vose, Beverage Director of The Dead Rabbit NYC, says simply, "DE-NADA is an excellent quality tequila." Other top bars selling DE-NADA include The Jimmy, Aurora, and The Milton. The brand's first year culminated in DE-NADA being selected by Andy Cohen for his much-anticipated annual New Year's Eve Live with Anderson Cooper & Andy Cohen, televised on CNN."

According to BEVNET
DE-NADA Tequila has been awarded for its rich smoothness and premium quality. The prestigious awards won by the tequilas include- Platinum at L.A. Spirits Awards, "Best in Show Tequila" title at John BarleyCorn Awards, Winner of San Francisco World Spirits Competition, Winner of London Spirits Challenge, and Winner of International Spirits Competition. Tequila Blanco scored 90 points and Tequila Resposado scored 91 points in the Tequila Peacemaker Competition.
DE-NADA Tequilas: True-Blue Tequila
DE-NADA label is derived from the natural fibers of the Blue Weber agave plant. The Vivanco family produced in-house blue-agave since the 1800s and use classical music at agave yeast culture to stimulate the cellular process. The result is smooth-tasting tequila in all of Mexico.
"What I like about DE-NADA is the perfect balance between the complexity of flavor and aroma without being aggressive to the palate. This invites you to have another sip and celebrate DE-NADA."

By César Vivanco (Master Distiller)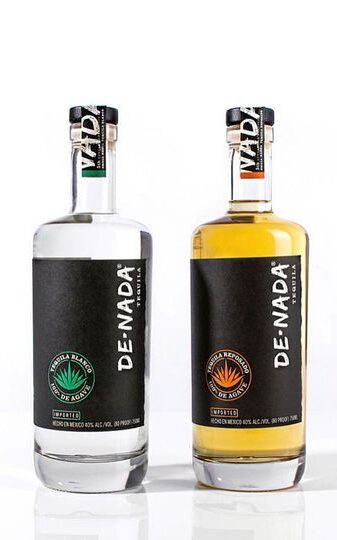 DE-NADA is one of only 61 Tequila brands that are currently Confirmed Additive Free.
DE-NADA Tequila Blanco– It is seductively smooth silver tequila with notes of peach, grapefruit, and peppermint.
DE-NADA Tequila Resposado– It is silky aged tequila showcasing mouthwatering notes of almond, cinnamon, caramel, and vanilla.
Tequila Blanco and Reposado expressions are available for purchase at SRPs of $39 and $43, respectively. Both the tequilas are bottled at 40% ABV (80 Proof). The tequilas are ideal for cocktails or sipping straight.
DE-NADA has traditional and e-commerce distribution in New York and New Jersey. It is also available for online purchase on  ReserveBar and Drizly.
For more updates, check the following links- Official website | Facebook ID | Instagram ID | For cocktail recipes curated by the team
DE-NADA's additive-free Tequila has a smooth rich texture on every sip. A tequila for celebrations. You will forget lime and salt while sipping on the flavors. As DE-NADA says it's okay to relish on the perfect drop of liquid and get another bottle of DE-NADA.