"The name "CÎROC" is a portmanteau of the French word cime, meaning peak or summit-top, and Roche, meaning rock, a reference to the high-altitude vineyards of the Gaillac region where Mauzac grapes are grown (the 'î' in the Cîroc logo is the i-circumflex letter used in the French language."– Wikipedia
CÎROC Vodka is a modern French brand of luxury eau-de-vie vodka, manufactured by using grapes from the Charente-Maritime region of South France. It is produced and distributed by the British-based multinational alcoholic beverage maker Diageo. The brand family includes unflavored and vodka-flavoured products. The marketing and promotion of the brand in the United States have been handled by Sean "Puff Daddy" Combs since 2007. Sean "Puff Daddy" Combs and Diageo have entered an "equal-share venture" with profits from the brand. 
Founded by: Jean-Sébastien Robicquet in 2003
Distributed by: Diageo
Marketing and Promotion by: Sean "Puff Daddy" Combs in the United States
Country of Origin: South France
Proof (US): 70-80
The USP of the brand's vodka is their distinct vodka-distillation process which gives the vodka their distinctive flavor with an exceptionally fresh, citrus taste. The vodka making starts by selecting harvested fine French grapes and made into wine. The wine is distilled four times in column stills. In the fifth distillation, CÎROC Vodka is created in a traditional, tailor-made copper pot still at Maison Villevert Salles d'Angles in the south of France.
Awards
In March 2010, CIROC Ultra Premium Vodka was awarded Double Gold Medal in the vodka category at the prestigious San Francisco World Spirits Competition and for the fourth consecutive year, it was named a "Fast Track" brand by Beverage Information Group.
Products
The CIROC Vodka range of unflavored and flavoured products include:
CÎROC SNAP FROST VODKA (Unflavored)
CÎROC APPLE
CÎROC RED BERRY
CÎROC FRENCH VANILLA
CÎROC MANGO
CÎROC PINEAPPLE
CÎROC PEACH
CÎROC COCONUT
Limited Edition Releases:
CÎROC SUMMER WATERMELON 
CÎROC WHITE GRAPE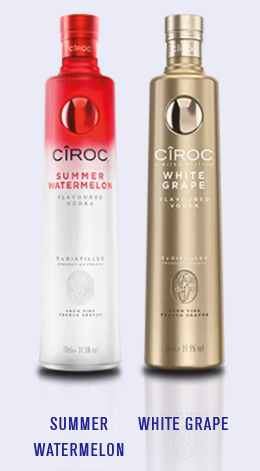 For the vodkas, the team has curated a bunch of delicious cocktail recipe collections. Click here.