By now, we all know, James Bond likes his Martini shaken and not stirred. Every once in a while, we come across a movie or character, which is truly special. Either the creator is visionary, the film has a great story, the acting cast gives you the thrill, the romance, the deadly technology, the great one-liner dialogues, or the film is adventurous and action-packed. James Bond movie gives you all.
The legendary James Bond is yet on another mission in the 25th thriller movie- No Time to Die. The James Bond character featuring Daniel Craig takes you on another action-packed roller-coaster ride in Jamaica, the home of James Bond, with this new release. The movie got released on 8th October 2021.
Blackwell Rum and 007 film franchise partnership
To celebrate the new James Bond movie, Blackwell Rum has announced its partnership with the 007 film franchise.
Chris Blackwell is the founder of Blackwell Jamaican Rum and also the owner of Ian Fleming's former residence, GoldenEye. Chris is launching a special 007 Limited Edition release of his Blackwell Fine Jamaican Rum. The Fine Jamaican Rum is inspired by his family's time-honored recipe. This aged, rich, and fragrant dark gold rum is filled with the warmth and sensuality of Jamaica. 
"James Bond has been a big part of my life, from my childhood lunches with Ian Fleming at GoldenEye to being a location scout on the first movie, Dr. No (1962). It was a pleasure working alongside the No Time To Die production team in Jamaica providing our iconic rum for the set in James Bond's house, which has made this very special relationship come full circle. This is a rum that celebrates Jamaica, my friendships, and also my family legacy. We thought it would be a good idea to have a drink that fits in with the Bond concept. We reached out to their people and if you look closely enough you will see us (007 Limited Edition) in the movie."

By Chris Blackwell
This rum was served on the No Time To Die movie set. The 007 limited-edition Rum also features an augmented reality experience available via a QR code on the bottle, where Blackwell, who is best known for discovering Bob Marley, comes to life to share life stories, music selections, cocktails recipes, and more.
Tasting Notes of 007 Limited Blackwell Rum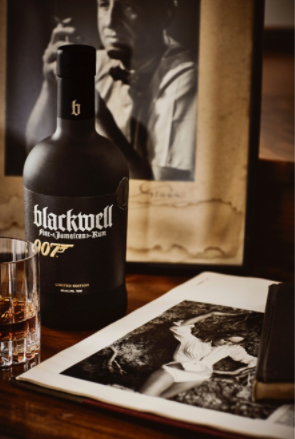 007 Limited Blackwell Rum offers tasting notes of bittersweet mocha and woody spice, combined with flavors of oak char and caramel on the palate. These flavors are followed by a burst of sweet, vibrant notes of tropical fruits like kiwi and pineapple. The tasting notes have been provided by The Chaps at Master of Malt.
Bottled At: 40% ABV
 Color: Dark Gold
The 750 ml limited-edition bottling is available to be purchased at an RRP of $35/£35. You can purchase the expression from drizly.com retail stores for the USA nationwide. A list of the selected local US-based retail stores can be found on the official website. The expression can also be ordered online by selecting your residing country on the official website.
Cocktail Recipes
To commemorate the 007 Limited-Edition Blackwell Rum release, the team at Golden Eye put together several delicious cocktail recipes.
GoldenEye Cocktail
Ingredients:
1 part Blackwell Rum
1 part pineapple juice
Lime or pineapple wedge
Method:
1. Shake together and strain into a chilled cocktail glass
2. Garnish with lime or pineapple wedge
GoldenEye cocktail is inspired by the Bond legacy and named for the scenic venue in St. Mary parish where British writer Ian Fleming came up with the concept for the legendary movie franchise.
Toasty Toddy
Ingredients:
3 parts Blackwell Rum
2 teaspoons brown sugar
1 ½ part fresh lemon juice
6 parts boiling water
Method:
1. Add all ingredients to a mug, except for the water
2. Pour in the boiling water
3. Stir well to blend
Check out more recipes on the official website.
About GoldenEye
Chris Blackwell is the owner of GoldenEye which was the fame for Ian Fleming and his well-heeled friends including playwright Noel Coward and the actor, David Niven. Goldeneye is part of Blackwell's Island Outpost properties. Ian Fleming wrote the famous James Bond novels in this venue of Jamaica, The Home of Bond! Ian created the hero James Bond, a larger- than life version of himself.
"James, the most common of English names… Bond, a synonym for reliability, or an upscale street in the heart of Mayfair… But in fact, in whimsical fashion, Fleming simply lifted the name of an English ornithologist — the author of "Field Guide of Birds of the West Indies" — for his iconic, unforgettable, masculine hero."
Chris Blackwell was born in London to a British father and Jamaican mother. Blackwell was raised in St. Mary and spent much of his youth at Goldeneye. He became a location scout for 1962's Dr. No, the first Bond movie which was filmed in Jamaica and starred Sean Connery as Bond.
His family, which have been in Jamaica since the late 18th Century, have been in the liqueur industry for over 100 years. His grandfather, Percy Lindo, owned Wray And Nephew, a leading Caribbean rum manufacturer that helped produce 007 Limited Edition.
About Island Records
After returning to Jamaica in 1959, Chris Blackwell records blind pianist Lance Heywood. Blackwell first heard Lance perform at the Half Moon resort. This recording session begins the story of the independent label, Island Records. Island did more to change the cultural landscape than any record label in history. Island Records brought reggae music to the world outside Jamaica, with Blackwell himself producing Bob Marley and the Wailers. A label that had global success with The Spencer Davis Group, Grace Jones, U2, and P J Harvey.
Watch the action-packed spy James Bond in No Time to Die with 007 Limited Edition Blackwell Rum. Cheers!