'Gebrande wjin' is a Dutch term that translates to burned wine. You must be wondering what kind of a spirit is burned wine? This term in reality indicates the process of distilling wine or fermented fruit mash to obtain – Brandy. You must've heard ' While all Cognac is brandy, not all brandy is cognac'. The reason behind this fact is that Cognac is a sub-type of Brandy and is treated synonymously due to its similar qualities but brandy has other subcategories which are not related to Cognac like  – Armagnac, Grappa, Calvados etc. While brandy is already a top-star alone, distillers keep on experimenting and enriching this category. When I speak of enrichment, the infusion of flavours is one thing that lingers. Imagine the complex flavour and aroma of coffee blended well with brandy! Don't just imagine, because La Martiniquaise Bardinet's latest release features 'Bardinet Coffee' – a combination of coffee and brandy. 
Bardinet's Story :
"Creating brands with high emotional value, launching new concepts, listening and placing the consumer at the heart of things, as is our passion.  Seducing and convincing, entertaining and selling, that is our Spiritainment concept". 

Edith CAYARD, Director.
Established in 1857, Paul Bardinet – a young liquor producer from Limoges was fascinated by the idea of turning tafia (crude alcohol created by distilling sugarcane) into something unique. He did a lot of experimenting and tasting sessions of spirits matured in oak barrels for long periods. His passion gave rise to Negrita Rum. After few years, Bardinet's son Édouard left for Bordeaux and shared his expertise to a group of master blenders due to which days of 1895 witnessed launches of new products such as sugar cane syrups, fruit punches and cocktails. In 1975, all of Bardinet's activities were moved to Fleurenne Estate in Bordeaux. 'Raising a glass to whisky' The brand ventured into the whisky industry and offered the quality Scottish brand Sir Edward's. La Martiniquaise welcomed Bardinet in 1993. Time after the year 2000 brought in lots of success and recognition for Bardinet – entrusted with the international development of Glen Moray, L'Héritier-Guyot, Valauria, Manor, Rapha etc. Bardinet's is also associated with non-alcoholic sector development.
The brand new 'Bardinet Coffee' :
Brandy is known for its pleasant yet strong sweetness and there's always a depth to it. Whereas coffee is recognized for its strong aroma and flavour. Both flavour profiles are diversely similar and one would think these flavours would clash or overpower the overall balance. Bardinet Coffee shines in the crowd because it has achieved blending two very luscious and dominant flavours into a subtle, pleasant yet rich expression. Consumers love both of the things that make Bardinet Coffee. Plus this alcoholic beverage is literally a piece of heaven for people who like coffee and coffee-infused products. 
"We saw an opportunity to create a delicious spirit that caters to the growing love of coffee-flavoured items. Coffee and brandy have long been a match made in heaven. This new offering adds another dimension to that flavour combination. It's a contemporary product that also stays true to Bardinet's French heritage and passion. We think consumers will love it."

Léna Rusek, international brand manager.
This new launch marks the journey of Bardinet's  Flavors Collection. Bardinet Coffee is a well-harmonized blend of craft spirits and the global coffee industry. The distilling and blending team of Bardinet blends full-bodied Bardinet brandy with Arabica and Robusta Coffee which ends up being deep, smooth and mellow with a pleasant sweetness. The ABV is 20% and it is recommended to be served over ice, in long drinks or mixed in cocktails. 
Tasting notes include roasted coffee aromas, sweet fruits and bitter coffee on the palate, finishing with prunes and a 'rich coffee finale'.

– Spirits Business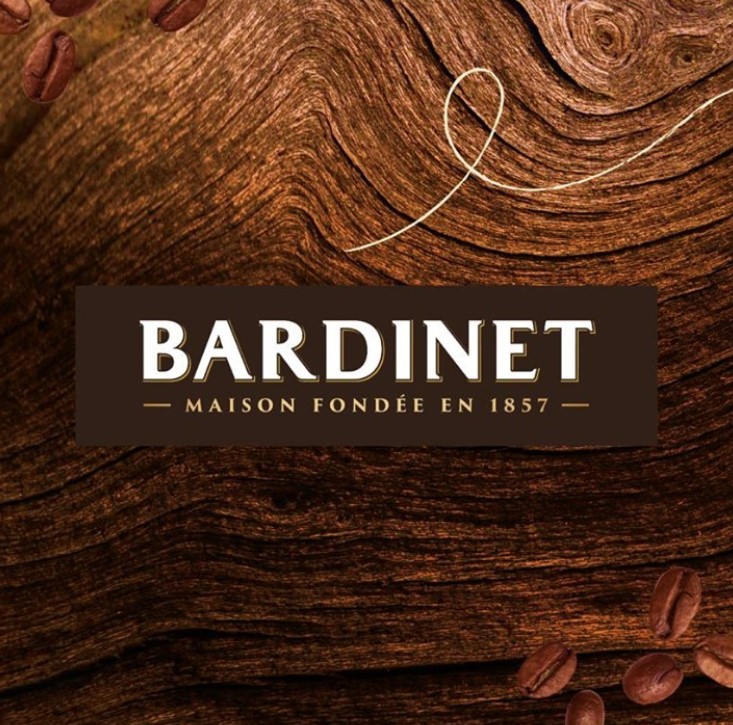 Bardinet's range of brands :
Whisky – Sir Edward's, Glen Moray
Brandy – Bardinet Brandy, Beehive
Rum – Depaz, Old Nick, Negrita, Dillon, Bally
Liqueurs & Syrups – Bardinet Liqueurs & Syrups, L'Héritier-Guyot
Sugar Cane Syrup – Canadou, Dillon Cane Syrup
Juice – Caraïbos
Wine – Lamothe Parrot, Longchamps, Bardinet Vins
Alcohol – free : Blancart, d'Artigny, Mister Cocktail, Palermo, Venezzio
For more information, visit – https://www.bardinet.fr/en/our-brands