Bacardi Company launches new white rum, BACARDI TROPICAL which is flavoured with tropical fruits of pineapple, coconut and guava. This new launch version is a new addition to Barcadi's list of flavoured rums. Made will all-natural flavours, BACARDÍ Tropical is expertly blended to a light, refreshing Caribbean flavour perfect for mixing in cocktails.
How is Bacardi Tropical distilled?
BACARDI Tropical begins with a base of BACARDÍ white rum and is infused with all-natural pineapple, coconut, and guava fruit flavours. It uses a molasses rum base. The molasses is fermented with Le Levadura, a single strain of proprietary yeast, for 30 hours in closed fermentation tanks.  The fermented spirit is split into two batches in which some part is column distilled while another part is beer distilled.  However, each distillation half is aged separately in charred American White oak bourbon barrels.  Once it is matured, the rums are blended and filtered through a mix of charcoal made from tropical woods and coconut shells. 
After the BACARDÍ rum and coconut flavours are left to marry, purified water is added to dilute the final spirit to bottling strength and filtering. Finally, the finished product is a flavoured rum that is well-rounded and adds a tropical kick to any cocktail.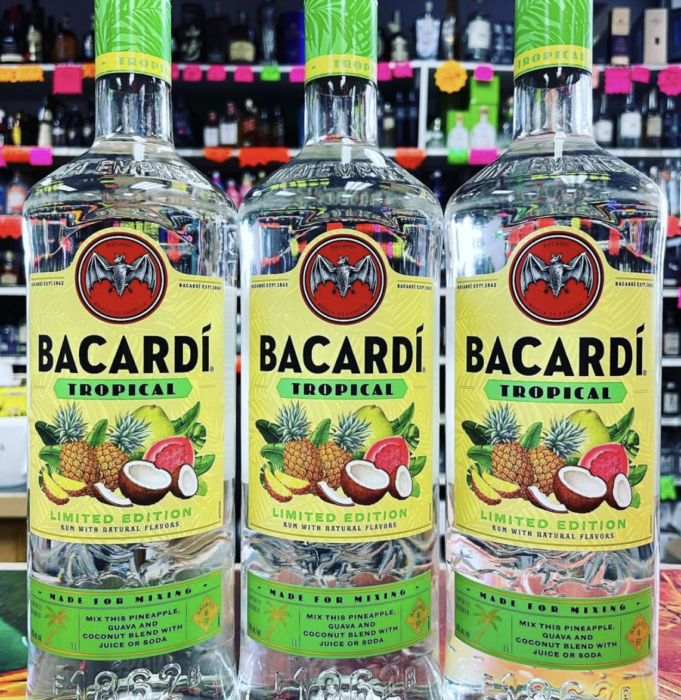 Some popular saying about the new tropical rum
"At BACARDÍ, we know that flavoured rum is the fastest-growing segment in the category. To give people a delicious new flavoured rum option and get them excited about what is sure to be an unforgettable summer, we created BACARDÍ Tropical. It brings the natural fruit flavours of the Caribbean to classic rum cocktails like the PiñaColada, Mojito or the Tropical Sunset, which is our take on the Hurricane. It is also just as versatile and delicious when mixed with juices or soda for an easy, vacation-worthy sip."

Maria Galis, marketing director for Bacardí North America
"BACARDÍ Tropical contains no artificial sweeteners, is gluten-free, and only 100 calories per ounce and a half of liquid, so mindful drinkers can savour all the flavour without the guilt. With tropical flavours accounting for roughly 80% of recent flavoured rum volume growth, and guava, in particular, being a flavour to watch in spirits, this new offering from BACARDÍ is perfect for those embarking on their rum journey and seasoned rum drinkers alike."

According to Nielsen, IFF Beverage Trends data cited by the brand
Tasting Notes for the flavourful tropical blend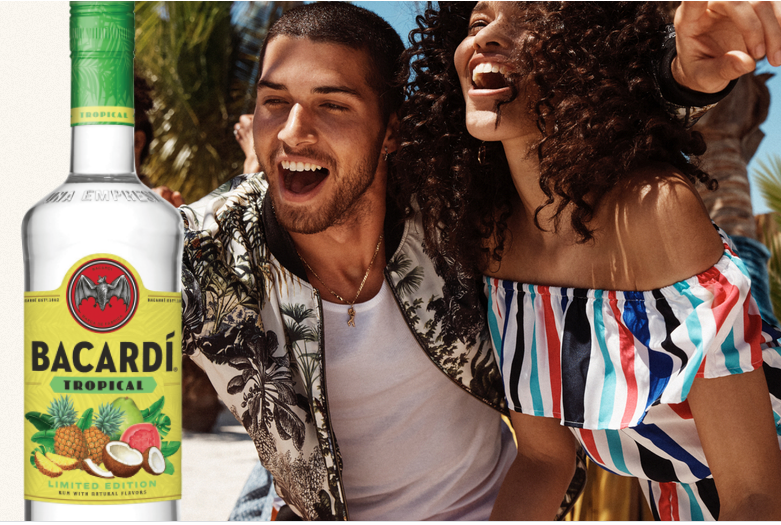 Aroma- The tropical aroma leads with pineapple which is followed by guava.
Palete- On the palate, there are notes of sugary sweet guava and coconut; building to a salty pineapple and creamy coconut peak. This gives a taste of Caribbean flavour
Finish- It fades with simple syrup, guava, and saline, finishing with molasses, oak, and peppery pineapple that leaves a rush of alcohol heat.
At 35% ABV, this expression gives an experience of a long summer Caribbean flavour which mixes well with juices, mixed drinks and sodas.
It is available to purchase for RRP US$12.99 from online retailer Drizly and at select stores across the US.
So, take yourself on this Summer Caribbean weekend vacation with the Bacardi Tropical limited-edition rum. Mix it in your cocktails or sodas and enjoy!!
---
A brief about Bacardi Co Limited
The BACARDÍ brand is part of the portfolio of Bacardi Limited, headquartered in Hamilton, Bermuda. In 1862, in the city of Santiago de Cuba, founder Don Facundo Bacardí Massó revolutionized the spirits industry when he created a light-bodied rum with a particularly smooth taste – BACARDÍ. The unique taste of BACARDÍ rum inspired cocktail pioneers to invent some of the world's most famous recipes including the BACARDÍ Mojito, the BACARDÍ Daiquiri, etc.. BACARDÍ rum is the world's most awarded spirit, with more than 900 awards for quality, taste, and innovation. Today, BACARDÍ rum is made mainly in Puerto Rico where it is crafted to ensure the taste remains the same today as it did when it was first blended in 1862. 
Based on the data collected in Brand Finance recent report, Bacardí was among the top 10 biggest-selling rums last year.
Bacardí Tropical joins a host of other fruit-flavoured rums in the producer's portfolio, including- Bacardi Coconut, Bacardi Lime, Bacardi Limón, Bacardi Pineapple, Bacardi Dragonberry, Bacardi Raspberry and Bacardi Mango. The other signature rums launched by Bacardi – Bacardi Carta Blanca (White Rum), Bacardi Spiced rum, Bacardi Carta Oru (Gold Rum), Bacardi Carta Negra (Dark rum), Bacardi Anejo Cuatro, Bacardi Reserva Ocho, Bacardi Gran Reserva Diez, Bacardi Gran Reserva Limitda.
Earlier this summer, the brand unveiled a range of rum-based canned cocktails-Bacardi Lime &Soda, Bacardi Limon & Lemonade and Bacardi Rum Punch. Their Ready-To-serve Cocktails includes- Bacardi Bahama Mama, Bacardi Rum Punch, Bacardi Mojito, Bacardi Hurricane, Bacardi Zombie and Bacardi Island Tea. There is also a limited edition Bacardi Coquito cocktail also.