Drumshanbo Gunpowder Irish Gin: a mouthful, yes, and one of the more unique mouthfuls to come out of an Irish distilling boom that's seen plenty of new whiskeys (more in the last five years than the prior 50), but also a surprising rise in the Irish gin category, which went from marginally inoffensive to the fastest-growing spirits category in the country.
In fact, it's such a crowded market that standing out in the gin crowd takes work. Fortunately, Drumshanbo Gunpowder Irish Gin is as much a passion project as it is a plucky young Irish gin brand. Brainchild of three-decade drinks industry veteran P.J. Rigney (who once worked as executive director at Baileys), the gin is a mini-travelogue of sorts, its 12 distinct spices and botanicals a record of Rigney's career-long world travel, everything he learned about the eastern practice of distilling herbs and botanicals. Nor is that just token eclecticism; Drumshanbo is about bringing the journey home, quite literally bottling the fruits of discovery of a curious mind.
The result is a gin that tastes uncommonly good thanks to an uncommon marquee ingredient, combines drinking traditions from cultures 5,000-plus miles apart, pays homage to a love story when two paths crossed in the local iron mines and, incidentally, helped one small Irish town called Drumshanbo find new economic opportunity.
2019 kicked off with Drumshanbo Gunpowder Irish Gin winning the Best Gin "Oscar" at the prestigious Flaviar New York Spirit Awards — one of the world's most competitive drinks contests, awarding only five of 22,000 entrants.
See below for 6 reasons to try it.
It Slakes a Century of Thirst.
Drumshanbo Gunpowder Irish Gin is distilled at The Shed Distillery of P.J. Rigney the "Curious Mind," located in Drumshanbo, a small village in the wild, unmanicured heart of rural Ireland, built on iron and coal mining that's since settled into pockets of small-scale industry (including the lesser-known field of "iron mine tourism"). Among the reasons Rigney founded his distillery here is that the 2014 opening of The Shed made it the first distillery to open in the entire Irish province of Connacht in 101 years. (We're guessing locals were thirsty.) The Shed continues to create ambitious, international brands with a "Curious Edge," setting new standards to compete with the best the world's leading brands have to offer.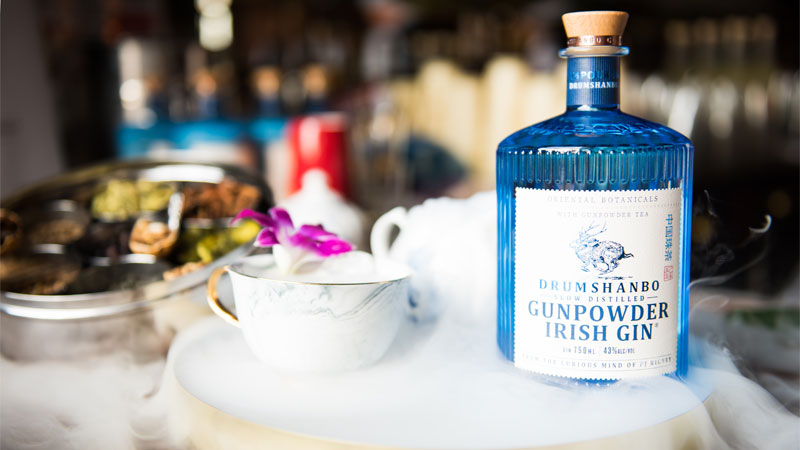 You're (Sort of) Drinking Tea!
The "gunpowder" in the Drumshanbo Gunpowder Irish Gin name refers to Chinese gunpowder green tea, one of the four botanicals that are vapor-distilled into the gin (after it's been pot-distilled with eight others). It might sound easy to get lost in a dozen botanicals, but the specific green tea Rigney chose for the gin lends a distinctive note to the final flavor, unique in the gin world, where juniper is more often primarily complemented by things like citrus, cucumber, and spice. And no, the tea has no ballistic uses; it's called "gunpowder" because of the shape of the tea leaves, which are rolled into individual pellets for better preservation.
It's Wildly Global and Extremely Local.
For the final botanical bouquet, Rigney chose 12 botanicals, fruits, and spices, including the aforementioned green tea as well as ingredients like Moroccan orris root, Indian cardamom, and Macedonian juniper. Even with a mini-U.N. spice cabinet, Drumshanbo Gunpowder Irish Gin throws in one more highly local ingredient: meadowsweet from the town of Drumshanbo itself. Meadowsweet lends a delicate floral sweetness to the overall bouquet, complementing the green tea notes.
The Drumshanbo Mascot is a Drinker, Too.
In case you're not up on your North American mythical zoology, the creature on the Drumshanbo label is a jackalope — a legendary creature supposedly conceived in a lightning storm, with rabbit body and deer antlers that variously terrified and (apparently) sang to cowboys in the old timey American West. In case you're wondering, "Why is that on an Irish gin label?", according to Rigney, the brand mascot "couldn't be any other creature." Like his gin, the jackalope is the result of "disparate cultures and traditions brought together in a single flash" (of inspiration, in this case, not lightning). Bonus points: According to legend, the best way to catch a jackalope was an open whiskey flask. Just crack it and wait for the mythically adorable beast to drink up and hop-stagger into your net.
It's Made with the John Wayne of Teas
No, it's not small artillery, but Gunpowder Green tea can pack a punch. Rigney first encountered it as part of a Moroccan tea ceremony, where recipes typically call for fresh spearmint or peppermint to be mixed with a quantity of gunpowder green tea before brewing with water and sugar. The reason a tea from the Tang Dynasty ended up as a key component of Moroccan tea ceremonies (likely) has to do with the tea's paradoxically delicate-but-bold taste. Yes, it brews up a lovely soft golden color, but gunpowder green has an intricate, semi-tannic backbone, with savory, herbal, dried green notes that make it a worthy match for a flavor as strong as mint — or, in Drumshanbo's case, a match for 11 other equally assertive flavors. All without overpowering the overall delicacy. Think of it as having a quiet strength of flavor — like the John Wayne, or Groot, of ancient teas.
It's Not a "Sloe Gin," but It Is Deliciously Slow Gin.
Drumshanbo Gunpowder Irish Gin is quite literally a "slow gin." Despite how efficiently gin can be produced, Rigney intentionally slows the process, combining the two major gin distilling methods. Rigney combines vapor distillation of fresh Chinese lemons, kaffir limes, and Oriental grapefruits, along with the intriguing gunpowder tea, with the pot-still distillation of eight other botanicals ranging from Chinese star anise to local Drumshanbo meadowsweet. The gin is then rested for up to 30 days, allowing the oils to settle, after which it undergoes a very light cold filtration. It's an extra step, but it's essential for Rigney's ideal flavor profile: Certain botanicals go bitter if you boil them. Add to that the fact that it's all done in medieval-style copper stills (the increased copper surface area acts to "purify" the flavors) and you've got a serious labor of love. Every precious drop of Drumshanbo Gunpowder Irish Gin is slow-distilled by hand and proudly bottled, sealed, and labelled by the team in the distillery.