Belgium is a theme park for all beer enthusiasts and foodies. Beers of Belgium are distinctive and a fascinating mix of modern creativity. 
Trappist beers have originated centuries ago and they are a product of excellence. Trappists refers to the monks (Trappistines are nuns) who dedicate their lives to prayer and work, in a community life. They produce and sell food, beer and other articles. They attain this role in a way that suits them best: ethical and transparent, with special attention to human dignity and the environment. Production and business practices are always done under the supervision of the Trappists.
Trappist beer is brewed by Trappist monks. For the beers to be the genuine product of Trappist abbeys, these criteria must be followed:-
The beer must be brewed within the walls of a Trappist monastery, either by the monks themselves or under their supervision.
The brewery must be of secondary importance within the monastery and it should witness to the business practices proper to a monastic way of life.
The brewery is not intended to be a profit-making venture. The income covers the living expenses of the monks and the maintenance of the buildings and grounds. Whatever remains is donated to charity for social work and to help persons in need.
This makes the term "Trappist," an appellation. Only brewers or monasteries who meet these requirements are allowed to use the name "Trappist" on their beers.
In addition to being a Trappist Brewery, the communities who are members of the ITA (International Trappist Association) can apply for their beer to bear the mark of an "Authentic Trappist Product". The following criteria are used for the ATP label:
All products must be made within the immediate surroundings of the abbey;
Production must be carried out under the supervision of the monks or nuns;
Profits should be intended for the needs of the monastic community, for purposes of solidarity within the Trappist Order, or for development projects and charitable works.
List of Trappist breweries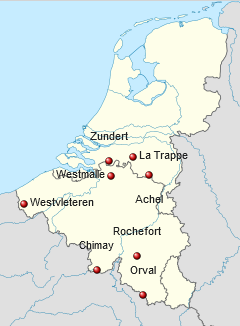 At present, there are about 14 abbeys which are members of the International Trappist Association who brew and sell their own beer. Six in Belgium, two in Netherlands and one each in France, Spain, Italy, Austria, UK and USA.
Belgium: Achel, Chimay, Rochefort, Westmalle, Westvleteren and Orval
Netherlands: La Trappe and Zundert
France: Mont des Cats
Spain: Cardeña
Italy: Tre Fontane
Austria: Stift Engelszell
England: Mount St. Bernard
United States: Spencer
Types
Trappist beers are mostly Top-Fermented. Trappist breweries use various systems of nomenclature for the different beers produced which relate to their relative strength.
The Most common and best-known system is where different beers are called:-
Enkel (Single):- Refers to the most basic recipe of their beers. Now terms like Blond(e) or Patersbier is used.
Dubbel (Double):- Dubbels are understood to be a fairly strong (6–8% ABV) brown ale, with understated bitterness, fairly heavy body, and a pronounced fruitiness and cereal character.
Tripel (Triple):- Describes the strongest beer in their range. Tripels as a style are generally beers with an alcohol content ranging from 8% to 10% ABV.
Quadrupel (Quad/Quadrupel):- Brew which is stronger and darker than their tripel.
Some of the beers made are not available for sale and are only meant for monks to consume them on premises. Enkel beers which are lower in alcoholic strength are consumed by monks, hence the name "Patersbier" (Father's Beer).
Glassware
Belgian breweries have a tradition of providing custom beer glasses: with Trappist breweries, these often take the form of "chalice" or "goblet" style glasses. The distinction between goblet and chalice is typically in the glass thickness. Goblets tend to be more delicate and thin, while the chalice is heavy and thick-walled.
Trappist ales are considered to be the gold standard of beers. Their stunning glassware, luxuriously crafted ales, aged cheese and humanitarian side of the entire plot totally calls for a beer pilgrimage to Europe, UK or even the United States for that matter.
---
Source:-