Stilla Gin is born: a versatile and contemporary spirit that comes from the combination of four botanicals inspired by the four seasons and hand-picked on the mountains of the Aosta Valley

Stilla Gin, the new gin created by Four Seasons Hotel Milano, was born from the desire to create a unique spirit that invites guests on an authentic sensory journey.
Guests can taste Stilla Gin at the Hotel's cosmopolitan Stilla Bar, where it is also available for purchase, beautifully packaged in an elegant bottle and case.
This new launch is the brainchild of Bar Manager Luca Angeli who saw an opportunity to create a distinctive spirit only available to Hotel and bar guests. Unique, versatile and full of character Stilla Gin unleashes the aroma of its four botanicals inspired by the "Four Seasons" name: génépy, wild juniper, sage and lemon. These botanicals were cultivated and handpicked on the high peaks of the Aosta Valley, which is blessed a unique microclimate. Combined with the purest glacial water, the botanicals bear fruit to the exquisite spirit that is Stilla Gin, which vaunts a dry but citrusy flavour and is perfectly suited for being enjoyed neat or in a cocktail.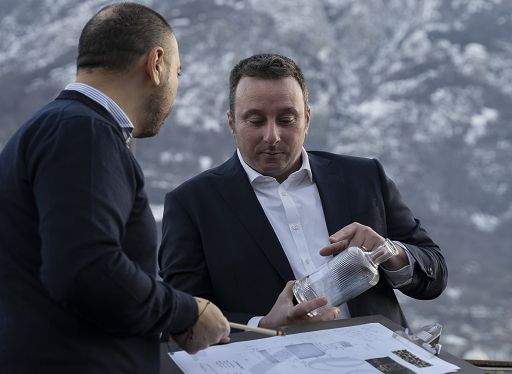 Stilla Gin is crafted at Levi Distilleries in collaboration with industry expert and sales manager Angelo Sarica. The gin is distilled in highly advanced stills powered by renewable energy and created using the London Dry gin method.
A native of the town of Carrara in Tuscany, Luca Angeli took his first professional footsteps at his aunt's bar in Aosta, where he forged a deep connection to the Valle d'Aosta area and all it had to offer. It was therefore a natural fit for him to return to his professional roots to create Stilla Gin.
"The demand for sophisticated spirits is constant and increasingly about innovation, terroire and local products. We are proud to offer a spirit of our own created from of highest quality products and ingredients made in Italy,"

says Luca Angeli, Bar Manager of Four Seasons Hotel Milano.
Stilla Bar offers a sophisticated yet welcoming atmosphere in the heart of Milan's fashion district. The décor seamlessly blends the history of a fifteenth century convent with contemporary design by architect Patricia Urquiola in July 2021. It is open all day for a morning espresso, a pre-dinner aperitif or unique and refined cocktails accompanied by a DJ Set.
Levi Distillery

Written sources attest that as early as the 17th century the Levi family dedicated themselves to the almost alchemical art of distillation. In Quart, still today, Levi distillates are born in the Levi-St.Roch-OTTOZ Distilleries. The ingredients used are simple: high quality raw materials, often km 0, combined with the love for their own territory and the passion for distillation. Thanks to a discontinuous water bath alembic totally powered by renewable energy, these raw materials are transformed into precious distillates. Today as yesterday, with the same research and love passed on by our Founder.