There is no doubt with the height of the temperature rise across the globe there has also been a need for some summer specialty, and Tomatin Cù Bòcan keeping that in mind has released their brand new aged stated whisky of core range  – Cù Bòcan 12 years old Scotch. Cù Bòcan is exclusive for its innovative techniques in creating scotch whisky and Single Malt full of astonishment and amazement, reciprocating behaviour inherited from its initiator the Tomatin Distillery – which for decades has been recognised for its experimental distillery producing some of the world's renowned Single Malt in the history and this new one is no exceptional maintaining the ethos "unlocking the unusual".
However, Cù Bòcan 12 years old Scotch is intriguing in many senses, especially with the experimental Highland Distillery, which used Caribbean rum casks for maturing this expression combining it with their subtly smoky spirit, resulting in a flavour of grilled pineapple, sea salt, ginger and white chocolate – a relative variety for the warm summer afternoon highlighting their motive of targeting the Scottish customers intending to spend quality time with friends and family in such warm temperature.
" Whisky matured in rum casks can be incredible, but rum casks are notorious for their variable quality and securing a consistent supply is almost impossible. Therefore, this permanent addition to the Cù Bòcan range will be released in batches. With each batch, we will explore casks from across the Caribbean, each with their own unique origin, history, and influence. Batch #1, distilled on the 10th of December 2010, has been finished in a mix of rum casks from Guyana and Barbados. These islands are known for the use of molasses and pot still distillation. Producers in Barbados, regarded by many as the birthplace of rum, blend pot still and column still rums making the island worthy of its reputation for well-aged, balanced expressions. The casks sourced from Barbados provide a range of fresh tropical fruits and invigorating maritime notes. Known for the famed Demerara River, Guyana is home to some of the fullest-bodied rums in the Caribbean. These casks have added more depth and warming spice." This, therefore, explains the incredible nature of Cù Bòcan's 12 years old Scotch.

Scott Adamson, the Blender and Global Brand Ambassador stated on its release
But this isn't the first this year, Cù Bòcan early this year also released their fifth instalment in their "Creation Series" i.e. Creation #5 matured in Andean Oak casks, considered to be the first of single malt of this new fashion inaugurating an exclusive variant punishing all the traditional boundaries of Scotch whisky with their experimental capabilities, while giving homage to their heritage. With this new release this season Cù Bòcan exposed their daunting nature by using Japanese Shochu casks which they previously used to produce Creation #2 in 2019.
Though the current Cù Bòcan production range now of Cù Bòcan Signature, producing Cù Bòcan 12 Year Old and Cù Bòcan 15 Year Old, all matured in Bourbon, Oloroso Sherry and North American Virgin Oak casks. The Cù Bòcan 15 Year Old was unveiled last year and was recently awarded "DOUBLE GOLD" at the San Francisco World Spirit Competition 2023, Creation #5 was awarded "GOLD", positioning Tomatin Cù Bòcan among the leading Scotch whisky producers in the world. With this recent release of their 12 Year Old, they are once again celebrating their partnership with world-renowned chef Tony Singh MBE. Tony Singh is expected to visit the capital of the Highlands this weekend to create and serve some delicious street food, Cù Bòcan will be paired with Singh's dishes with drams and whisky cocktails and all proceeds from the weekend will be going directly to Maggies Highlands, in order to know more, Click on the link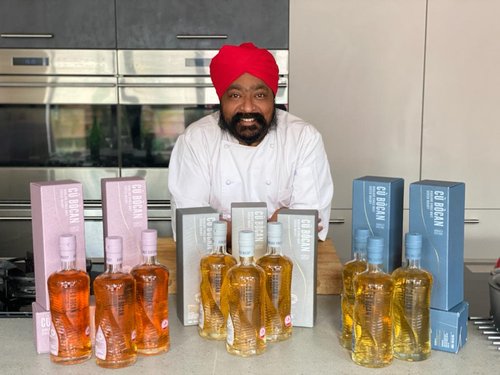 With this new release, Cù Bòcan Single Malt now aims to open up the world of lightly peated whisky, offering an exploration of the subtleties of smoke, the character of the casks and the mastery of maturation. The range is always non-chill filtered and natural in colour. Cù Bòcan 12 Year Old has been bottled at 46% Abv. and is a limited batch release available in specialist shops worldwide with an RRP of £65 per 700ml bottle.