We will take a look at our favourite Colour Changing Gins, but if you want to get a detail look at all of these and more you can view it our video.
Also explained this colour changing phenomena in our video.
Empress 1908
Empress 1908 is a slightly contemporary style gin with a heady citrus, juniper and coriander accord that takes copious cues from gin's 300 year history.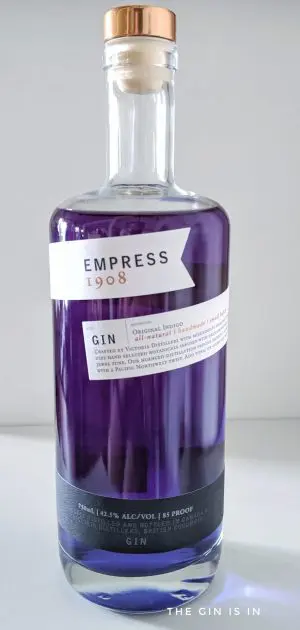 Empress 1908 Gin is more classic in character than the color suggests. Big bold juniper and heady citrus make up the majority of its aroma. Though hints of a plastic medical aroma, a touch of ethanol make the nose a bit more raw. Despite the lack of refinement around the edges, blind tasters might not think this gin was bright purple.
The palate has a hint of rose early. If you're looking for an overtly floral gin— this isn't it. Ripe, boiled grapefruit, resinous juniper cones take hold mid-palate.
Towards the finish, earthy coriander, green tea, and bulky, dry cinnamon (with no red hot character) stew on the edges of the palate. Radiant heat from the base spirit gives these notes some length— but warmth is the primary character that remains after sipping.
---
Ink Gin
This organic, small batch, Australian craft gin resulted from distiller Paul Messenger's experimentations with an exotic flowering legume from Thailand known as the 'Butterfly Pea' (Clitoria ternatea) in 2012.
Inspired by its colour changing properties, Messenger spent the next three years creating a recipe that would harmonise a range of botanicals, including the native Australian bush tucker, with the singular flower.
Settling on balanced recipe of 12 botanicals, Ink Gin is placed in a hand-beaten copper pot still at the Husk Plantation Distillery, where it is combined with 100% Australian grain spirit and water from the volcanic rocks of the caldera that originally fell as rain.
Tasting Note by The Chaps at Master of Malt
Nose: Elderflower, lemon and just a hint of juniper. Perhaps some almond nuttiness too…
Palate: Peppercorn and cardamom give it a spicy opening, with rounded notes of orange balancing it all out.
Finish: Liquorice, thyme and continued citrus sweetness.
---
Sharish Blue Magic
A bright blue Portuguese gin from the Sharish range – the magnificent colour comes from extracts of a flower known as blue pea, and when you mix the gin with tonic, it turns pink! Botanicals also include juniper, coriander, angelica root, ginger, cinnamon, cardamom, lemon peel, strawberry and raspberry.
Tasting Note by The Chaps at Master of Malt
Nose: Loads of raspberry and strawberry notes up front. Stem ginger and coriander arrive in support, but the berries are the main attraction here.
Palate: Quite spicy at first – cinnamon and more ginger. Waves of lemon and angelica develop. Another burst of juicy berry notes later on.
Finish: Soft juniper and a pinch of leafy coriander.
---
Also Check:-
(Thumbnail used from:- foxandbriar.com)