The Ternary Project is the first in a series of revitalized small-batch experiments released from Bruichladdich Distillery. Taken from the inner workings of our Head Distiller's sample room, these non-conformist spirits are revealed for curiosity's sake. This Ternary Project, meaning to consist or involve three parts, pays homage to a time in our distillery's past when we refuted the practice of distilling one homogenized malt type. Combining the three most recognized single malts, these are three vintages of three spirit types, matured in three classes of casks.
This 'Ternary' is three vintages of three spirit types, matured in three classes of casks; ex-sherry, ex-bourbon and ex-wine.
| | | |
| --- | --- | --- |
| 30% Bruichladdich Single Malt | 40% Port Charolotte Single Malt | 30% Octomore Single alt |
| Unpeated Bruichladdich spirit, distilled before the distillery's closure and eventual renaissance, was first filled into 2nd fill ex-bourbon hogsheads before being re-casked into French red wine casks, then Pedro Ximinez sherry butts from Fernando De Castilla. | This heavily peated Port Charlotte spirit, distilled soon after the distillery's renaissance, was filled into a combination of 1st fill bourbon barrels, 1st fill Oloroso sherry casks, and 1st fill Virgin Oak. | Octomore super heavily peated single malt, distilled in 2008, filled into Sauternes, French Mourvedres, Austrian Sweet Wines, ex-Amarone and bourbon casks. |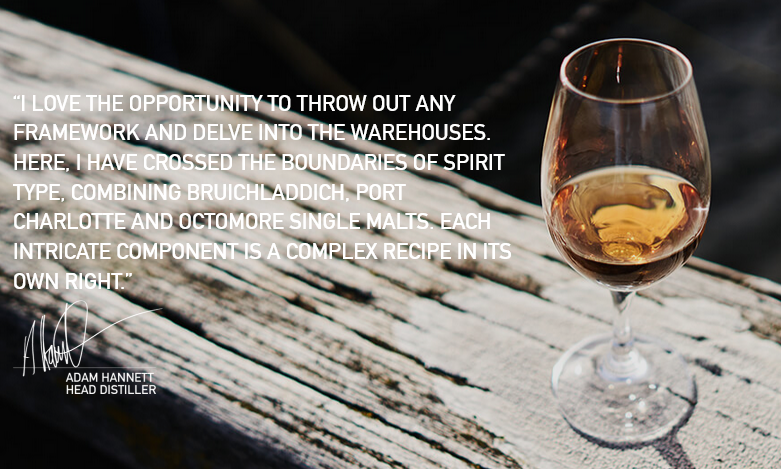 COLOUR:
Antique mahogany
NOSE:
All at once, there is a combination of peat smoke, dried figs, and toasted oak with rich dried tobacco emerging from the glass. The powerful characters of this whisky intertwined and displaying their intensity. As the dram opens, so does the detail and complexity. The deep earthy, dry peat smoke. Sweet toasted oak with coconut, creamy vanilla, cinder toffee, and milk chocolate. The layers of fruit go from dates, figs, raisins to cranberries, cherry, and peach. Candied Citrus peels and black tea. Leather and sea salt. Hazelnuts and hints of gorse flower.
TASTE:
On the palate, the presence of this dram is immense. The rich texture sweeps across the palate and brings with it the earthy peat smoke, the dried fruit, and rich oak, balanced beautifully with no one aspect dominating the other. Barley sugar and stoned fruit add their weight and then the lighter citrus notes, vanilla, peaches, cherry. Another sip opens up the floral elements and the soft marine notes. The characters of the three components, Bruichladdich, Port Charlotte, and Octomore, are all evident, and they come together to provide harmony and balance.
FINISH:
The finish is where the floral notes and stone fruit come through brightly before fading until only the peat smoke remains with hints of the dried fruit. All three spirits showing their fruity and floral style alongside the peat ash and beach bonfire note the Octomore and Port Charlotte components bring.
CHARACTER:
Experimental in nature yet composed, poised on the palate. The complex individual components of each spirit type come together to contribute to a superb expression of the distillation, maturation, and blending potential of Bruichladdich. The complex cask recipes of each component and the subsequent marriage together before bottling contribute to a deeply complex style.