The real passion of this comedy genius? Crafting a London dry that'll win over gin haters.
You'd think the director of Bridesmaids, A Simple Favor and various episodes of The Office, Mad Men, Freaks and Geeks and Arrested Development would be more excited about other things besides gin.
But no: Paul Feig likes his drinks. The producer/director created over 120 cocktail videos on Instagram during last year's quarantine and amidst the ongoing epidemic. Part of that was simply cocktail passion.
The other reason? Feig had just launched his own tipple, Artingstall's, in February of 2020. None of the plans he had to promote the "brilliant London dry gin" (exact phrasing on the bottle) last year got off the ground.
With Feig back in the director's chair for the upcoming Netflix film The School for Good and Evil, he's still found time in his busy schedule to start promoting his gin again. (Quick review: It actually has some real punch to it! I can see why this is ideal for a martini with a twist — I'm getting lemon and floral notes, a bit of cinnamon, and an earthiness.)
We caught Feig on an afternoon off to discuss cocktail recipes, how to overcome the horrors of your first gin experience and why blue drinks rule. Meanwhile, if you want to head to Florida in late May and enjoy some of this gin — sadly, sans an appearance from Feig — you can play a virtual trivia game with the director on May 1st to win a trip to the South Beach Wine and Food Festival. 
You claim that you like gin but you "never met one you truly loved until you made your own." What makes this unique?
Paul Feig: I'd been searching forever for the right gin. I had a flavor profile I wanted, and I knew what I didn't want. We went through eight different variations and several rounds of testing to get it to exactly what I wanted it to taste like. Honestly, I've never been drunker than the day I had to finalize the gin.
But I ended up with something that works in almost any situation, be it a dirty martini or a Negroni.
Obviously, the final product is what you wanted. What didn't you want? 
I wanted to avoid what people think they don't like in gin because they had a bad experience with it. So many of us go down to their parents' basement bar, grab a bottle of gin, and you're like, oh my God, this is Pine-Sol! It just hits you in the face. Now, it has to have juniper, but I didn't want this to be juniper-forward. I consider this a gateway gin for people who think they don't like gin. It's for people who need to get past that old bottle of Beefeater. 
How did "brilliant" end up in the official name?
I think it perfectly describes the gin. I wanted a London dry, but with a bright taste. It's fantastic in a martini with a twist of lemon. It works with olives, but I prefer a twist.
How about a G&T?
I'm actually a gin and soda fan. To me, tonic destroys the gin. Plus, soda makes it a skinny drink (laughs). With my drinks, I want to highlight the gin, not have something sit on it. That's why I'm not a fan of olives, because I think they overpower the gin.
Funny thing, my gin is a perfect vodka substitute. It adds backbone to vodka drinks but doesn't overpower them. I even used it in a take on a passionfruit margarita. I mean, nothing's better than a tequila margarita, but it works.
Actually, aren't all the cool celebrities getting into tequila? Why not go there?
I've always been a one-alcohol guy, for 30-40 years. When I got into cocktail culture, it was because of a gin martini — not vodka, which is an imposter! And gin has so many flavor profiles.
What did you learn over the past year as it relates to booze?
Before COVID, I'd collect cocktail books but never make drinks! I would make a martini or Negroni but never had the energy for anything else. But with this quarantine, I figured I gotta do something to cheer people up — I'm a comedy guy! So I started doing cocktails. Half of them I'd never made before, and I think I invented over 20 original cocktails during that time, too. I'd find ingredients that clashed and figured out how to make them work.
That said, my wife now thinks I'm crazy and it's taken over our kitchen.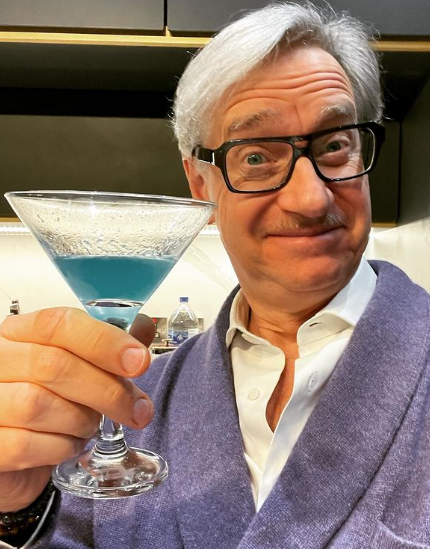 In your Instagrams, you made a blue drink. Are we allowed to do that again?
You can in my book! Blue Curacao works in so many drinks. 
Is it odd to host a trivia night about yourself, even for the good of your gin?
(Laughs) It's more about the movies I made. You don't need to know about me! It's what I've done as a director — which, actually, most people don't seem to know what means. I've had people ask, "Oh, you're a director? Have you met Steve Carrell?" It's like, yeah, I directed him!